Archive for July, 2011
As I have shared many times in the past, I believe that there is much that marketing communications people can learn from the world of design. One of the greats to learn from is Dieter Rams. His 10 Principles of Good Design are timeless and true to the very core.
The quote above on design is equally true to creating advertising, web sites, mobile apps or any other type of "brand" experience for people. Indifference for the people we create things for and the reality of their daily lives is not just foolish, it's wrong.
With almost 14 thousand views, my dog Max might qualify as a "D list" YouTube rock star! His circle of friends (not to be confused with a Google+ circle) includes people, dogs and cats (totally ..watch his video!). His howling "song" is a throwback to his wolf ancestory. Oh yes, his breed is White West Highland and at 10 years old the vet is calling him a "senior" dog. Shh .. please don't tell him that he is sure he is still a pup. Did you notice that when I described Max his breed and age (demographics) came last? When you think about your customers how do you describe and catorgize them? What comes first in your customer profile: age, sex, income .. traditional demograhics? Or do you take into consideration their interests, networks and passions beyond your product or service? Let's spin this into social media marketing. We frequently use social media "listening" to learn what customers are saying about our products and services, to identify trends and to build relationships. All good. However, we have amazing opportunities to also see into the lives of our customers and prospects that go beyond tradtional research and our own company/product information. We can learn about our customers' passions, see who is in their social networks e.g., friends, likes, follows, circles. The clues we discover can lead to exciting new opportunities. For example, would you think that Max's friends included kitty cats? Now you know. What would that mean if you were…
Thanks to everyone that submitted their blog to be reviewed tonight at #Blogchat.  Here's the three blogs we'll be reviewing, and please do check these three blogs out if you will be joining #Blogchat tonight, and please pay close attention to the feedback each blogger has given us: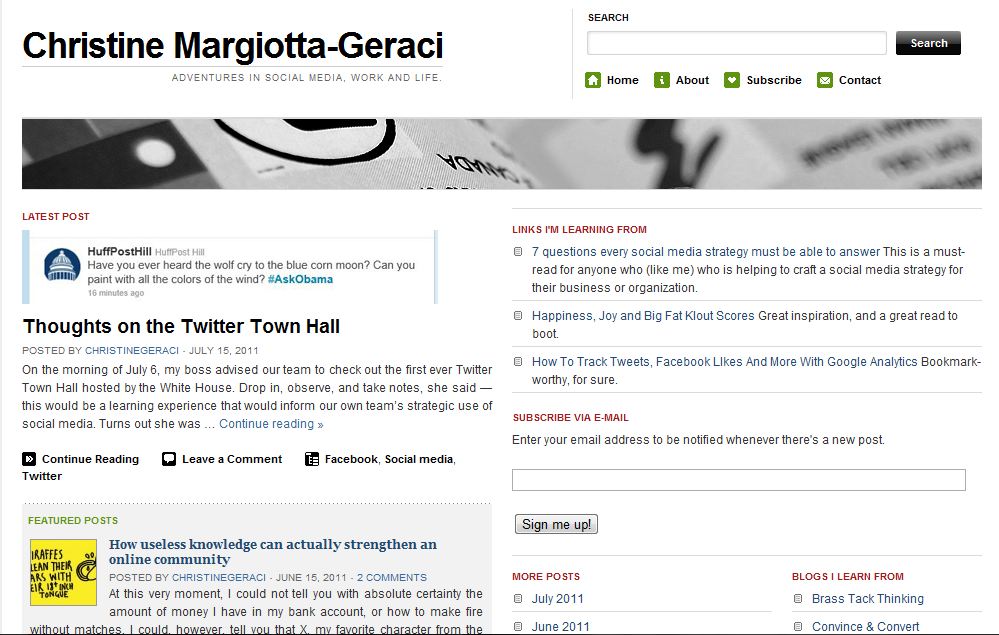 1 – Christine Margiota-Geraci's blog.  Here's Christine's feedback for us:  "This blog started out as merely a professional presence for me online, but it seems to be morphing into my thoughts on social media as it pertains to my work. I'd love feedback on the content itself, as well as some of the features I've included as a result of recently changing WordPress themes: the Links I'm learning from section and the Featured Posts section in particular. I'm very new to the blogging world but I'm learning so much from participating in #blogchat when I can. Thanks so much for the consideration!"
So please check out Christine's blog with an eye toward her feedback above.  We'll be reviewing Christine's blog from 8:00pm-8:20pm Central tonight.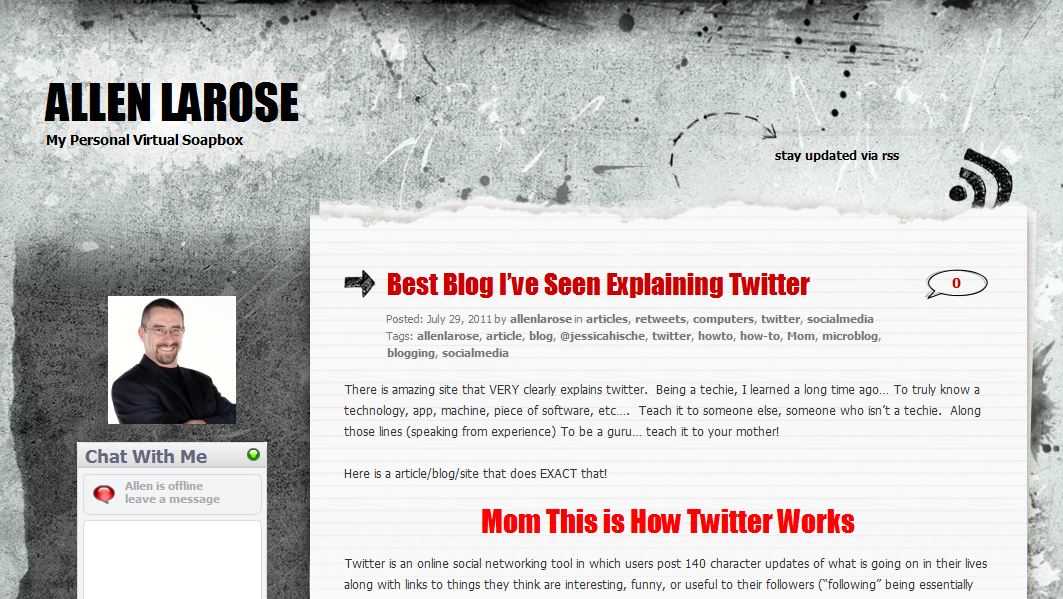 2 – Allen LaRose's blog.  Here is Allen's feedback for us: "I would very much appreciate any feed back on my new blog http://www.allenlarose.com. It started as simply an online place for me to express myself. I have quickly discovered blogging is addictive. I have been using social media to help drive traffic to my blog, but would any advice to help boost traffic further."
Please review Allen's blog before #Blogchat tonight, we'll be reviewing it from 8:20pm-8:40pm Central time.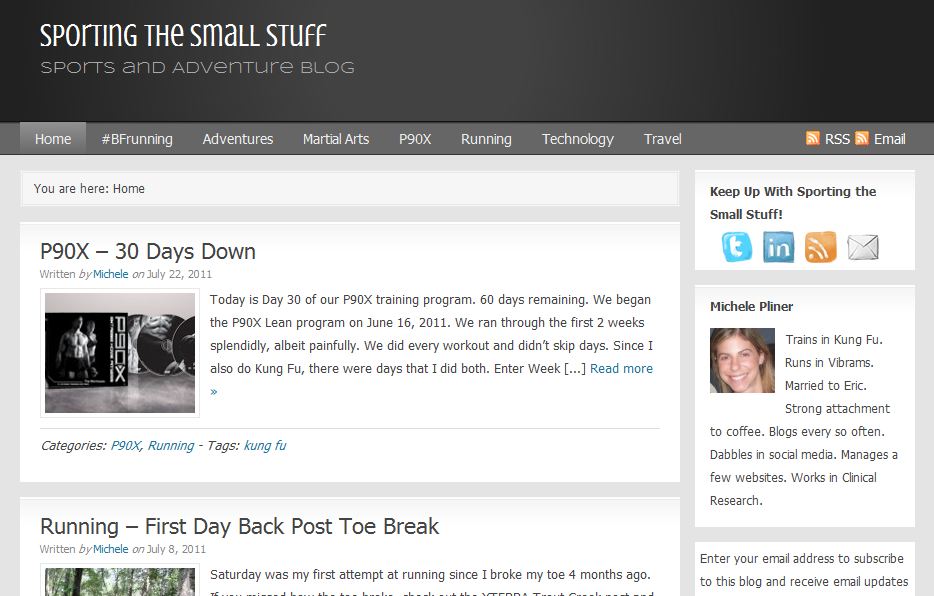 3 – Sporting the Small Stuff.  Here is Michele's feedback for us: "I recently started a sports and adventure blog at http://SportingTheSmallStuff.com and I would greatly appreciate suggestions on how I can better engage the audience (I would love to interact with fitness/adventure-minded individuals). I would also appreciate suggestions for writing more effective titles (both from an engagement standpoint and an SEO standpoint).
Thank you for this opportunity!"
Please review Michele's blog based on her feedback or any other ideas you have for how she can improve her blog.  We'll be reviewing Michele's blog from 8:40pm-9:00pm Central.
So there's our 3 blogs we'll be reviewing!  Thanks again to everyone that submitted their blog for review, and if your's wasn't picked, remember that we'll do this again next month!
Joe wrote this week about how Iceland is using the web to Open up its democracy and then asks the big question – what about corporate life? Will corporations follow?
Geoffrey West's research suggests that they had better – because it shows that the ultra controlled approach that is the Command and Control Normal now – kills corporations early. They are dying sooner and sooner.
Are corporations more like animals or more like cities? They want to be like cities, with ever increasing productivity as they grow and potentially unbounded lifespans. Unfortunately, West et al.'s research on 22,000 companies shows that as they increase in size from 100 to 1,000,000 employees, their net income and assets (and 23 other metrics) per person increase only at a 4/5 ratio. Like animals and cities they do grow more efficient with size, but unlike cities, their innovation cannot keep pace as their systems gradually decay, requiring ever more costly repair until a fluctuation sinks them. Like animals, companies are sublinear and doomed to die.
The issue is that using a machine model – is that friction builds as well as cost as the corporation scales. The costs rise with revenue. So in the mature part of the cycle, you cannot innovate – you can only manage the numbers/ratios. For example, 10 years ago, Shell set up Shell Renewables. Shell was going to become a leader in non oil energy. Makes sense right? The top people know about Peak Oil better than most and wanted to find a place in the next energy sector. What ruined this experiment was its success. Being a very large organization, Shell did new projects at scale. With two of the largest new Wind Farms online – the CFO and the CEO saw the trap – saw why they had to retreat back into OIL ONLY. Shell had to make the numbers even if by doing so meant that Shell could not position itself to be a leader in New Energy.
Wind farms that do well have an ROI of about 8% they are a utility – like owning a bond. But the Oil business has embedded costs that are linked to the returns on OIL that are much higher than wind. So if Shell did a lot more of these mega wind projects, the ROI of Shell would be reduced and Shell would have an earnings problem. The more wind farms they installed, the more their earnings would drop but their costs could not. They were trapped!
This dooms Shell and all mature companies. We saw that is Big Steel when smaller local mini mills ate into the lower ROI parts of the business until there was nothing left? We see this now with media.
The costs of a press or a studio – are so great that all the majors can do is to defend their existing platform. The New York Times can only hide behind the paywall for a period of time. The studios can only hold off web distribution of video for so long. But their battle to keep the status quo is not stupid – they are stuck with the costs. It is the model of how we do business that is the problem. For in the mature phase, the CEO has to make the ratios and the costs are embedded. In the final phase all the CEO can do is to milk the system.
For all true innovation HAS to start with a modest revenue line. So if you have a large enterprise with high revenues you have also high costs. So a web based news alternative CANNOT earn the revenue that you need to run the Times. So you cannot go there. But of course a new competitor – Huffington? Can and will and in the end will take enough revenue off your top line to kill you.
So are corporations doomed? Well with a sample of 22,000 West makes a good case that the current model does doom you, if you are traditionally organized. So what then is the way out?
West makes the case that Cities live much much much longer. The core of why is the core idea for corporations to study and apply.
"It's hard to kill a city," West began, "but easy to kill a company." The mean life of companies is 10 years. Cities routinely survive even nuclear bombs. And "cities are the crucible of civilization." They are the major source of innovation and wealth creation. Currently they are growing exponentially. "Every week from now until 2050, one million new people are being added to our cities."
Cities are much more open as systems and networks. They are much closer to being alive than corporations that rely too much on command and control.
As I write this I am thinking of how WordPress works. At the core of WordPress is a for profit organization – but also one of the tasks of Automattic is to ensure the health of an ecosystem that is the larger WordPress ecology in which thousands of independent developers who do not work for Automattic make a living. I think of Wikipedia. At the core of Wikipedia is a set of rules about how Wikpedia has to work and how people in Wikipedia have to behave. Surrounding this core is a cadre of "White Blood Cells" AKA editors – that ensure that this DNA is kept healthy. I see no way now that Wikipedia will not be here in 50 years.
Why my confidence?
If you look at WordPress and Wikipedia you will see the key. In a network that really is a network – like WordPress and Wikipedia – the costs go up in a shallow linear curve while the outcomes rise exponentially. The margin grows so that any bump in revenue along the way – which is of course natural for nothing in Nature runs on any form of straight line – does not take down the organization. But in a traditional organization, the costs rise in direct concert with the revenue and outcomes. This means that once the business approaches maturity, the leadership have to force the numbers, meaning that in the mature phase, the only real focus are the numbers themselves. Not the underlying purpose of the business. The focus becomes defence and self referential. The organization is now doomed. Doomed to suffer a bump in the market or to a new competitor. Look at the case of RIM.  Can RIM come back?
This site has been a place where many of us have tried to see the future for business. We could all agree that more Command and Control would not help. We could all agree that more Social Media used to open up the organization would help.  But what we are seeing now is that for an enterprise to thrive over time – it must become alive! Only a true network can enable this to take place. The few true networks that we can see now, give us a working model of the new enterprise.
Stuart Baker and I are working on what this might be and in the fall we will be posting our ideas.
Our proposition is this. In the 1800's most business was small, local and unique. The great shift in the 20th century was to consolidate into the enterprise as we know it. This was how to create wealth then. All who stayed back in the small, local and unique died. The efficient machine had to be the model you used. Now we enter a new phase. For the limits of the efficient machine have been reached. The new winners will be those that can adopt the model of the real network.
We all know about how to organize the machine. How to organize the network is all new and mainly unknown. That then is the challenge and the opportunity. Good luck to all of us.
When the outcome of a conversation is in doubt, don't do it by email. And show up in person if you can.
The synchronicity of face to face conversation gives you the chance to change your tone in midstream. Ask questions. A great question is usually better than a good answer.
And don't forget–the value of a long pause is difficult to overstate.
Formula One announced on 29 July that the BBC and Sky Sports will share TV broadcast rights in the UK from 2012 to 2018, leading to howls of protest from fans. In a trade-off between revenue and audience reach, Formula One is trying to get the best of both.
The BBC will show half of the races live on TV with the corresponding qualifying and practice sessions. It will also keep highlights and radio rights for all of the races. Sky, meanwhile will show all races, qualifying and practice sessions live.
The key issue for British consumers is that the BBC only charges an annual licence fee per household of £145.50 (frozen for six years from 2010) whereas an annual subscription to Sky Sports will cost an additional £487 with future rises all but certain.
There are several million Sky Sports subscribers in the UK but the potential audience is a fraction of that on the BBC.
For the Formula One rightsholder the additional revenue is highly desirable. The racing teams will earn a share of the increased pie but they also need the largest possible audience to maximise their appeal to sponsors.
According to news reports (see for example the Guardian), they will be seeking clarification on the deal.
Sky has been very successful with its sports broadcasting, driving subscriber numbers through live football rights in particular. Formula One has a large, loyal fan base, many of whom are probably not existing Sky Sports subscribers so it seems a good fit. However, the big question is whether hundreds of thousands of additional customers will now sign up for Sky Sports because they want to watch the full season.
Production costs for broadcasters covering the Formula One season are very high due to the constant travelling and technical demands. Without the advantage of exclusive rights and a captive audience, it could be that either the BBC or Sky Sports find the costs too onerous before the end of the contract in 2018.
For the future health of Formula One it is important that new young fans are constantly being recruited. While Formula One earns revenue from many markets, the UK is one of the largest.
Cricket and other sports have debated in the past the rights and wrongs of accepting the highest bid for TV rights (which tends to come from pay TV stations) or the option which will give the broadest audience (usually from free to air TV stations).
After European Union intervention, rights for the UEFA Champions League in the UK have been shared among different TV stations. The outcome is a certain level of confusion among spectators but they do at least have an opportunity to watch a selection of matches on free to air TV. According to the Independent, European law may prevent national TV rights deals in future.
For the moment Formula One's deal looks a reasonable compromise but it will take time to see whether it is getting the best of both worlds – huge revenue and a broad audience – or an unsustainable mish-mash.
Fans may be unhappy but Formula One is in a strong position – many other sports would be delighted to face the same dilemma.
News has just broken that the people of Iceland have just produced a draft of a new constitution – developed collaboratively via social media such as Facebook and Twitter.
Iceland had its share of financial debacles in recent years, and, as a result, decided it needed to re-invent its government to incorporate a better system of checks and balances. However, the new constitution isn't being written by a group of men holed up in a room somewhere — it's an open process involving the latest social networking tools and technology.
A 25-member Constitution Council drafted the new constitution by engaging Iceland's 318,000 citizens through social media sites, which helped keep everyone up to date on the document's progress, as well as solicit feedback. The Constitutional Council posted daily interviews with delegates, and meetings were broadcast live on the council's webpage and on Facebook. There were also schedules for all meetings, all minutes from meetings of groups, the Board and the Council as well as the Council's work procedures. The webpage also has regular news from the Council's work as well as a weekly newsletter.
If social networking tools can help transform a nation, imagine what it can do for a company.
In many aspects o technology business innovation, maturity models have served to define stages of development, serving as benchmarks for companies to see how far along they have progressed. The model serves as a guideline for process improvement. For example, the Capability Maturity Model Integration Framework (CMMI), first published at Carnegie-Mellon University, has served as a set of guidelines for software development.
Now. IDC has proposed a similar approach for social enterprise development, called the Social Business Maturity Model, which is intended to help companies that are growing in their adoption of social business and want to optimize their use of social tools.
IDC's Social Business Maturity Model consists of 5 stages:
Experimentation
Compartmentalization
Integration
Operationalization
Optimization
Do these identified stages make sense for identifying where organizations stand on the social enterprise spectrum?  The final stage, optimization, suggests that it isn't until this point that significant benefits are being delivered to the business.
Move over, Soulja Boy. Yesterday, we reported on the story that Soulja Boy spent $55 million on a private jet. Today, the Marines showed off a jet that would put Soulja Boy's jet to shame. This Marines jet cost $100 million. Check out the Stealth F-35 jet pictures below.
Test flights for the Stealth F-35 jet went smoothly. This new age jet is regarded as arguably the best jet in the world. It combines stealth features with speed and handling.
There is a Stealth F-35 jet controversy … largely due to its price tag. Many think that the United States shouldn't be spending $100 million on a jet when the budget is out of control and the economy is struggling. That said, it's difficult to argue once you see this awesome jet in action.
Here are the Stealth F-35 jet pictures:
Post from: EveryJoe
This post originally appeared on BMA on February 13, 2006.  Funny how 5 years later, we are still arguing the same themes of this post.  You can read all the BMA posts here.
When I left this post last month, I did so because I thought the whole 'A-Lister' dust up was a temporary by-product of boredom, and that we'd all rant/laugh/ramble about the subject for a few days, realize it's all very silly, and get back to talking about much more important things.
Alas, I was dead wrong. Instead, the 'debate' over the blogosphere's version of a class system has only intensified. Now it seems some have determined that the key to blogging nirvana, which of course is 3,000 links and 10,000 visitors a day, is being held by the gatekeepers known as the 'A-Listers'. All blogging goodness is in the hands of a select few bloggers on the mountaintop. Right idea, wrong gatekeepers. The gatekeepers aren't A-Listers like Doc Searls and Steve Hall, they are the anonymous IPs that read your blog. They are the people that come, look around, and either decide that your blog sucks, or that it kicks ass, and then they tell ten friends.
Last week everyone was excited about Dave Sifry's update on the state of the blogosphere. We all got excited when we heard that there is a new blog created every second of every day. But think about that for a minute….if there are that many new blogs each and every day, how many new blog READERS are there? New readers that not only have no idea who the so-called 'A-Listers' are, they could give a damned less. Every day. If you're a Z-Lister, they have no idea, and again, could care less. They just care about what they read on your blog that they just found for the first time. What they read that first time could decide if there will ever be a second time. See our job isn't to impress Steve Hall and Doc Searls the A-Listers, our job is to impress Steve Hall and Doc Searls the BLOG READERS. When we start worrying about getting the attention of a few bloggers that we perceive as being important, we risk losing the attention of our blog readers. And if we've lost that, we have nothing.
BMA will have been live for 5 months on the 16th. We currently have 58 links, and to the people that subscribe to the 'A-Lister' view of the blog world, that means we aren't very important. On the other hand, traffic levels have never been higher than right now, we averaged 806 visitors a day last week, and at the rate traffic is increasing, we're on pace to touch 25,000 visitors for the month. Good thing we aren't paying attention to the people that think that a blog's worth is defined by its number of links, but instead to the visitors that come here every day, and hopefully enjoy what they see. Because that's the key. We have to stop this worrying about who is linking to me, and who won't. The time we spend bitching about how 'unfair' it is that the haves are supposedly holding back the have-nots, is time lost that we COULD have spent producing great content on our blogs, and contributing to the community.
Stop worrying about why Scoble never reads your blog, and worry about giving the gal that's reading your blog RIGHT NOW a reason to come back. Because your readers are the REAL A-listers. Treat them as such, or they'll happily leave your ass to bitch about why no one comments on your blog, and your pet theory that it's somehow gotta be Guy Kawasaki's fault.