Archive for the 'brand exposure' tag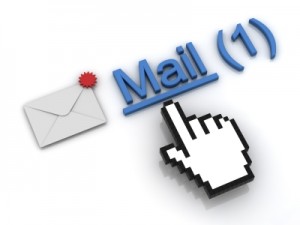 Too busy to keep up with posting on your business blog?
A very smart tactic for small business professionals is to invite guest bloggers. Let's face it, publishing frequently is time consuming. Guest blogging is wise but only if done appropriately. It can cause more work if guest writers are not selected prudently.
Lately I've been getting one or two emails a week from aspiring freelance bloggers asking to submit guest posts. Some of the emails are well-written and I've said 'yes.' But many aren't writing a compelling offer in their emails. And some are committing writer suicide by proposing samples and topics unsuitable for my audience ("Abraham-Lincoln-Vampire-Hunter-Slays"?!).
One invitation stands out far above the others and I'll share it with you here. The email is very effective and can be copied by any small business professional as an outreach offer. I'll even spell it out for you as a template.
I received this offer from Brian at ChamberofCommerce.com:
Hi Patsi,

My name is Brian, and I am in charge of building news/blogger relationships on behalf of ChamberofCommerce.com.

I noticed you have a lot of good content relevant to the needs of small businesses on your site, which is in line with our content and focus. Specifically I enjoyed your post for the busy business blogger. You made some crucial points that many small business owners may not focus on for their branding strategy.

Information like this could be crucial for the small businesses coming to our site trying to increase their brand exposure.
The email continues with a description of their site's focus and gives a link to a sample article that shows the quality of information they present.
Next, they outline their guest blogging program, including what's in it for me should I choose to participate:
Our program allows for contribution of 1 piece of content per month to Chamber, and requires that we are able to share one piece of content through your site per month. Editorial discretion applies on both sides of the relationship, and we will work together to determine what is appropriate for each of our brands.

This is an opportunity to get in front of an audience of over 1 million visitors a month with your business, brand, and message. If you are interested in establishing a relationship please let me know so we can have further discussion.

Best Regards

Brian Williams
Here's how this email plays out:
Introduce yourself and your function as it pertains to this email – why you're contacting this person.
Mention what you've seen on the person's site or blog, specifically referring to a post.
Explain how that post and the person's blog is relevant to your own audience and your own goals.
Explain the focus of your business and your blog, and give a link to a specific article that is typical.
Invite the person to participate in a mutually beneficial guest blogging program and explain the frequency.
Spell out the advantages to the person if they choose to participate.
Invite a response and suggest further discussion.
Such an invitation shows the person you're professional and considerate. It requires you have knowledge of their blog and their audience. And it clearly outlines a benefit to both parties.
What follows after an agreement is reached is a document of guest blogging guidelines, but that will be for my next post.
Successful professionals prefer spending time helping their clients rather than tending to their own online marketing. I totally understand because I struggle with these same issues. I'd rather ghost blog for clients than write for my two blogs. What about you?
Related posts:
Have you noticed the online war going on in the digital sphere? We're talking about the Social Media Haters vs. Social Media Lovers.
Despite most businesses and marketers nowadays have embraced social media and incorporated it into their marketing strategy, there are still a few traditionalists who steer away from the social media bandwagon as much as possible. There are a few naysayers, too, who claim that this modern marketing tactic is a mere waste of time.
Well, if you're a social media lover, you should understand that this reaction is common, just like in every cultural movement. But how can you convince social media haters that there is more than just liking, sharing, tweeting, poking, digging, and stumbling? Here are some effective arguments you can use to convince traditional media users that social media is worthwhile and valuable, not a threat.
Social media is a marketing platform.
Brand exposure is one benefit that marketers found from using social media. In a research conducted by Pagemodo, 64 percent of business owners say that social media marketing is a "promising tactic," though they favor a more cautious approach. This is when traditional methods meet modern approach. Basic marketing techniques, such as market segmentation and product placement, can still be applied in a marketing campaign using social media.
Social media is a communications tool.
Businesses are jumping on the social media bandwagon because that's where people are. It's a fact that social media can't reach everyone, but it's another fact that social media users are growing by the minute. It finds and reaches a huge demographic, ranging from all walks of life. Statistics show that more and more people are now getting involved in social networks; Facebook alone has 500 million active users as of 2011. That's why, businesses need to engage in conversation online and start including social media in their marketing toolbox.
Social media is convenient and accessible.
Social media changed the way we communicate. It is more convenient and more accessible than ever before. Moreover, it enhances consumer experience as it lets Internet-savvy customers to personally interact with a company or business. There is a real-time discussion and communication occuring, and it results to a nurtured and sustained relationship between the consumers and businesses.
Social media is interactive.
Social media is simply a hub where both businesses and consumers can participate in discussions real time. Unlike traditional marketing platforms that are pretty much passive in terms of communication, social media engages users and encourages to express their ideas and give valuable feedback. Social media also helps businesses to strengthen consumer loyalty and eventually build a steadfast community of customers.
Social media is here to stay.
Social media has evidently dominated the Internet and firmly secured itself into the modern culture. This is one more reason businesses need to consider employing social media into their marketing strategy and adapt to the ever-changing playing field.
This is not to say that social media is the one and only marketing strategy worth executing and investing in. Just like other marketing campaigns and techniques, social media sure has its own rewards. In a nutshell, social media is a valuable weapon in your media arsenal that you ignore at your peril.
So have you have come across a social media hater? Share your experiences in the comments!
Image Source: Courtesy of Curly via Flickr
The post Converting Social Media Haters Into Social Media Lovers appeared first on About Social Media.
Here are the 7/6/12 links and resources shared on Twitter and tagged #practicalmktr grouped here together in Practical Simple Marketing In The News.
Have a great weekend!
Simple & Practical Marketing Data
Data & infographic: moms 61% more likely to visit pinterest ow.ly/bDlST #practicalmktr
Practical Marketing Advice
Simple Marketing Inspiration
Brands Being Practical With Social Media
Here's a link to previous editions of Practical Simple Marketing In the News.
Thank you for reading!
If you enjoyed this post, consider visiting Content Talks Business Blog!
Best,
C.B.
Image credit: "#PracticalMktr" Wordle by CB Whittemore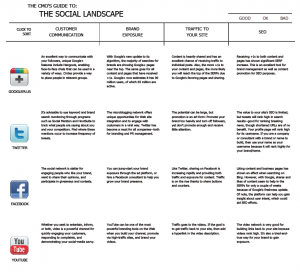 As I travel the country, teaching people how to integrate social media into their marketing efforts — I often get asked — if I only have time to invest in one social media tool or site — which one is best?
Naturally, my answer is the definitive — it depends.  Accurate but not all that helpful.
Like any marketing tactic — the effectiveness of it is based on what you're trying to accomplish.  Social is no different.  Which is why tools like the social media cheat sheet that you see to the right are so helpful.  (Originally created by CMO.com back in 2010).
The criteria that they used to "grade" each tool were:
Customer communication
Brand Exposure
Traffic to your site
SEO
The cheat sheet has been updated.  I think you'll find it very valuable as you access where you should spend your resources (time, money, attention) in the coming year.
You can download a full sized PDF by clicking here.
The tools they evaluate include the standards like Facebook and Twitter but the sheet includes 14 different sites including the likes of Pinterest (of course) and Reddit, Digg and Slideshare too.
You can also view the cheat sheet on the CMO site here.
You might also like
Back in early 2010, I wrote a blog post called "Why HubSpot Won't Exhibit at Tradeshows Anymore." However, any of the 45,000 Dreamforce '11 attendees could tell you we indeed were a sponsor and exhibitor this year, and we wanted to make as large of a contribution to Dreamforce as possible. We were honored to receive amazingly positive feedback on our presence, and the creation of our event strategy was based on those very same concepts we use for our online marketing every day. So what are those?
1. Offer Valuable Content to Attract [Foot] Traffic
HubSpot sent approximately 20 of our inbound marketing consultants who — when not at Dreamforce — teach our customers how to do inbound marketing using HubSpot every day. These natural teachers gave Website Grader reports to all visitors of our "un-booths," or our HubSpot lounge areas. During each conversation, we offered advice on how to improve their marketing. This valuable information led to some great conversations and attracted more people to our HubSpot lounge who wanted tips about their marketing, too.
2. Be Remarkable So People Will Share Your Content
This year, HubSpot brought free unicorns to Dreamforce as a means to dispel marketing fantasies. We wanted to send the message that marketers should avoid living in a fantasy world by basing their marketing on FACTS. The unicorns were a hit, and thousands of people requested one for their sons, daughters, nephews, grandmas — you name it! People told us it was fun, memorable, and nothing they had seen before. And that remarkableness helped it spread across the conference.
3. Include Calls-to-Action (CTAs) on All Your Content
Brand exposure is awesome, but we're all here to attract qualified customers at the end of the day. Why not make it as easy as possible for folks to do business with you? All our unicorns, posters, speaker presentations, and t-shirts had a QR code to our special Free Unicorns Dreamforce landing page. This QR code was a subtle and fun CTA for those who were curious and wanted to download more facts and fantasy quotes from HubSpot!
4. Share Your Content Everywhere
Online, you should have your content in as many relevant places as possible to increase your chances of getting found. Why can't the same concept apply to an event? At Dreamforce, we had a handful of locations around the venue where folks could get Website Grader reports and unicorns. In our awesome, orange track suits, we represented HubSpot even when we grabbed a sandwich. And even at night, we sang karaoke in the HubSpot RVIP Lounge among our unicorn and Dreamforce friends. We wanted to be everywhere our best potential customers could be. Don't limit your opportunities to spread your valuable content.
I had a fantastic experience at Dreamforce, learned a ton, and enjoyed making some great new contacts. I'm excited to see what's in store for 2012.
How else can you apply inbound marketing principles to your event marketing? Did you attend Dreamforce? What other marketing strategies did you notice?
Connect with HubSpot: