Archive for the 'client' tag
Today's guest post is written by Mark Story.
Cathryn Sloane's article "Why Every Social Media Manager Should Be Under 25" caused a bit of firestorm last month.
The debate surrounds how experienced – and old – someone should be to succeed as a social media practitioner.
I weighed in, as did the Huffington Post. and most people took Cathryn to task for suggesting young people "get" social media and are the ones who are best suited to incorporate it in a business setting.
I'd argue there is a bigger point here: You have be a social media grown-up; and that may or may not be tied to years of experience.
Being a social media grown-up means you have the essential skills to be a really good practitioner. Most of these skills are gained with time and with experience, but just like "you can't fix stupid," you can't teach smarts. When seeking to fill social media positions, I would rather hire someone junior with less experience who is bright, because I can't teach someone to "get it."
So what is "it?"
Three Critical Traits
1. Excellent verbal and written communications skills. Twitter and Pinterest may have lulled some people into thinking words don't matter anymore. Wrong. They matter in social media more than ever. You must have good verbal communications skills because you will be engaging in conversation, teaching, and evangelizing. In order to do so, you must be articulate and clear.
As for written communications skills, you cannot be successful at social media without being a good writer. Almost every aspect of online communication (more so in client-driven work, which makes up a large part of the social media world) involves informing and persuading people via the written word. You will need to reply upon your writing skills to tell a complex and compelling story; and sometimes you'll have to do it less than 140 characters.
2. Tolerance for change and intellectual curiosity. In social media, the only constant is change. Today's successful Pinterest was yesterday's much-discussed Quora or Empire Avenue (read: #fail). New tools and tactics come along monthly.
If you want to have a career in social media and be a grown-up, you need to stay on top of what is out there, if for nothing else to make a recommendation to your boss or your client on adopting a social media platform.
Way too many organizations become entranced by the latest shiny object. The social media grown-up knows what's new, how it works, and if it might add value to the company or clients' social media efforts.
3. You must provide sound advice. Cathryn Sloane's controversial statements stemmed from this: She referred to her generation of digital natives as those who are most comfortable with, and fluent with, tools such as Facebook and Twitter because they grew up with them.
True as this might be, knowing how to post status updates in Facebook is vastly different than offering social media advice to a Fortune 500 company, a government agency, or even a  shop down the street. Each client has differing communications objectives, constraints, and sometimes legal requirements.
Experience helps to inform the counsel you give. This is not to say that someone who is in their 20s is not as seasoned as someone in their 40s, but let's not confuse being fluent with the tools with getting paid to give strategic advice and execute tactics on a very large scale.
I could continue, but I'll stop at these three core competencies to be successful in social media. These are the "must-haves." You can be a social media grown-up in your 20s or in your 40s, but don't forget that good communication, intellectual curiosity, and sound advice are all at the heart of being a good practitioner – and a social media grown-up.
Mark Story is the author of "Starting Your Career as a Social Media Manager," to be published on September 1, 2012.  He is a new media director, blogger, podcaster, professor and Social Media Old Guy. You can follow him on Twitter at mstory123.
I once worked on a chain of auto repair shops. When our client came in for a strategy session, he seemed confused about the idea of targeting his message. "Well, I think we can narrow down our audience to men and women 18-49," he confidently stated.
Our strategist shot back, "Who own cars, right?" Needless to say, we weren't going to reach any strategic breakthroughs.
So why do age groups — and generations — matter so much to marketers and the media?
I'm a member of what's known as Generation X. Some of us are billionaires (not me, unfortunately.) Some are barely scraping by (not me, thankfully.) Some are liberal, some are conservative, some are parents of multiple kids, and some are contently single. No one can paint us with the same broad brush. I look around at many people my age and see that I have sometimes very little in common with them.
It's the subject of my new column on Talent Zoo, which will be on the home page tomorrow.
And if you still need to fill the Kindle or iPad, you can buy my book of columns for just 99 cents.
Realtime, a technology developed by a company which has been around since the Internet's earliest days with the practically un-Googleable name "Internet Business Technologies," has just received a massive $100 million investment to help fund its lofty plan to build the real-time web. The company offers a developer framework that now powers 2,000 real-time client applications, but, until now, it has only been available outside the U.S.
However, with the new investment from the three-month old, Såo Paulo-based BRZtech, a firm backed by private investors in Europe and South America, as well as Portuguese investment vehicle The Ongoing Group, Realtime is today launching its developer platform stateside.
"What can I do to be disruptive?," CEO Andre Parreira asked himself years ago, when thinking about how he could scale his company internationally. "I looked to the Internet, and I saw that the Internet is based on a 30-year old protocol – it's still request/response – so it's static. It's not delivering on the promise that the Internet will give us a true interactive experience," he said. "So, let's create the live web," he thought.
That's the goal with Realtime, which offers a freemium-based developer framework for building live web applications. However, to be clear, the funding isn't just for the company itself – it's also to fund the industry, including everything that would need to spring up around this "live web" ambition in order to make it a success. The company claims to have already signed up over 1,000 developers for its beta and plans further outreach through conferences, hackathons and other competitions.
Nope, no small dreams here. Just "a whole new era of the Internet," as Parreira calls it.
How It's Built
The platform can be used without changing the underlying technologies of the web. Instead, it runs on top, creating persistent, bi-directional connections with every user. It's powered by ORTC (Open Realtime Connectivity) and xRTML (extensive Realtime multiplatform language).
ORTC is a cloud-hosted messaging system for web apps or native apps running on Android, iOS or Windows Phone. It enables applications to push updates from the server to the browser or client without requiring a manual page refresh. It relies on WebSockets, a protocol supported by the current versions of all major browsers except Internet Explorer 9, which requires a plugin. For browsers that don't support that standard, ORTC will fallback to the next best thing: AJAX, which has long been good enough for applications like Gmail. SSL is available for secure connections.
ORTC has API support for several languages and frameworks, including Node.js, ASP.net, Java and PHP and supports iOS, Android and Windows Phone.
Parreira says he began work on the Realtime platform three years ago, and wanted to make sure it was something that would work cross-browser, cross-device, and cross-language, so anyone could use it. "The idea is to create an abstraction layer so you can use the real-time messaging system in a cloud-based environment," he explains, "then you can develop whatever you want without worrying about what could happen in terms of protocols in the future."
Use Cases: Publishing, E-Commerce, Ads
Currently, there are three main use cases for such a system. One would be for web publishers, who want to offer more interactivity between users on their website. In this scenario, users could see what each other were doing on the site, including what sections of the site were popular, what comments were being added, etc. The experience would be familiar to any Chartbeat users – it's that same feeling of live connectivity that would be present here, but it could do more than just highlight clicks and shares. (You can see a publisher who has implemented Realtime here, for example).
Another vertical would be e-commerce, which would allow retailers to watch as customers shop the site, then offer them things like coupons, discounts, or customer support in order to increase conversions. And then there are real-time ads, which is currently the third most popular use case, but one which could finally steer advertisers away from click-based metrics. "Because you're connected in real-time with a persistent connection, and it's bi-directional, you can also see where your audience is in the moment, what they're doing, and what they're looking at," says Parreira. "So, if you have an ad in front of you, our system can note that you're looking at the ad, and can track the time to the millisecond."
The company is now entering the U.S. market, so it's looking to partner with more companies here. However, it already has some deals underway, including several around the social TV space, such as with TVplus and Watchwith, for example, as well as with social marketing company Nobox, and TV channels Univision and the Tennis Channel. Worldwide, there are many other clients, including Sephora and South America's largest bank, Banco do brasil. Combined, Realtime's partners now power 120 million user connections across the web.
Parreira says that many people have talked about the real-time web, but generally in abstract terms. "Realtime is the first company building a tangible framework that will make that abstraction a reality. We did not create a product. We created an industry," he boldly proclaims. "Real-time will be the foundation of the next web, the modern era of the web, or, if you want, 'web 3.0,' and I think it's really going to impact a lot of businesses."
After I mentioned adding videos to ecommerce websites in a recent article, a client asked about specific types of video they might use on their website. In this article, I'll outline several types of videos you could add to your ecommerce site to help increase sales. I'll also cover where to host…



Please visit Search Engine Land for the full article.
Want to win a Gold Lion? Make your clients comfortable.
In advertising, many great ideas never see the light of day. It's a massive waste of time and energy, but it may also be an unnecessary loss according to a new study by researchers from Cornell, Penn and the University of North Carolina. David Burkus, professor of management at Oral Roberts University, explains the significance of the academic findings on 99u from Behance:
We now know that regardless of how open-minded people are, or claim to be, they experience a subtle bias against creative ideas when faced with uncertain situations. This isn't merely a preference for the familiar or a desire to maintain the status quo. Most of us sincerely claim that we want the positive changes creativity provides. What the bias affects is our ability to recognize the creative ideas that we claim we desire. Thus, when you're pitching your creative idea, it may not be the idea itself that is being rejected. The more likely culprit could be the uncertainty your audience is feeling, which in turn is overriding their ability to recognize the idea as truly novel and useful.
So, how do you provide a greater level of comfort before, during and after an important client presentation? Don't say you just feed the client's words and desires back to him or her. You may actually do that, but I don't see it as a difference maker. What else puts a client at ease when you stand before her or him asking for trust and money?
Your computer is no longer the only device with which you access the internet. In fact, studies are showing that it's not even the most common device you use to access the internet. And when even an internet connection is no longer a constant, there's barely any line left between web development and native development for most agencies.
As we're trying to transition through this sea change — arguably the most significant shift our industry has seen since the internet itself became a household fixture — each step takes us into new terrain. And we're not all moving at the same pace. Some of us are walking, others running. The tech companies seem to have built themselves jetpacks. In fact, Rey Interactive CTO Kevin Cogill believes they are powered by arc reactors.
Connect with the industry.
Want to meet the companies that are driving the future of digital marketing? Attend the iMedia Breakthrough Summit, Oct. 14-17.
Request your invitation today
.
In theory, HTML5 is the new sheriff in town. It has the potential to become a common denominator that can provide rich experiences across a wide variety of devices. But even as we're finally starting to understand and define HTML5 actually is, it can't do what a native iOS or Android app can do, nor is it in any position quite yet to unseat Flash as the backbone of the banner advertising industry. And then there's Facebook, which is essentially splintered into two different experiences, and no one's quite sure if or how Zuckerberg will be able to bring all of Facebook's third-party platform apps onto mobile.
Whilst reminiscing about the good old days — when things were simpler — Kevin and I came up with two challenges we know for a fact those servicing clients in this area will face, as well as some words to the wise on how to address them head on.
One app doesn't fit all
Here's the number one biggest challenge we see, in development, today: A client will tell us they would like an app. They will say it needs to be "mobile friendly" and look good on iPad. They want some social elements, and it should work reasonably well in all common browsers, including IE, because that's what they themselves (or their clients) use. We nod, as that sounds like an absolutely reasonable request, and we take on the project. Then the client sends over exactly one set of PSDs, with the all of the elements fit tightly together like Tetris blocks, in one painstakingly crafted presentation the size and shape of just one device. Kevin promptly cringes.
You see, it is very, very difficult for many of us in this industry to scale our visualization skills out exponentially, and design not just one user experience, but all of the user experiences implied by such a request. The window to your app might be tall, it might be wide, it might be huge, and it might be tiny. It might be served via FiOS, it might be served over a mobile connection with a limited data plan. The user might be navigating with their finger on a touch screen, or maybe with a mouse. How will swipe gestures work on devices where there is no such thing as swiping? Not daunted yet? Let's talk Retina displays. Yeah, they're on laptops now. Oh, and can it be a Facebook app? Wait, how many different versions of Android are there? Stop the madness.
OK, OK, I'll stop. The point here is that one app doesn't fit all devices. To stay wise — remember that and convey it to your agency partners and clients who ask you for this version of impossible. The industry is just not there yet. Maybe after a few years of hammering these challenges out, we'll get one hot summer where it's all pretty easy, before we're all putting chips into our brains that will give us our email and entertainment, which will simply implant all relevant data directly into our neurons. I can't wait to see how those apps will be QA'd. If you are pitching new business or bringing in clients to your shop, you must manage expectations in this area, or you will find yourself in over your head quickly.
Identify and spend time with your targets
The best thing you can do for yourself, as a brand or agency, is to pick your battles wisely, and respect the fact that each of them may have to be waged differently. It's by no means impossible to build a responsive web application that can flex from a tall iPhone screen all the way out to a 1440×900 HD display, but you're really going to have to think about every movement. Not just of your content, but also of the user: How will they navigate with their finger? How will they navigate with a mouse? How will you keep their phone from having to download too much, while maintaining a rich experience on their laptop over WiFi? Solving these challenges are what we're built for, but we all have to do a better job of identifying them and being very precise about requirements.
Your client wants a social element. Stop, and just ask yourself (and then them) "why." Is it because you want to be able to say that your app was social? Or is it because you want your app to augment a genuinely social experience that gets people talking about your brand? Yes, I know, the former, but the latter isn't all that hard, if you want some extra credit.
So, how do you get wise and really drill into your target? You do this by being real. Picture real, actual people using your app. Think of someone you know in (or near) your target demographic. Talk to them, if you haven't in awhile. I don't need to tell you to look at the hit viral campaigns that blow up your Facebook feed, but if you're going to copy them (no judgment), you must understand that it's usually the variables, and rarely the formula that resonates with people. When a campaign is really successful, there's always that "x factor," that something that touched, amused, or impressed a large percentage of all that caught a glance of it. So if you're going to steal, don't steal the successful campaign's formula. Go find someone inspiring, funny, or super smart. Steal their ideas, and then try plugging those into the formula that worked.
AJ Vernet is CEO and founder of Rey Interactive.
Kevin Cogill is CTO of Rey Interactive.
On Twitter? Follow iMedia Connection at @iMediaTweet.
"Businessman sitting at a desk" image via Shutterstock.
Your pitch is the stimulus driving an editor to Google the subject of your pitch.
What does the editor's zero moment of truth look like?
From supporting creative briefs to fueling message tracks, reasons to believe are a critical part of any campaign or plan, down to an individual pitch.
This is because reasons to believe are proof — the facts keeping the wings on the creative plane giving your pitch altitude. But as you build your media relations strategy, keep in mind that proof comes in various forms and is needed at various stages of your pitch.
After a pitch has gotten an editor's interest, a more esoteric but equally important type of proof is required to keep it. Let's call it provenance.

Antiques Roadshow
PBS' version of reality TV lets us watch people present objects for inspection by an expert who determines each object's value. One reason this isn't painfully boring? We get to watch each person learn if they're a millionaire holding a priceless piece of history or a schmuck who wasted their day hauling around a gimcrack.
It looks like Aunt Tilly is learning her robo-clock is worth some bank.
But it's also possible she's learning this retirement investment is bunk.
Similarly, if you're media relations strategy expects to take something from unknown to being featured in national media right away? You are probably a schmuck. That strategy is probably a gimcrack.
The Price of Age
One of the things that can help detect if someone hit the jackpot or not is provenance. It's an object's back story that turns an old table into the table on which the Declaration of Independence was signed.
Many media relations scenarios start locally or in the trades. They build momentum and introduce the client or company to national media to open lines of communications. And when the time is right, they pitch national media.
And this is why many professionals note that local and trade media coverage can garner national media coverage. The previous coverage is provenance. It takes time to build. And many companies or clients do not always want to take the time, much less spend the money, to build out their provenance.
But a pitch is like an object without provenance. "They are of very limited value unless we know where they were found."

Not a Fan?
If your company or your client isn't a fan of Antiques Roadshow, there's another way to get your point across.
Print out the first page of Google search results and/or Google News results for your pitch's topic. Do the results prove out your pitch?
Editor's need reasons to believe throughout the pitch process, not just in the pitch itself. A sound strategy accounts for the hard-earned proof, that will help get an editor's attention and keep it.
It's fun to talk about compensation. It's taboo, for one. Secondly, it's a game of measuring up — a game we've been taught to play since adolescence. So, let's jump on the new hourly billing rates for ad execs, made available by Rupal Parekh at Ad Age.
One item that caught my eye is agencies in the 4A's survey bill out their content directors at $355/hour. I was a content director for an agency not belonging to the esteemed 4A's, and I believe they billed me out at a slightly lower rate than that. Now that I'm freelance, I work for a fraction of the 4A's norm. This fact is not represented in the 4A's survey, nor anyone else's survey.
Parekh notes that the numbers provided represent "suggested retail price" established by the agencies, and that the hourly billing rates are "fully-loaded," including overhead and other costs.
Yes, but that does nothing for the steepness. For example, New York-based chief creative officers bill out at $637 an hour. Which means the hour cab ride from Manhattan to JFK costs the client the same as the hour of actual concentration given to the marketing problem at hand. For this and other reasons, hourly billing simply isn't the right model for the ad business. Hourly billing also will never accurately reflect the value of the hour billed. The cab ride to JFK may be the breakthrough moment that leads to massive sales and future earnings for the client, but that hour is indistinguishable from any other. The breakthrough hour might be worth a million dollars, or more. Whereas all the meetings, lunches, and other time sucks that a CCO logs is actually worth much less than $637/hour.
Speaking from experience, I also find it difficult to measure precisely just how many hours I work on a project. You have to be diligent and keep track everyday, but even then there's so much gray area to cover. I like to make note of my most productive hours and put those down, but what about the non-productive hours that I spend on the client's business? Those non-productive hours are important too, because they often lead to discoveries made later in the day.
Clearly, my preference is for project-based pricing, which comes with a built-in incentive to work efficiently — something totaling lacking from the hourly model.
We've been keeping an eye on Twheel, an absolutely stunning Twitter client for iOS. It's a fun, thumbable carousel that presents tweets in an entirely new and totally gorgeous interface.
Too bad it was doomed from the start.
You see, although the pretty app is innovative, unique, and beautifully designed, it crosses the line for Twitter API use. Over the past couple of years, Twitter has consistently asked developers to stop making Twitter clients — apps that scrape Twitter's data (tweets, profile info, etc.) and reproduce it in a new API without Twitter's advertising products (the promoted tweets, profiles, and trends that pay the young startup's bills and that don't currently have their own API).
From stages and in blog posts and memos, Twitter execs have been steering developers away from building clients, recommending instead focusing apps and third-party businesses on analytics, marketing, and other areas of opportunity. While the API technically still allows for client-building, that will be changing soon.
Specifically, Twitter's API terms of service currently state that Twitter apps "cannot frame or otherwise reproduce significant portions of the Twitter service." While the API still currently allows for clients — a legacy we're sure will be corrected over the coming months and years — the terms of service place some strict rules on how clients display tweets and serve ads.
Twitter started out with a wide-open API for any kind of use, including building clients like Twheel. However, since 2010 or so, Twitter has been slowly applying pressure to the ecosystem of third-party apps and hoping that developers will get the loud-and-clear message: No more clients, please.
Twitter itself acquired a couple of the more popular clients, including iPhone app Tweetie and desktop app TweetDeck. Other apps, such as UberTwitter, Seesmic, and Hootsuite, have been put into the awkward position of competing with their own API provider.
Here's a demo video/commercial showing what Twheel can do:
Starting in 2010 and continuing through 2011, Twitter began issuing strong and consistent messaging to developers: Don't make a Twitter client using Twitter's API. Don't duplicate Twitter's features, and don't rename or redesign them. Most vitally, don't channel users away from Twitter's ads.
These changes were reflected in the company's API documentation as well as in several memos and blog posts from high-profile Twitter platform employees.
So, why would the founders press forward with the app when it's obvious Twitter isn't smiling on such uses of the API?
We're not sure if Twheel's launch represents arrogance, ignorance, or high optimism on the part of its team, but of this we are sure: the app won't be around for long.
In 2007, Twitter was still in its infancy and needed client apps to improve on its bare-bones design and create excitement and adoption for the young service. Co-founder Biz Stone said at the time, "The API has been arguably the most important, or maybe even inarguably, the most important thing we've done with Twitter. It has allowed us, first of all, to keep the service very simple and create a simple API so that developers can build on top of our infrastructure and come up with ideas that are way better than our ideas."
But times have changed drastically over the past five years, and so has Twitter's position on its own API and the developers that use it.
Twheel may try to save itself by incorporating other services; the team may reach some sort of agreement with Twitter; it could languish in the App Store with a few thousand downloads, allowing it to pass under Twitter's radar. Or it could see its API access revoked. Or it could get quietly crushed during a Twitter API update. Time will tell; we've reached out to both companies for more information on the issues at stake and will update this post when we hear back.
Filed under: dev, mobile
It's not every day you get an email from one of your idols, but that's what happened to me last year.
When I started out as a copywriter, my holy grail was a book called 'Write to Sell – The Ultimate Guide to Great Copywriting' by Andy Maslen. His words helped me develop my writing techniques to enabled me to become a successful copywriter. So, you can imagine my shock (in a good way) when I received an email from Andy asking if he could interview me for his new book 'Write Copy, Make Money'. I finally got to meet him at the launch of his book and we've stayed in touch, which has led to this post.
Now it's my turn to interview Andy. He's been kind enough to talk to Freelance Copywriter's Blog about working as a copywriter and the world of freelancing. Today's instalment is all about copywriting.
Andy Maslen on Copywriting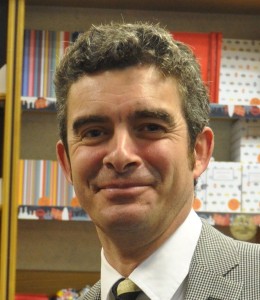 1. How did you get into copywriting?
My first 'proper' job was working as a marketing assistant for a research publisher. Copywriting was part of my job – for mailshots, press releases and catalogues. I discovered I was good at it and tried to do as much of it as I was able. I started buying books to find out how to do it properly and nagging my boss to send me on courses.
2. What is it about copywriting that gets you out of bed every morning?
Simply that I love writing it. No two days are the same and I get to spend my time working on some fascinating projects with some very nice people.
3. What has been your greatest challenge so far?
Sending in the first draft of my first-ever copy as a freelance, back in 1996. I could hardly bear – or dare – to let it go. I wanted to ensure it was perfect, which, of course, it never can be, before letting the client see it, and I was terrified it wouldn't beat their control (it was a mailshot for an IT magazine). It did, for which I will be eternally thankful.
4. What has been your best copywriting experience?
I do like it when clients send me grateful emails without being asked. And I love it when we write something that helps a client hit their business targets. In straightforward copywriting terms, probably writing the Annual Report for a Swiss client – stakeholders up to and including the Chairman of a quoted company.
5. What has been your worst copywriting experience?
Ooh, tough one. There was a job I turned down – to write copy for a new product on which, as I was told, "Our Chairman and our CEO don't agree, and we also have a few other directors of business units who don't want to launch it. Oh, and we haven't fixed the price yet. We thought you could help us sort it all out." In general, I am grateful, still, for every copywriting job. Even if it ends up not going in the portfolio, we still get paid.
6. What would be your dream copywriting job?
Writing launch copy for a new Jaguar sports car – but I'd have to spend a few days driving it round country roads and test tracks to ensure I got all the emotion-led benefits copy just right.
7. How do you deal with difficult clients?
We try to avoid problems in the first place by taking on clients who think the same way about copywriting as we do. We've developed a very simple set of questions we ask them that helps everyone decide whether working together would be a good idea.
If they're asking reasonable but challenging questions about the copy, we explain why we've written it the way we have. If they're challenging our copy on the grounds of personal taste, we will argue the point but may decide to concede. After all, they're paying the piper.
If they're being difficult about paying, we send a series of emails culminating in a friendly note that we intend to seek legal redress.
8. Can you describe the creative process you go through when starting a new project?
You'll have to forgive me for quoting my hero, David Ogilvy, who said, "I don't want you to tell me you find my adverts 'creative', I want you to find them so compelling you buy the product". In other words, I don't see what I do as a creative process; it's a commercial process. And it goes like this: I spend some time thinking very hard about what problems the client's product or service solves, and for whom. I find out everything I can about the customer, and the product, preferably from the people who make it as well as sell it. And I get a very good written brief from the client.
Then, once I've done all this I usually go for a walk with my dog. I mull over the approach I want to take and come back to the office. Then I sit and stare at my screen very hard for a few minutes. If something comes, I start writing as fast as possible without looking at the screen until I run out of steam.
If nothing comes, I do some more thinking and switch to a different project or activity. I find that an approaching deadline stimulates my creativity wonderfully.
9. What advice would you give someone thinking about breaking into copywriting?
Go for it! It's a lovely way to earn a living. More specifically, read everything you can lay your hands on about selling, marketing, advertising and, of course, copywriting. Know the kind of copy you want to write and the kind of company you want to work for, either as a freelance or as an in-house copywriter. Develop a thick skin and good diplomacy skills. And realise that you should break into copywriting because you love selling not because you love writing. If you love writing for its own sake, write fiction or poetry or be a journalist – copywriting is a business and it's a tough one at that.
10. You've written a number of books about copywriting, how did that come about?
When I set up my agency, Sunfish, in 1996, I wrote our marketing strategy on a little piece of paper. In full, it read "Books – Articles – Speeches – Training". So I always knew I would have to write a book. I wrote a draft of one that sat in my pending tray for about five years, then a friend introduced me to her publisher and he expressed an interest. I wrote a second draft and submitted it and he liked it, so that was that. It sold moderately well, so my publisher was keen for me to write more and I was happy to oblige.
Stay tuned for Malsen on Freelancing…
Andy Maslen F IDM
Andy Maslen is Managing Director of Sunfish Ltd, a copywriting agency specialising in corporate publicity, direct marketing and subscriptions. He writes and speaks regularly on copywriting and corporate communications and is a best-selling author.
Andy has worked with, among others, The Prudential, Nobel Biocare, The Economist Group, Emap, the DTI, BBC Worldwide, Hamleys, The London Stock Exchange, The British Standards Institution, the RSPB, Time Out, The New York Times Company and PricewaterhouseCoopers.
Andy is a lifetime Fellow of the Institute of Direct Marketing and author of Write to Sell: the Ultimate Guide to Great Copywriting; 100 Great Copywriting Ideas: from Leading Companies Around the World; The Copywriting Sourcebook: How to Write Better Copy, Faster – For Everything from Ads to Websites, and Write Copy, Make Money: How to Build Your Own Successful Freelance Copywriting Business, all published by Marshall Cavendish.