Archive for the 'college career services' tag
Video might have "killed the radio star" with the birth of MTV in 1981, but now video is an expanding part of our everyday lives. Online video especially has grown and developed since the birth of YouTube in 2005, making sharing videos easier than ever. Online video might conjure moving images of cats jumping into boxes or toddlers saying precocious things, but it's much more than that. Used well, online video can be a great tool in the employment process.
Whether you want to use video to interview or to enhance your resume , there's sure to be an outlet to help. Here are some great ways that online video can work to streamline your hiring process or even help score your dream job.
Video Recruiting
Video tools are helping recruiters find the best candidates in both the professional and collegiate world. CareerCam, a video hiring solution, helps recruiters to get on the ground floor of talent. While the company has a professional interview component, the more interesting aspect might be its use in college career services. Now companies can save on campus recruiting time and resources through the power of video. This allows recruiters to focus on the newest up-and-coming talent right out of the gate without spending hours traveling from campus to career fair. At heart, the purpose of all video recruiting technology is to cut down on wasted time.
Video Resumes
For those seeking to use video resumes, tread carefully. It's been a long road since the first video resumes were sent out on VHS tapes, and many have been run over by their own enthusiasm along the way. For example, there's the infamous video resume of Aleksey Vayner called "Impossible is Nothing." As a piece of performance comedy the video couldn't have been better, showing Vayner ballroom dancing and playing tennis. It was even parodied by Scott Pilgrim versus the World's Michael Cera. As a resume to get hired, though, it was terrible.
This is why many video resume sites have reigned in the candidates' urge to make resumes overly elaborate. My company, Spark Hire, sports a simple point and shoot video resume, deterring job seekers from getting overly cutesy with their personal pitch. No ballroom dancing here! Candidates that impress with their video resume can also be invited to interview with their potential employers via one-way video interviews or face-to-face two-way video interviews. Other players in this space, such as OVisualCV, InnovateCV, and newly-launched enRecruit do something similar.
Instant Replay
One of the most innovative aspects of online video for hiring is playback ability. It's just like the instant replay in sports, only for recruiting. Here's how it works: Employers give candidates a list of interview questions and candidates record themselves on video answering those questions. Once recorded, these videos can be viewed by anyone in the company at any time. This one-way interviewing really expands the collaborative approach to hiring. Now team members can see their potential new co-worker and weigh in. Plenty of video hiring sites allow companies to share these interviews and take notes. Now, instead of wrangling the schedules of a whole team of people, you can just click a button. HireVue even allows companies to create branded interview portals with personalized welcome videos tailored for specific jobs and regions.
Live Video Interviewing
Let's be honest, the real crown jewel of online video for the recruitment process might just be live video interviewing. Being able to interview a candidate on video merges the convenience of phone interviews with the intangibles you can only assess in person. Since nonverbal accounts for somewhere between 50 and 70 percent of all communication, the visuals are important.
Video interviewing also helps cut down on costs associated with the hiring process by speeding it up and removing the cost of travel for both job seekers and employers. Sites like Montage and GreenJobInterview have live video interviewing options. Spark Hire allows companies to record these live interviews for playback and sharing later. Plus, as the name of GreenJobInterview implies, video interviewing is environmentally friendly.
In the future there might even be new innovative ways in which video can supplement and enhance the hiring process. For now it's helping employers and job seekers save time and money.
Josh Tolan is the CEO of video job board and online interview platform maker Spark Hire. You can connect with him on Facebook and Twitter.
Filed under: Entrepreneur, media, VentureBeat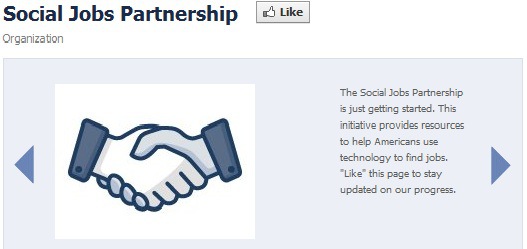 Earlier today, Facebook and the U.S. Labor department announced a new program to help unemployed workers find jobs. The program, which is called The Social Jobs Partnership, will seek to leverage the power of social media to connect unemployed workers with jobs.
Marne Levine, Facebook's VP of Global Public Policy, released a statement that said the following of the new program:
"Facebook is about connecting people so that they can share what's important to them, and that is the driving force behind the Social Jobs Partnership. We've brought employers, recruiters, college career services and government agencies together to help the millions of Americans who use Facebook find jobs."
According to a recent independent survey, over 70% of college career centers have a Facebook Page and a recent poll indicated that 92% of employers have either recruited or plan to recruit via social networks in the near future.
The program will include a central Page on Facebook that will provide resources and content to help both employers and job seekers. In the states with the highest unemployment rates, Facebook will promote the resources and Page using public service announcements on Facebook.
In addition to the Page, Facebook and its partners are researching how social networks are currently being used by the unemployed, career centers, and employers. Facebook indicated it would like to deliver job postings virally to the unemployed workers through Facebook.
Facebook and the Department of Labor are working closely with the Direct Employers Association, National Association of Colleges and Employers, and the National Association of State Workforce Agencies to leverage the power of social media to match potential employers with unemployed workers. Although the jobless claims slightly decreased last week, the unemployment rate has been above 9% since April.
[Sources Include: Facebook, Market Watch, Washington Post, & Bloomberg]
Follow SEJ on Twitter @sejournal