Archive for the 'Corporate' tag
The Center for Marketing Research at the University of Massachusetts Dartmouth is out with its latest survey of the Inc. 500′s use of social media, and once again small companies outpace large ones. Ninety-two percent of the Inc. 500 use at least one of the tools studied, which include blogs, Facebook, LinkedIn, YouTube, Pinterest and Foursquare.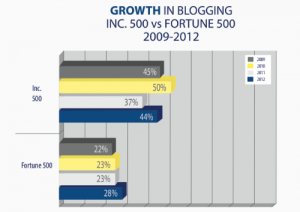 Interestingly, the use of blogs jumped among the Inc. 500 after four years of little or no groth. Forty-four percent of the 2012 Inc. 500 are blogging, compared to just 23% of the Fortune 500. The figure is a jump from the 37% of Inc. 500 companies that were blogging in 2011. Researchers Nora Ganim Barnes and Ava Lescault found that 63% of Inc. 500 CEOs contribute to blog content.
Also notable is the surge of interest in LinkedIn, which is being used by 81% of companies compared to 67% for Facebook and Twitter. Facebook was the big loser in this survey. Its usage dropped 7% from last year.  Up-and-comers are Foursquare (28%) and Pinterest (18%).
Growth in social media investment showed signs of slowing in this survey. Only 44% of respondents says they're looking to spend more on social media, down from 71% in the 2011 survey. Forty-one percent say their level of investment will remain, up from 25% last year.
Sixty-two percent of respondents said social media is "very necessary or "somewhat necessary" to the growth of their company. This is the sixth year The Center for Marketing Research at UMass Dartmouth has conducted the study.
There's lots more on the summary page, including links to downloads of the full results.
Related articles
RIM is about to lay off more employees in an ongoing effort to cut $1 billion by 2013. According to one report, as many as 3,000 RIM staffers could get the boot as soon as next week. However, RIM has not officially confirmed this as of yet.
RIM's Global Corporate Communications Manager spoke to TechCrunch this afternoon and confirmed there are more layoffs on the horizon. She went on to explain that the company is "moving quickly for the impacted employees." As RIM communicated earlier, the company plans to eliminate 5,000 positions within the current financial quarter. While RIM hasn't pointed out affected departments and regions, it seems those working on BlackBerry 10 are safe — well, at least for now.
RIM is seemingly betting it all BlackBerry 10. RIM's spokesperson indicated today several times that BB10 employees are safe from layoffs. The company already delayed its next-gen mobile platform from later this year to early 2013. The project likely needs all the help it can get.
Prior to cutting 2,000 people in July, RIM employed around 16,000 people worldwide. But now, after concluding this next round of layoffs, RIM will have just around 9,000 — a rather humble amount consider RIM once employed around 20,000 people.
As for IBM buying RIM's enterprise division, a separate RIM spokesperson indicated that RIM will not comment on rumors and speculation.
Facebook keeps its network tight. Today it promoted Justin Osofsky to director of platform partnerships and operations, taking the spot of Ethan Beard who is departing after leading the partnerships team along with Dan Rose since 2008. Director of platform marketing Katie Mitic also announced she was leaving today, and mobile platform marketing manager Jonathan Matus stepped down last week.
Along with Sheryl Sandberg's addition to the board of directors, and long-time Facebook engineers Mike Vernal and Cory Ondrejka taking on former CTO Bret Taylor's role, the message is clear that Facebook prefers leaders steeped in its open and connected philosophy.
On its earnings call last week, CEO Mark Zuckerber explained that Facebook can't build all the great social products it'd like to see in the world, so it opened a platform. Companies who build on it can gain traffic and payments while contributing content and experiences that draw people to spend time on Facebook.
But the company's features, design, and APIs change quickly, and it often secretly gives developers time build products before things are announced. That's why Facebook requires platform directors who can play both the evangelist and the diplomat.
The soft-spoken but enthusiastic Osofsky is strong fit for the role. Over the years, I've seen him navigate privacy concerns through the launch of Instant Personalization, march Facebook across the web through social plugins, and most recently lead all the media partnerships for Open Graph. The Open Graph social reader apps Osofsky arranged have brought news content into Facebook and made Facebook to the media in a way some only thought Twitter could be.
Along with taking on Beard's platform partnerships role, Osofsky is now also a director of operations including platform operations and developer support. That mean's he's responsible for maintaining the stability of the Facebook backbone and the apps built on it.
With Beard and Matus heading out, Mitic taking off for startup-land, and director of product management for Open Graph Carl Sjogreen leaving last week too, Facebook's platform team looks very different now. Here's the key players you should know about:
Dan Rose, VP of Partnerships – Rose was is long-time Amazon and Facebook veteran handling major partnerships. He scaled the monetization team for Facebook before beginning to head up partnerships three years ago. Him and Beard worked closely to build their team.
Justin Osofsky, Director of Platform Partnerships and Operations – Similar to Sandberg, Osofsky's got three degrees from Harvard, worked in consulting at McKinsey, and helped launch Facebook Connect and payments for games. Now he's overseeing partnerships for the whole globe.
Vaughan Smith, VP of Mobile Partnerships & Corporate Development – Smith handles acquisitions to make sure top mobile talent comes to work for Facebook.
Amin Zoufonoun, Director of Corporate Development – Zoufonoun signed some of Facebook's big early acquisitions, and since the social network acquires or acq-hires from about one company per month, he has his hands full.
Chris Daniels, business development – Daniels spearheads Facebook biggest partnerships, and did the same at Microsoft before.
Emily White, mobile partnerships – This will be an increasingly important role as more and more of Facebook's users access the service solely from mobile.
David Fisch, mobile developer relations – Facebook needs apps integrating its social features so it can pull in content that it monetizes with ads, and Fisch makes sure this happens.
IBM published a very gloomy statistic – around 80% of corporate blogs don't get beyond a fifth post.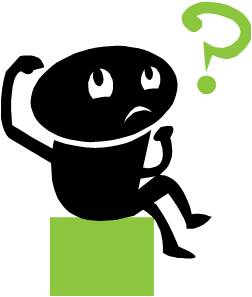 Isn't that incredible?
Is it really that difficult to run a blog?
Well, I've been blogging for about 5 years now and I'm still going strong, so what is that I'm doing that the corporates aren't?
Showing commitment
One of the first things you must realise when you start to blog is that you must be committed to it.
It's no good going into it all gung-ho only to suddenly realise you have nothing left to say after a few posts.
Coming up with great ideas day after day is one of the basic requirements of a blog. Of course, in a large company you have the benefit of numerous staff members who can also contribute, so there should be no excuse for running out of material.
If you don't have the manpower to run the blog, why not outsource some of your writing to a copywriter who can create fabulous posts for you by recycling old white papers, interviewing some of your subject matter experts or producing posts commenting on industry news?
But content is only one aspect, you also have to publicize it through your social media channels, make sure your posts are found by using your keywords and keep an eye on your analytics to measure your reach.
Then you have the comments to consider. These must be responded to in a timely manner and monitored.
You see there's a lot to think about.
Finding your voice
Assuming you have the commitment necessary to make your blog a success, you then have to think about how you want to come across to your readers.
There's no point mimicking someone else's style because why would anyone want to read a copycat blog?
It's vital you find your own voice and style and come up with posts that are unique to you. After all, no one wants to subscribe to a dozen blogs that all comment on exactly the same stuff.
Also, try to mix your posts up a bit. Don't just comment on industry news all the time, try adding in some 'how to' posts or top tips, perhaps even an interview or case study to keep it fresh and challenging.
Be patient
A lot of companies give up too easily. Once they start to blog, they expect to instantly see a vast increase in their traffic. But it doesn't happen that way.
You must be patient because it will take time to get your posts to work effectively in the search results, for them to be found and for your readership to grow.
To encourage people to read your blog, make sure it's easily accessible from you website, mention it in your newsletters and other customer communications and publicize each new posts through social media.
Above all be patient, it will happen.
Blogging isn't a quick fix; its ROI won't materialize over night. It's a long-term commitment. So don't give up, keep going because sooner or later you will begin to see the benefits.
A guest post by Tim Riesterer of Corporate Visions.
The 2012 Summer Olympic Games start today. Over the past few weeks, marketing and advertising campaigns related to the games have appeared on billboards, the radio, and—most prominently—on TV.
One stand-out example is this P&G Olympics commercial.
Why is it so memorable and effective? Because it uses one of the most successful marketing techniques: storytelling (specifically, the "hero model").
The fact is humans live in story. Your story is your worldview, and it affects how you make decisions. When a story employs the hero model, it becomes all the more relatable and powerful.
But what exactly is the hero model?
Renowned mythologist Joseph Campbell devoted his life to documenting myths and hero stories from more than 100 countries. What he learned about the hero model inspired him to write the book The Hero With a Thousand Faces. Campbell called this storytelling model "Mono Myth" (or "One Story") because he realized that all the hero stories essentially told the same story over and over again.
I'm sure you're wondering how this applies to you and your marketing initiatives. Well, if you want to successfully market your product, you should use this model to effectively tell your story. The concept is simple, and it includes five basic steps, all which are applied in the P&G commercial.
The world is normal.

Something changes.

The hero pushes back.

Enter the mentor.

The hero saves the day.
The P&G commercial starts out by showing each family in a different country and their daily routine, including getting out of bed,
eating breakfast, and heading to school. Then, something changes: Each child gets inspired by a sport. Each child trains hard but hits bumps along the way, such as getting an injury or not performing well under pressure. Just when the children begin to doubt themselves, Mom is there. Mom is the mentor that the children need to help them get through the hard practices, the bumps and bruises, and the disappointments. Each mom gives them the strength and the courage to not give up on their dream—to compete in the Olympic Games. In the end, each child has grown up and achieved their Olympic goals.
The hero model works so well because there's something in our brains that responds favorably to this model, no matter what our culture. As a marketer, you need to be the mentor and turn your customers and prospects into the hero. Your role is to help them see what has changed in their market and how they can adapt to better survive and rise above the competition.
To achieve this storytelling model, make sure your marketing messages look at your customers' world and address the objectives and pains that your customers might not even realize they have. Then, show them how they can solve those problems with your solution. Your customers and prospects will be empowered to make a change and to choose you, proving that in the end, the mentor and the hero are both winners.
With more than 20 years of marketing and sales experience, Tim Riesterer, Chief Strategy and Marketing Officer at Corporate Visions, Inc., is a recognized thought-leader, practitioner and author regarding marketing and sales messaging. Tim's books, Customer Message Management and Conversations that Win The Complex Sale, focus on increasing a marketing department's impact on selling by providing sales-ready messages and tools that salespeople can use to create a compelling story that wins more deals.
(Photo courtesy of Bigstock: Olympics London)
How Microsoft Lost Its Mojo: Steve Ballmer and Corporate America's Most Spectacular Decline – Kurt Eichenwald via Vanity Fair:

Kurt Eichenwald, Microsoft's Lost Decade

Once upon a time, Microsoft dominated the tech industry; indeed, it was the wealthiest corporation in the world. But since 2000, as Apple, Google, and Facebook whizzed by, it has fallen flat in every arena it entered: e-books, music, search, social networking, etc., etc. Talking to former and current Microsoft executives, Kurt Eichenwald finds the fingers pointing at C.E.O. Steve Ballmer, Bill Gates's successor, as the man who led them astray.

[…]

The story of Microsoft's lost decade could serve as a business-school case study on the pitfalls of success. For what began as a lean competition machine led by young visionaries of unparalleled talent has mutated into something bloated and bureaucracy-laden, with an internal culture that unintentionally rewards managers who strangle innovative ideas that might threaten the established order of things.

By the dawn of the millennium, the hallways at Microsoft were no longer home to barefoot programmers in Hawaiian shirts working through nights and weekends toward a common goal of excellence; instead, life behind the thick corporate walls had become staid and brutish. Fiefdoms had taken root, and a mastery of internal politics emerged as key to career success.

In those years Microsoft had stepped up its efforts to cripple competitors, but—because of a series of astonishingly foolish management decisions—the competitors being crippled were often co-workers at Microsoft, instead of other companies. Staffers were rewarded not just for doing well but for making sure that their colleagues failed. As a result, the company was consumed by an endless series of internal knife fights. Potential market-busting businesses—such as e-book and smartphone technology—were killed, derailed, or delayed amid bickering and power plays.

That is the portrait of Microsoft depicted in interviews with dozens of current and former executives, as well as in thousands of pages of internal documents and legal records.

"They used to point their finger at IBM and laugh," said Bill Hill, a former Microsoft manager. "Now they've become the thing they despised."
If we need proof that someone can make a billion dollars and still be an idiot, look no farther than Steve Ballmer. Why is he still running Microsoft, by the way? Will Gates come back and retool for 21C?
Does anyone really believe that Microsoft can compete against Apple, Samsung, and Google on smartphones, at this point?
Maybe a corporate raider should buy them, and spin out the divisions that might be able to fly on their own, like PS2, sell the enterprise software side to IBM, and shut down the rest. Of course $MSFT market cap is still $246B, so it would take a lot of money to buy.
Location analytics company Placed beat out four other mobile services companies today at our MobileBeat Innovation Competition.
For winning the competition, Placed bagged our Tesla Prize, which is named after Nikola Tesla, the scientist who developed early mobile communication. The company will receive a two-hour business strategy session from three principals at Tandem Capital, as well as 10,000 Business ExtrAA points from American Airlines (or around five domestic round-trip tickets).
We want to thank the industry leaders that are supporting MobileBeat 2012: W3i as Platinum Sponsor; Box as Corporate Sponsor; Flurry, Tapjoy & YouWeb as Gold Sponsors; Greystripe, Nokia Developer, LifeStreet Media, Ludei & Sequoia Capital as Silver Sponsors; Game Insight, Apsalar, Kontagent, GREE, Nexage, Pontiflex, Swrve, Urban Airship, PayPal, Betable, Xyologic, and Tandem as Event Sponsors; and MyPref & PubNub as Contributing Sponsors.
Filed under: mobile, VentureBeat
The Good Ear, a company that has developed a smartphone app to help with hearing loss, has emerged triumphant in our smartphone app competition at MobileBeat 2012.
For winning the competition, The Good Ear bagged our Tesla Prize, which is named after Nikola Tesla, the scientist who developed early mobile communication. The company will receive a two-hour business strategy session from three principals at Tandem Capital, as well as 10,000 Business ExtrAA points from American Airlines (or around five domestic round-trip tickets).
We want to thank the industry leaders that are supporting MobileBeat 2012: W3i as Platinum Sponsor; Box as Corporate Sponsor; Flurry, Tapjoy & YouWeb as Gold Sponsors; Greystripe, Nokia Developer, LifeStreet Media, Ludei & Sequoia Capital as Silver Sponsors; Game Insight, Apsalar, Kontagent, GREE, Nexage, Pontiflex, Swrve, Urban Airship, PayPal, Betable, Xyologic, and Tandem as Event Sponsors; and MyPref & PubNub as Contributing Sponsors.
Filed under: mobile, VentureBeat
"Tech firms based in Western democratic countries will continue to support the compromises of political free speech and personal privacy that are, more or less, encoded in law and policy today. The wild card in the next decade is the degree to which civil unrest is limited to countries outside that circle. If disaffected youth, workers, students, or minorities begin to burn the blighted centers of Western cities, all bets are off because the forces of law and order may rise and demand control of the Web. And, of course, as China and other countries with large populations—like India, Malaysia, and Brazil—begin to create their own software communities, who knows what forms will evolve, or what norms will prevail? But they are unlikely to be what we see in the West. So we can expect a fragmented Web, where different regions are governed by very different principles and principals."

– Stowe Boyd, cited by Janna Anderson and Lee Rainie in The Future of Corporate Responsibility via Pew Internet & American Life Project (via underpaidgenius)
This sponsored post is produced by YetiZen.
YetiZen is having their "Get-In-The-Game pitch competition" at Casual Connect Seattle 2012!
On July 24th, YetiZen will be at Casual Connect Seattle 2012 hosting their third amazing Get-In-The-Game Pitch Competition! This is your chance to present to their incredible audience of investors, notable game industry CEOs, and entrepreneurs to jumpstart your fundraising and company building efforts. Showcase your creative juices to some of the most prolific people in the game industry!
YetiZen be choosing 5 finalists who will present live on stage at Benaroya Hall to a group of superstar judges.
Judges at past competitions have included Terence Fung (Corporate Development at Zynga), Michael Chang (Director of Corporate Development at Electronic Arts), Tim Chang (original VC rockstar and Managing Director at Mayfield Fund), Michael Klein (Canaan Partners), and Rob Coneybeer (Shasta Ventures)!
The most promising startup will be selected based on the following criteria:
Innovation
Clarity of Business Model
Presentation Skills
Businesses plan for an exit
Potential for business success (revenue, installs, and acclaim!)
Entrants must be a startup company in the mobile or social game space. Publicly traded or large, well-known private companies are NOT eligible.
To apply please visit:
http://yetizen.com/competition/
Competition will begin on July 24th at 11:00am. The winner will be announced at 4:00pm and be invited to participate in our August Round for the YetiZen Accelerator Program, awarded OnLive consoles, and many many more prizes.
Deadline for submission is Friday, July 20th, 2012 at 5:00pm Pacific Standard Time.
Sponsored posts are content that has been produced by a company, which is either paying for the post or has a business relationship with VentureBeat, and they're always clearly marked. The content of news stories produced by our editorial team is never influenced by advertisers or sponsors in any way. For more information, contact garrett@venturebeat.com.

Filed under: Entrepreneur, games, VentureBeat