Archive for the 'front' tag
Posted by willcritchlow
At Distilled, we define our purpose as "discovering, implementing and sharing the ways great companies succeed online". It should come as no surprise, then, to learn that (a) I think a lot about how to learn SEO effectively and (b) we try to build learning into pretty much everything we do.
"How should I learn more about X?" is one of the most common questions I get asked both internally at Distilled and from the community and
"How should I learn more about SEO? is probably the most common among those.
Paddy wrote a really useful post this week covering some excellent resources for those starting out in SEO. I wanted to add my thoughts about the most effective ways of learning:
How to learn SEO
1. Curiosity is your biggest asset
Firstly, and most importantly, it's entirely up to you. Nobody else can learn for you. The single lesson that I remember most clearly from my school days was from Mr. Wilson, my electronics teacher. Paraphrasing:
Always ask yourself 'how does that work?'
I think this is one of the most critical life skills you can possibly acquire. It might surprise you to know that I think it'll make you a better SEO if you spend your time asking yourself questions like these (Spoiler: answers at the end of the post):
How do they get cranes on top of big buildings?
How come phone touch screens work through paper but not through foil?
How does gmail's two-factor authentication work? [Side-note: please turn on two factor authentication - it's more pain-free than you expect]
This highlights one of the key distinctions I wanted to make in this post. Learning is not the same as training. If you are provided with formal training opportunities at work then that's great, but in my opinion it's never going to be more than 5-10% of your learning. You are responsible for you – I highly recommend this talk by Sheryl Sandberg who I think is one of the best speakers on getting ahead at work:
From an SEO perspective, I suggest applying this first to the whole stack of a search result – from crawling, indexing and ranking to the actual delivery mechanism (DNS, TCP/IP etc.). The more curious you are, the better you'll be.
Closely related to this, I highly recommend getting your hands dirty in order to try to understand how things work. I'm a big advocate that this is very rarely a bad idea – though sometimes you also need a sandbox while you're learning. (This was the motivation behind our interactive modules in DistilledU – when you are learning about robots.txt syntax or Google Analytics code modifications it's nice to take the very first steps in a safe environment).
I would go as far as to say that if you are looking to get into online marketing from scratch, the very first thing you should do is get a small site entirely under your control – everything from registering the domain to adding the Google Analytics code. What could go wrong?
2. Take advantage of steep learning curves
It can take a lifetime to dominate specific skills, but it's surprising how much you can learn in a weekend (or even a couple of hours).
I talked about the exponential nature of learning in my Searchlove presentation in London last year. See slides 18+ here:
Link building mediocre to great from Will Critchlow
In summary, my mental model for learning is not an evenly paced journey from beginner to expert but more like an exponential scale where it gets many times harder to get from each stage to the next:
No experience at all – complete beginner
Basic competence – you start to be able to complete basic tasks (perhaps with oversight)
Core competence – you can handle pretty much everything in this subject area
"Distilled expert"(*) – one of the people that those with core competence turn to for help
Renowned expert – wrote the book
(*) that's what we call it at Distilled – you can use your initiative to come up with your own name for this level
Side-note: this scale deliberately includes a little confusion between excellence and fame – I'm afraid the real world works this way as well. My thinking on the subject was influenced by Joel Spolsky's writing on the subject of developer compensation [PDF]
You can make this work to your advantage – even if you don't intend to become a world expert in something, there is huge benefit to learning enough to know what you don't know. In my own online marketing journey, I've enjoyed applying this to technical skills ranging from setting up a linux server to toying with client-side jQuery as well as creative skills like basic video editing and animation.
I think Danny Dover's checklist is a great place to get started with this kind of learning for SEO.
3. You need to know the existence of trivia
I've observed that a trait that appears to separate highly successful technical marketers (and knowledge workers in general) from everyone else is the ability to recall the existence of arbitrary details.
Not everyone is a trivia geek, but they all tend to remember enough about the subtleties of a problem to find the detailed answer they need to get their job done. Whether this is remembering that there can be a time-lag to DNS propagation, that googlebot only crawls from US IP addresses or that if you include a specific user-agent directive in a robots.txt file that robot will only listen to those rules(*), it's this skill that avoids disaster over and over again.
(*) this last tidbit was something I learnt while building the robots.txt interactive module for DistilledU.
I think the way you cultivate this skill is to read widely and to create things yourself (what @bfeld has been inspiring me to call maker mode).
On the "reading widely" front, I strongly recommend setting yourself up with something like Instapaper that allows you to remain curious and interested without getting sucked into reading articles all across the internet all day every day. Instapaper gives you a browser bookmark (and mobile app) that lets you save an article to read later – and formats it for easy distraction-free reading. (My favourite feature is its ability to send a weekly "magazine" to my kindle every week). Others at Distilled like Pocket which does something similar.
The need for maker mode is the realisation that you never really understand the subtleties of something until you've done it. I talk more about this later.
Of course, you probably need deep expertise in at least some areas as well (the notorious T-shaped inpidual) but I would counsel that you should avoid spending all your time learning minutiae. The internet is full of it, half of it isn't correct and for much of the rest, you are far and away better served by shipping real things.
4. Expose yourself to intimidation
I talked about this at our all-hands company meeting in London in January. I talked about the perils of letting yourself be the smartest guy/gal in the room (TL;DR get yourself into a different room – at least some of the time). I think most people who have been really good at something let themselves at some point get exposed to people who are really, really good. For me this happened when I went to college. I had an experience very much like that described by @mechanical_fish in this Hacker News comment where he talks about going to a math competition:
This was one of the most valuable experiences of my life and I heartily endorse it. Because here's what happened: I got my ass handed to me. My teammates were freakishly smart. It turns out that the distribution of math-contest talent is not at all normal, and that being in the top 1% of contest-takers doesn't mean that you're within hailing distance of the top 0.5%. Oh, no.
Last year I went back to my old high school to give a talk entitled "things I wish I'd known". As I said on slide 11, you come to resemble the people you hang out with, so you should choose carefully:
Things I wish I'd known from Will Critchlow
The desire to get smart people together and let them share ideas is one of the driving forces behind the way we have designed our conferences. It's why we go for a single-track event with social events afterwards – giving people a shared context to discuss the things they've learnt with people who've got a wide range of experiences.
You don't have to go to a conference though. I started out my learning journey in SEO hanging out in online communities. Back in the day it was cre8asite (I recently saw black_knight at a conference and had fun reminiscing about those days). More recently it was SEOmoz and Twitter. I don't think you necessarily should expect to learn everything from the social interactions, but hanging out with people you know and like who know more than you do about a subject helps to steer you to learn the right thing next.
5. Focus on learning to drive
I like to think about two very different kinds of learning:
Learning to drive - you remember the first time you drove (the first time you drove stick for my US friends)? The experience of going from "HOLY CRAP I HAVE TO WATCH IN FRONT AND BEHIND AND SIDEWAYS WHILE MOVING BOTH MY HANDS AND BOTH MY FEET IN HARMON…BOUNCEBOUNCEBOUNCESTALL" to "I barely think about the mechanics of coordinating feet and hands and have time to pay proper attention to the road"
Learning the directions to a new place - this is more like the transition from: "Before I looked up the way, I didn't know which street to take" to "After I looked up the way, I knew which street to take"
Only one of those is transformational, isn't it? So focus on things that look more like learning to drive and less on things that look like directions to a new place.
Never written any HTML? That is a great skill for an SEO to know – a form of online "learning to drive". (I recommend Treehouse and Codecademy which complement each other nicely).
Don't know the specific way to mark up a date in the hEvent micro-format? Don't worry about it until you need it – it's a form of online "learning directions".
Another way of thinking about this is to focus on learning real-time and bicycle skills. It's worth noting here that both these forms of learning can come with the same endorphin hit, so you need to keep asking yourself if the things you are learning are the right things. This was the main reason I left my first real job. I was a "coder-in-a-suit" (Accenture-style) for a small company. As I transitioned from learning real things (we were working on financial software, so I learnt about general ledger, P&L, balance sheets etc. as well skills as diverse as SQL and business process mapping) to learning the specific way you deploy certain changes on an IBM AS400 iSeries, I realised I'd gone from learning to drive to learning directions and I had to get out.
6. Allow yourself to fail
By its definition, learning involves new things. Some new things go wrong.
This is the greatest argument for actually shipping things – it's not until you try to ship something that you discover whether it really is a success or a failure.
If you are in a position of authority, I believe it's especially important to allow yourself to fail publicly (at least openly in front of your team). I read a great article about management at Github that talks about a management style of:
Show what, don't tell how
The core point of the article is that you can lead a team by getting stuck into the team's work but holding yourself to a form of open-ness where you not only do, but are seen to do.
The author relates this mainly to core job skills, but I think it's equally important about life skills like learning. As a leader, it's even more important that you take risks and fail visibly.
My journey of learning presentation skills falls into this category. Many of you will have seen me get crushed by Rand in a head-to-head presentation competition. Slightly fewer of you will have seen the times when the learning paid off and I repaid the favour.
7. Write
I'm a big fan of writing as a core part of learning. I was taught that writing things down helped you retain them in your memory. I suspect that is true, but the more powerful effect is that the act of composing your thoughts shapes them. Structuring and editing a piece of writing gets you thinking more deeply about a subject than anything else I know.
Perhaps most importantly, writing is designed to be published. And in a world of blogging and social media, it's easier than ever to get other people's eyes on your writing. This gives you a safe environment in which to fail, allows feedback and makes it easy to surround yourself with people who are smarter than you are.
8. Remember your liberal arts
Finally, remember that being the most effective SEO you can be has remarkably little to do with SEO knowledge. We find that once you're past the basics, the bottlenecks are increasingly likely to be what I'm going to call the "liberal arts" of marketing.
To be truly effective at SEO you need to round out your education with a whole bunch of wider knowledge including:
Regular marketing
Business awareness
Project management
Presentation skills
Writing skills
Leadership and people management skills
I still love this post by Paddy at Distilled on his views of what it takes.
For each of these skills, you can apply the methodology outlined above.
In summary
Learning something deeply doesn't happen in hours or days. But I would really like to see people working on their own learning experience – so if you are starting from scratch, start with these specific actions from my first three suggestions:
Get curious – go and look up the answer to something that's been bugging you. How does that work?
Benefit from a learning curve – challenge yourself to learn something in 2 hours
File away the trivia – sign up for Instapaper
But also - update us here – I would love to hear your learning stories and any tips and tricks you have to share with the community.
---
Spoiler for the curious:
The answers to my "curious" questions above:
---
Ready to learn? Check out DistilledU
I've been a bit quiet recently.
I've been spending a lot of time working on DistilledU - our new online training platform for SEO. It's in beta just until 22nd August (the middle of next week). Now's the time to check out the free bits (a free keyword research module and interactive guide to advanced search query operators) to see if it's something that'd help you do your job because if you sign up during beta you lock in a 50% discount for life:
More information about our conferences
We recently announced the line-up of speakers for our Searchlove conferences in London in October and Boston in November. If you have done all of the above and want to see presentations from people at the top of their game, we'd love to see you there. If you sign up now, you get early bird pricing (there's an additional £100 / $150 off for SEOmoz PRO members – get your discount code here).
---
PS – I mentioned at the beginning that I've been a little busy. It's not just at work. At home, the news is a new Olympic champion in the "smallest Critchlow" event – Adam Joseph was born just over a month ago. Here he is with his sister showing off presents from Rand and the moz crew – thanks again guys:
Moz's newest fans - Rachel thinks all robots are called "Roger"
Sign up for The Moz Top 10, a semimonthly mailer updating you on the top ten hottest pieces of SEO news, tips, and rad links uncovered by the Moz team. Think of it as your exclusive digest of stuff you don't have time to hunt down but want to read!
Facebook is dipping its toes into the cottage industry of turning digital photos into printed postcard moments.
The social network has today started permitting a small group of members to mail Facebook photos as printed postcards to their social network pals. The feature is powered by mobile-photo-to-keepsake startup Sincerely and got its start as a hackathon project.
"A few months ago, some engineers built a fun feature that allows people to mail their Facebook photos as a physical postcard to any of their friends on Facebook," a company spokesperson told VentureBeat. "You can send your own photos to any of your friends or your friends' photo to them. The front will be the photo and the back you can add a note for your friend, just like a normal postcard."
Postcard senders do need to pay a small fee, but Facebook is still experimenting with various price points, the representative said.
Filed under: social
It's still relatively early in mobile health, although there are glucose monitors that can be tacked onto iPhones, heart rate and sleep monitoring apps and of course, plenty of exercise and diet-tracking products.
Now that many basic product concepts have been laid out, it's time for iteration. Enter Cardiio, a startup and graduate of the Rock Health incubator. Founded by a team of Ph.Ds out of MIT's Media Lab, the company has built a $4.99 heart rate monitoring app that doesn't require you to touch the iPhone's camera. It actually doesn't require any contact aside from holding the phone so that the front-facing camera captures your face. From that, Cardiio's sensors can pick up minute changes in the color of your face that indicate heart rate.
"We can measure the amount of light reflected across your face," said co-founder Ming-Zher Poh. "The more blood that flows into your face, the more it absorbs light. This is reflected off your face every time your heart beats and the camera is actually good enough to pick it up."
In a few tests of my own, it matched the resting pulse I was able to pick up by counting my heart beats for one minute. It is in some ways reminiscent of Azumio, the Silicon Valley-based biofeedback startup that's raised funding from Founders Fund, Accel and Felicis. But the difference is that with Azumio's heartrate app, you have to touch your finger to the iPhone's camera. Azumio's heart rate monitor also picks up heart rate from color changes in your finger.
Like other heart-rate monitoring apps, Cardiio does long-term tracking so you can see how your resting heart rate has changed over the past month or more. It also can compare you to the population average.
Right now, the team behind the company is just two people and they have initial funding from Rock Health. They're holding off on raising more funding until they can prove traction.
Long-term, the company wants to expand out to measuring other types of biofeedback. "Our long-term vision is a contact-free and software-based approach of measuring information about your body," Poh said.
If you were to see a publication date on this post older than 90 days, would you still read it?  If you saw more than 2,500 words sprawled in front of you – would your eyes be enthralled or glazed?  And perhaps just as importantly, would you still consider this post useful if you had to dig deep through search and social results to find it?
All questions above, of course, can be taken as subjective – adding another wrinkle entirely to the subject of content marketing to other online marketers.  Speaking as an online marketer, what I look for in content may not match exactly what you are seeking in terms of length, format, tone or design.  That said, my experience working with numerous clients that are themselves, online marketers, within this space has led me to believe that there are at least five constants that should be adhered to in order to successfully attract and engage:
1. Be As Evergreen As Possible
Evergreen content marketing is a tall feat in an online marketing world seemingly defined by change – whether it be a new social measurement tool that you are asked to become intimately familiar with overnight – or another blasted Google Algorithm update impacting "less than 1% of searches."

But the one constant that will stand up in the face of it all is compelling, engaging and original content.  Relevant content is the one thing that will never be punished – and the one thing that every online marketer will seek for insight on how they can do it better.
So while the latest "Penguin Survival" blog post will only be as current as Google's whims, your posts sharing timeless tips for linkbuilidng or keyword usage will likely always have resonance.  This is provided, of course, that the tips are timeless. (If the crux of your blog post centers on the creation of  engaging, compelling and original content -  you're probably doing OK.)
2. Be Concise
Why belabor this point?
3. Be Easily Digestible
Looking at Google Analytics for our blogs at TopRank and for the many marketing industry client blogs we're involved with, there is a definite tendency among visitors to gravitate towards lists or infographics posts.  The similarity in both formats is that they don't have to be read – only to be viewed – in order for them to be absorbed.  And at the end of the day, despite comments to the contrary, online marketers will actually read very little. (If you take issue with this statement, jump ahead to number 5.)
4. Be Found
There is a reason content marketing pieces sharing tips on proper keyword usage or inkbuilding will always have a certain timeless aspect.  From now until the end of marketing as we know it, a blog post intended to convey a particular message to a certain audience with intended outcomes in mind, must be discoverable in order to be successful.  And ensuring a post is found can mean everything from optimization for search with the proper keywords, outfitted with social sharing capabilities, and put in front of the right audience that will share it with their own networks.
5. Be Opinionated
Do online marketers really not read?  My blunt opinion on this matter is that it takes a lot.  With the amount of information we are expected to absorb within a short amount of time, and the amount of content marketing pieces out there that are truly not worth our time, we need to be very selective.  And this means searching, looking and skimming – but very rarely reading in-depth.

This is not meant to be taken as an elitist swipe – this is meant to be taken as opinion.  And it's OK to share opinions in your blog posts.
For instance, is it your opinion that Google Panda and Penguin were deployed with far too little forethought and no clear understanding of their actual impact – and that this is probably why they need to refresh seemingly every other week?  Go ahead and say it – the worst that someone can do is disagree.  And these disagreements can become the comment threads that transform your content marketing piece that was published in August to a conversation that stretches for months – with each new piece offering a bit of new information that can help your post achieve rarified evergreen status.
It is my opinion that these five constants are the key to marketing with content to other online marketers. I'd be happy to see this list expanded upon – or disagreed with – in any ensuing comments or reactions below.
---

Gain a competitive advantage by subscribing to the
TopRank® Online Marketing Newsletter.
© Online Marketing Blog, 2012. |
5 Tips For Marketing Content To Online Marketers | http://www.toprankblog.com

The most useful software tool for Windows that I've discovered this year (if not in the past few years) is Connectify.
This utility lets you connect your laptop, netbook or other Windows PC to a wired or wireless internet connection, and then share that single connection with your mobile devices via a secure personal wifi hotspot that Connectify creates.
And that's just using the free version. The additional features you get with the paid Connectify Pro include using a cellular 3G or 4G connection to the internet to create your personal wifi hotspot when there's no internet-wifi connectivity.
Without doubt, I've found Connectify to be an essential tool when travelling  – even on a one-day trip into London – that simplifies the complexity hotels and others place in front of you when you want to get online.
Now, the Philadelphia-based software developer is taking things to a new level:
Since Wi-Fi networks are popping up just about everywhere, and many of us also carry around mobile broadband devices that offer 3G/4G access on-the-go, we started to wonder: with so much bandwidth available across our networks and devices, why are we still left choosing only one Internet connection at a time?
They answer their question with Connectify Dispatch, a new service that, simply put, lets you connect to all available internet connections simultaneously, whether wifi or cellular.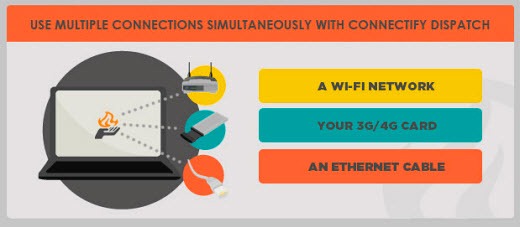 Imagine rocking Bittorrent with this when you're on the road! Or improving your Skype video calls or Google+ Hangouts On Air.
To bring this new product to market, Connectify decided to use the popular crowdfunding site, Kickstarter, to prove that there is widespread demand for a fully-featured Connectify Dispatch consumer product.
This project will be funded only if at least $50,000 is pledged by Friday September 7, 2012. If you pledge your support – which can be as little as $10 – there is a range of benefits in return including free product.
I want to help "the emerging leader in easy-to-use wireless networking software" (such a simple and humble corporate description) succeed so I think it's worth supporting. See if you agree after watching CEO Alexander Gizis' video pitch.
Related post:
Posted by tailwindcreative
The Inbound Jobs story with Five Tips on Getting Buy-in from Thought Leaders.
In April,
Ben
and
I
attended
LinkLove
in Boston. It was a great experience for a number of reasons, and the best part was connecting with other awesome SEO's. As a designer/developer team, we asked these thought leaders what we could create for them that would make their lives better.
Tom Critchlow
planted a seed with us that would eventually become the
job board
now found on
Inbound.org
.
Tom helped us see that there was an urgent need for inbound marketing agencies to find, recruit, and keep great talent. He connected us with Rand who was very interested in having a job board on inbound.org–his side project with
Dharmesh Shah
.
We were thrilled at the opportunity of working with Rand and Dharmesh and started planning out the site. Unfortunately at that time, the inbound.org team was too busy to put in the time and energy needed to move the project forward (
we think it had something to do with the 18 million)
.
So we pushed the project aside, realizing that the job board would only be successful with their community. As with most great ideas, the job board wouldn't leave our minds (Tom must have planted the idea in a dream within a dream), so we scheduled some time to build it
despite the fact that Rand and Dharmesh said they couldn't support it
. We figured at the very least Tom could use it for his presentation on hiring and training inbound marketers at
Mozcon
.
After we built the job board, we contacted Rand again to see if our up front investment of time and energy would be enough to get Inbound.org's backing. This time we got buy-in, and we partnered with the Inbound.org team to get the site ready for Mozcon. Rand introduced the job board during the Mozcon kickoff and gave us a generous mention. As you can imagine, it was a huge deal for us, mostly because of the connection.
So what can be learned from all of this? I'll try to explain why this worked from a content strategist's perspective. As SEOs, we are always talking about creating great content and getting buy-in from thought leaders. In theory this seems doable, but how do we actually go about it?
Here are 5 tips on getting buy-in from thought leaders, based on our experience building the job board:
Make Real Connections by Showing Up. LinkLove is a niche conference, and on paper it was a stretch for a bootstrapped company, but we went for the networking. We went to meet people in the industry and find ways we could add value. Meeting Tom was pure luck, but we wouldn't have even had the opportunity without showing up. Figure out where thought leaders hangout online and in real life and connect with them in a thoughtful and intentional way.
Find How You Can Help. Most people approach thought leaders looking for what they can get out of the relationship, but it's better to think about how you might be able to help them. Uncover opportunities by asking what would make their lives easier or better. Maybe you aren't a designer or a developer but there are many other ways to provide value. Think about how you can help them with your knowledge, skills and relationships.
Invest Up Front. There are different philosophies here, but our mentality is to invest up front. You don't need to create the entire piece of content, but create something good enough to show your idea and prove that you can deliver. In our experience, the more you can provide up front, the more feedback you will get. There's no question that this is a risky strategy, and we don't recommend it for every piece of content, but buy-in is much more likely if you have something solid to start with.
Think/Go Big. Thought leaders are extremely busy people and they are bombarded with others trying to get their buy-in and support. When you reach out to them, only go after your best ideas since you have a limited amount of time and small window of opportunity.
Create Content You Believe In. We believed that the inbound job board was necessary for the community. This made it a lot easier for us to invest up front. Push ideas that you believe in, and create content that you can rally behind. Don't build content for the links, do it for the value the content will provide and the relationships you will form.
Conclusion
These are some of the things we learned about getting buy-in through creating the job board for Rand and Dharmesh. We'd love to hear how you are getting buy-in from thought leaders in the comments below.
Sign up for The Moz Top 10, a semimonthly mailer updating you on the top ten hottest pieces of SEO news, tips, and rad links uncovered by the Moz team. Think of it as your exclusive digest of stuff you don't have time to hunt down but want to read!
Today's guest post is written by Dominick Frasso. 
Every company knows they need to devote some of their advertising resources to the web.
The question isn't whether or not you need to be using it, it's "how?"
The fact is, you can spend a lot of money on techniques that produce little to nothing in the way of results. Moreover, what works for one business won't necessarily work for another.
If you're going to make effective use of your advertising dollars, you need to properly define what it is you've set out to do.
Following are five priorities to consider when developing an online advertising campaign.
1. Identify your goals. Internet advertising usually falls into one of three categories:
Actual sales. You might want to drive traffic to a website where they can make a purchase.
Leads. You might be simply gathering leads for your sales team at this point.
Brand awareness. Some advertising serves simply to put your business' name in front of those potential movers and shakers in your industry.
The purpose of a given campaign will, to a large degree, determine the methods you use to make it happen.
For example, if you're interested in making direct sales or gathering leads, you might consider a Google AdWords campaign. These campaigns drive traffic directly to your landing page, where you can then work to bring about a specific response.
If you're more interested in brand awareness, a social media marketing campaign might be more appropriate. You can connect with customers, provide new product information, and promote your brand without expecting a specific and narrow response.
2. Where is the hub of your Internet presence? Some businesses today are treating Facebook as their primary Internet presence, for example. Companies whose websites are fairly static and don't need to be updated on any kind of regular basis will instead engage customers and potential customers via social media.
On the other hand, your existing website might be the primary hub for information about and interaction with your company on the Internet. If so, your marketing efforts will be more about gathering customers and potential customers and the funneling them into your website.
3. How your customers would prefer to interact with you. This one can be a little more difficult to identify, but in the end it can mean a huge payoff for your campaigns. If, for example, your company primarily serves other businesses, a Facebook advertising campaign might not be terribly effective. You might consider developing a strong LinkedIn profile and advertising strategy there, instead.
Understanding your target demographic and identifying their Internet use patterns ensures you can more effectively get your message in front of those users, and increases the likelihood they'll respond.
4. Integrate with your other marketing efforts. Internet advertising doesn't happen in a vacuum. It is driven by, and complements, your overall marketing strategy. For example, if your goal is to get customers to visit your website, your print media campaigns might prominently feature your URL, and encourage readers to visit. Or, if your goal is to get people to a retail location, your  online presence will be geared toward the physical location.
Your online advertising should happen in concert with your other advertising efforts, not against them.
5. Your resources. If you have the ability to bring an SEO expert on staff, your priorities are going to be a lot different than if you have one PR person managing the program. The same holds true for your budget; if you have little in the way of money to spend, you need to find inexpensive media and methods to use.
Internet advertising can be a tremendous boon to your business, if done correctly. The days of the Yellow Pages are long gone, and tomorrow's business leaders are those that can master their online presence. When you set out to define your priorities, start with these five areas and work outward from there.
Dominick Frasso is SEO/SEM specialist at Vistage International, a membership organization that helps CEOs build successful companies through business coaching groups, executive coaching and executive development opportunities.
 Image license by Creative Commons
For a company to avoid the recycling bin with the other 12 pieces of crappy and sometimes ill targeted direct mail pieces you get in your mailbox everyday, they need to do something pretty awesome. In Canada, a Porsche dealer did just that. But only if you're rich enough to afford one anyway.
A crew from Toronto's Pfaff automotive and Lowe Roche agency drove around affluent neighborhoods in a Porsche off their lot and photographed it in the driveways (or in front) of nice houses. From there, they created personalized ads with the message "it's closer than you think" and delivered them to each person's home.
Apparently this got a 32% response rate to schedule a test drive. Impressive all around!
i2x is launching its platform today that allows venture capital firms and accredited investors to source and manage seed stage startups.
The objective is to put promising young companies in front of venture capitalists looking to expand and diversify their investment portfolios. i2x has forged relationships with major venture capital firms, as well as with incubator and accelerator programs, and angel investors to build out the system on both ends. Investment networks create a landing page with the contents of their investment portfolio and startups can create profiles through their affiliated network.
Essentially, i2x is creating an online infrastructure of venture capital and early startups, and providing tools to manage them.
"We are building up an infrastructure that bring people into the seed stage ecosystem," said founder Johannes Bhakdi in an interview with VentureBeat . "Our mission is to build a global repository of startups where investors can take action, share or recommend profiles to other investors, or surface startups that are interesting to them."
After working in asset management for years, it became clear to Bhakdi that while venture capitalists are interested in funding in seed stage technology, there is no efficient way to identify potential investments on a large scale.
"At the early stages, investment risk is very high," he said. "Investors want to diversify, but it is time consuming and challenging to have your foot in the door with so many companies. We want to get to the point where they can invest in 100-200 startups in an efficient way and achieve a return of over 20% at a lower risk. This would be a disruption of the financial market."
Bhakdi and his cofounder Robert Kunze started building the back end technology in 2011. The execution of this idea is complicated, involving complex legal and digital rights issues, and requiring a wide and established network of investors to succeed.
In addition to providing the platform, i2x also provides analytical tools to examine interactions and correlations, and provide actionable data that can help venture capitalists make strong investments. Across the board, the system makes it easier to invest in seed stage companies.
i2x is based in New York.
Filed under: VentureBeat
The original TwelveSouth BackPack was fantastically ingenious. And now it's even better.
Designed exclusively for iMacs and Apple Displays, the BackPack adds a simple shelf to the display without the use of screws or adhesive. Using adjustable brackets, the BackPack can mount on the front or back of the unit, adding a nice shelf to hold an iPhone, external hard drive, or your Troll Doll collection.
But now, with the new design, the BackPack can also hold a MacBook Air, iPad or Airport thanks to new vertical support pegs. Each peg is coated in soft silicon and since the BackPack can support 3.5 lbs, it should hold just about anything you would want around your iMac.
TwelveSouth also added a simple cable management solution in the form of side-mounted rails. This should keep the cables nice and tidy.
The new version ships today but costs a touch more than the original with a price of $34.99. But seriously, $35 is a small price to pay for a handy shelf and less clutter.