Archive for the 'guinness world record' tag
In seven days, HootSuite and HubSpot are teaming up to make history, and it's not about how many interCaps the two partNers can jam into their names.
Rather, the social media management company and the inbound marketing firm are holding a seminar on inbound marketing and social media … and they're inviting the world. Or at least enough of the world to break the Guinness record for most attendees of a live webinar.
Currently, the record stands at 10,899. HubSpot should know: It set the record itself in 2011. Now, with HootSuite's four million users, the companies are attempting to hit 17,000 attendees.
VentureBeat spoke to HootSuite's VP of marketing, Ben Watson.
"Theoretically, we could shoot for 10,900 and break the record by one, but we want to go all the way to 17,000. We've had massive registration already … we're in the tens of thousands."
The seminar is focused on bringing social and in-bound marketing together, Watson said. According to a video HootSuite has produced about the seminar, it will help digital marketers examine where they are using social versus where they should be using social, learn how to optimize for fan engagement, and drive increased inbound marketing results.
"We wanted to give something back, to go deep into the data and help people find insights that, unless you could spend $100,000 on an analyst contract, you would probably never get," Watson told VentureBeat. "We want to help people close the loop with social, demonstrate how to do cross-platform engagement, and truly build a relationship with their customers."
The seminar will feature both Watson and HubSpot's "social media scientist," Dan Zarrella.
And the technology necessary for the world's largest webinar?
"We're using some custom technology that's been put together by a HubSpot partner specifically for this," Watson said. "For the big ones, you really need to go custom, to find ways to distribute load and manage that many attendees."
If you're interested in the topic or in being part of a Guinness world record, register here: The Science of Inbound Marketing. The seminar is on Thursday, July 12.
Here's the promo video for the webinar:


Filed under: cloud, Entrepreneur, offBeat, social, VentureBeat
In the celebration of the summer solstice (also known as St. John's night) the people of Poznan, Poland released 15,000 paper lanterns into the sky, setting a new Guinness World Record on June 21st. This was organized by fundacja ARS a foundation that helps promote creativity, culture, and the arts.
Guinness World Records – St. John's Night in Poznan 2012 from Guru Media on Vimeo.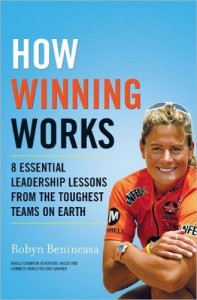 I know a lot of tough people but Robyn Benincasa has to be one of the toughest.
She's a member of the only all-female firefighting crew in the country and when she's not saving people's lives, she is a world champion adventure racer, a Guinness world record kayaker.  Oh yeah, and she started a non-profit called Project Athena, which helps women who have survived a medical challenge like cancer by taking them on a dream adventure (like climbing a mountain) as part of their recovery.
Robyn is a remarkable human being.  She's also an incredible leader and knows how to win – and what is worth fighting for.  So I was thrilled that she captured her expertise in a book that outlines how each of us can climb to new levels of professional and personal success.  In her book, How Winning Works, (click here to buy*) she shares the eight essential elements of teamwork that she believes is responsible for her own successful and fulfilling life.
Here are Robyn's eight elements of winning and teamwork:
Total commitment:  There are four P's of commitment – preparation, planning, purpose and perseverance.
Empathy and awareness:  Do you care about your teammates as much as you care about yourself?  Can you truly put yourself in someone else's shoes so you know what they need from you?
Adversity management:  Something is going to go wrong.  That's a given.  How do you deal with things when something goes awry?  Winning at business and in life is really recognizing that the road ahead is filled with problems to solve and is never going to be the easy straightaway you'd hoped for.  How you deal with those setbacks, frustrations, surprises and challenges will determine if you win.
Mutual respect: On any winning team, there's a high level of mutual trust, respect and loyalty.   You have to be able to recognize what each person contributes and celebrate that at the same time you're minimizing the elements you aren't crazy about.
We thinking:  You have to constantly be looking for ways to utilize your collective resources for the best possible outcome.   This is the lesson glory hounds have the toughest time with.   This is about finishing strong as a team – not racing across the finish line first and then waiting for your teammates.
Ownership of the project: For a person or a team to be successful – you need to be able to absolutely immerse yourself in the mission.  You need to see the goals as your goals.  See the outcome as your responsibility and attach a significant amount of emotion to accomplishing that desired outcome.
Relinquishment of ego: Every successful person realizes they come equipped with both strengths and weaknesses.  Every team member will be both the strongest and the weakest link somewhere along the way.  You need to be able to recognize your strengths so you can offer those to the effort but you also need to know your weaknesses, so you can expose them to your team – so they can help overcome them.
Kinetic leadership: Leadership, on the best teams, revolves among the teammates.  That requires that everyone on the team can both step up to the role but even more important – step away from the role, when they're not the one best suited to lead at that given moment.
What I loved about this book is that it goes beyond listing the eight elements.  Robyn tells amazing, impossible to forget stories, offers pragmatic exercises and what she calls synergy starters – ways to actually put the teaching into practice.
If you've already achieved success and want to make sure that you, your family and your co-workers experience even more or if you're just starting out and are hungry for success – grab this book and enjoy your adventure with Robyn.
You might also like
Starting at 9 a.m. EST on Tuesday, June 26, Kathleen Henkel will attempt something few people even half her age would consider: playing a video game for 30 hours straight with no sleep.
"I'm very, very motivated," said the 68-year-old Henkel of her attempt to break the Guinness World Record for "longest video game marathon playing a card game." But getting her name in Guinness' book isn't the only reason for this stunt; Henkel is partnering up with PopCap Games to raise money for Charity: Water, a non-profit that works to bring clean drinking water to developing countries.
She'll be playing PopCap's Solitaire Blitz, a Facebook title based on a speed version of the classic card game. Though the overnight event is not for a couple of weeks yet, Henkel is starting to prepare for her Blitz blitz. "I'll be logging at least 60 hours of Solitaire Blitz playtime over the next two weeks to get in playing shape," she said through a statement for a press release. "I'm really determined to reach the goal of 30 consecutive hours. I'll be ordering lots of coffee!"
Henkel and fellow Blitz player Laura Rich together will raise at least $10,000 for Charity: Water, assuming neither gives up before they break the record. Donors can also make per-hour pledges by visiting the Solitaire Blitz Facebook page (as of this writing, the "pledge" tab is not yet live, but it should be soon).
New Yorkers can window-watch Henkel playing live from the ground-floor art gallery in the Roger Smith Hotel in midtown Manhattan. Simultaneously, Rich will be making her attempt in the Sea Life London Aquarium in Cardiff, Wales.
Just try not to distract them, OK? They're playing for a good cause.
Filed under: games
You've probably heard the complaint that MTV has forgotten its music video roots and spends too much time on reality television. Heck, you may have said something similar yourself. Well, for its third O Music Awards (an "event that celebrates and honors the artists, fans and innovators impacting digital music culture"), MTV combining elements of both — it's an awards show, a concert (actually multiple concerts), and a reality TV show about a band hitting the road.
The previous O Music Awards were held Las Vegas West Hollywood, but this time the show is actually going to be on the road. A yet-to-be-named band will be touring the Mississippi Delta, birthplace of rock, and stop in eight different cities, with the award presentations interspersed. One of the goals is to set a new Guinness World Record for Most Live Concerts in 24 Hours (Multiple Cities) — apparently setting new records is something MTV tries with every show, but this time it's really baked into the basic concept. And naturally, all of this will be livestreamed.
"Award shows today, generally, are so packaged and predictable," says VP of Digital Music Strategy Shannon Connolly. "Here are the nominees and here are the winners. It just doesn't have that feeling of authenticity or spontaneity make to it feel like there are real stakes here. But here, the bus that we're driving really might not make it."
That means there will probably be a lot of improvisation as things go wrong. And yes, that might mean MTV actually fails to set that new record, and Connolly says, "We have to be okay with that." As for the band, like I said, it hasn't been revealed yet, but she promises, "The band is completely perfect for what we're trying to do."
The nominees will be announced on May 23, and the awards themselves will take place on June 27.
We recently released HubSpot's 2011 Year in Review slide deck, filled with interesting insights into HubSpot's growth and milestones as a business over the past year. We've had a lot to celebrate internally as a company, as well as the awesome growth HubSpot's customers have experienced from their implementation of the HubSpot software and inbound marketing methodology. We wanted to share some of the milestones we and our customers have achieved in 2011 and give you a peek at the slide presentation, too.
HubSpot Customer Achievements in 2011
HubSpot customers generated an average of 34,000 new leads per day in 2011.
HubSpot customers generated a grand total of 12.4 million leads in 2011.
HubSpot customers saw an average of 32% increase in leads per month in 2011.
HubSpot in 2011: A Timeline
March 8: HubSpot raises $32 million in funding from Sequoia Capital, Google Ventures, and Salesforce.com.
May 19: Mike Volpe named CMO of HubSpot.
May 20: The Boston Globe names Co-Founder & CTO Dharmesh Shah the Top Innovator in High Tech.
June 9: HubSpot wins BBJ's Top Places to Work Award for the 2nd year in a row.
June 16: HubSpot acquires Performable.
June 17: HubSpot CEO Brian Halligan named Ernst & Young Entrepreneur of the Year.
July 12: The HubSpot App Marketplace launches.
August 18: HubSpot acquires oneforty.
August 23: HubSpot named the #2 Fastest Growing Software Company and the #33 Fastest Growing Company overall in the Inc. 500.
August 24: HubSpot sets the Guinness World Record for the Largest Online Marketing Seminar with 10,899 attendees.
September 15: 1,000 HubSpot customers and partners attend HUGS, the 2011 HubSpot User Group Summit.
October 19: Deloitte names HubSpot the #8 Fastest Growing Company in North America.
November 30: HubSpot is named one of America's 20 Most Promising Companies by Forbes.
December 6: HubSpot launches free Marketing Grader tool to replace Website Grader.
HubSpot Company Milestones in 2011
85% of customers said they'd recommend HubSpot.
HubSpot's customer growth increased by 55% from 2010 (3,855 customers) to 2011 (5,961 customers).
HubSpot's global footprint grew to 43 countries by YE2011.
HubSpot's employee growth increased by 73% from 2010 (176 HubSpotters) to 2011 (304 HubSpotters).
By the end of 2011, HubSpot User Groups (HUGs) had sprouted up in a total of 30 U.S. cities (33 cities worldwide).
HubSpot grew its revenue by 81% from 2010 ($16 million) to 2011 ($29 million).
HubSpot Software Milestones in 2011
HubSpot launched an improved Marketing Dashboard with monthly goal tracking.
HubSpot added A/B testing and analytics features, such as the call-to-action module.
HubSpot added fully integrated email marketing capabilities.
HubSpot improved its lead management tools to incorporate more data and flexibility.
HubSpot launched enterprise lead nurturing tools so users could create highly targeted email campaigns in seconds.
HubSpot launched a custom lead grader app that allows users to customize their lead scoring capabilities.
HubSpot rolled out automatic mobile optimization of HubSpot email and web pages hosted on the HubSpot CMS.
The HubSpot App Marketplace grew to offer 46 applications, boast 22,329 installations, and be used by 65% of HubSpot customers.
The HubSpot Service Marketplace was home to 59 service providers and made 3,390 transactions, which totaled $4.4 million.
A big thanks to all of HubSpot's customers, partners, and investors who made 2011 such a huge success!
Connect with HubSpot:
Here at Social Times we're crazy about KLM Royal Dutch Airlines.  They've taken the social media world by storm over the past couple of years with their original campaigns, stalking passengers via social sites and giving them personalized gifts, putting fans faces on a plane, and even hosting a Guinness World Record breaking in flight dance party in the sky, inspired by a tweet!  Today they reached a new milestone—1 million Facebook fans—and they're celebrating with a Thank You video on YouTube.
continued…
New Career Opportunities Daily: The best jobs in media.
Reebok wanted to create a backdrop of truly epic proportions for their range Cross Fit. Hopping on the 3D street art craze, they commissioned artists 3D Joe and Max to break the Guinness World Record for the largest ever 3D street art piece.
The painting was created in a week amidst fog and rain at London's West India Quays, Canary Wharf. Anyone could then take part in a Reebok CrossFit WOD (workout of the day) on the 1,160.4m² artwork. I hope the exercise was countering the English November weather well.
In just about one of the weirdest press releases that has come across my radar, mobile gaming rewards network Kiip and the old-school Guinness World Records (seriously) are announcing that they are teaming up today to offer mobile gamers the chance to be official Guinness World Record holders. Yeah.
The partnership will most prominently result in a five-day long contest held from September 28th through October 3rd, where players of the iPhone game 'Mega Jump' will compete, through Kiip, for the Guinness World Record for "Highest Score Achieved on Mega Jump." The highest scoring user on the Mega Jump leaderboard (visible here) will be featured in the "Guinness Book of World Records: 2012 Gamers Edition."
"This has been the first time that anyone in the world can compete openly for a world record, just for having a phone," Kiip founder Brian Wong tells me — explaining that this is unique because people who want a Guinness World Record usually have to go through the analog Guinness application process and record an official attempt at capturing the record.
When asked, and rightfully so, "Why the somewhat unorthodox partnership?", Wong explained, "[Kiip is] making achievements more rewarding – while building a new ad model. We thought to ourselves – how do we differentiate amongst networks and to build our brand beyond any network has ever seen?" And so we found the ultimate way, (World Records) to recognize our inventory: the achievement."
Wong tells me that Kiip is now averaging over 1.7 million "rewardable" moments a day, through its network of 20 games, "This is just the tip of the iceberg," he says "… When we now modify our mission slightly from 'real rewards for virtual achievements' to 'making achievements more rewarding.'"
The Kiip/Guinness integration will be ongoing, Wong confirms, and as of today all Kiip-enabled games will have the potential to set up this sort of Guinness Record competition, "It's super-fitting to our achievement moment model," he emphasizes.


Kiip is a rewards network, founded by Brian Wong, Courtney Guertin, and Amadeus Demarzi.
It's amazing what people can do with one of AMD's new eight-core FX processors, a specially built chassis, and a few tanks of liquid helium. In a pre-release stunt, AMD rounded up a small group of expert overclockers to take the new processor to world record speeds and beyond.
Don't expect to do the same at home when the FX chips ship in late Q4 2011: overclockers Brian Mchlachlan and Sami Maekinen had the pick of the processor litter, and PCWorld reports that they looked specifically for chips that performed well at higher voltage levels. They took things slowly at first, with the FX eventually bumping up against the 8.0 GHz barrier thanks to a little liquid nitrogen.
It took the application of some liquid helium to really kick things into high gear, as the super-low temperatures allowed the FX to hit 8.429 GHz, besting the old record of 8.308 GHz. How well the system would actually perform under those conditions was left unexplored — this was all about hitting the highest clock speed, so the stress testing and benchmarking that comes with actually using an overclocked CPU was left by the wayside.
AMD was formally presented the Guinness World Record for Highest Frequency of a Computer Processor at their Fusion Zone event in San Francisco today. The timing and location seems to be yet another jab at their eternal rival though, as Intel also chose today to kick off their SF Developer Forum.