Archive for the 'Liar' tag
The tech news cycle is a desperate bitch, as we've brought up before; A brief rundown of yesterday's bitchmeme sparked by a mere tweet from my colleague MG Siegler once again proves how absurd it is.
"I used to love to plant one really weird bit of random information (sometimes even false) into stories to catch the rewrites," MG wrote in response to developer Marco Arment's concise analysis of the insatiable tech news beast.
As fast as a fractal, the tweet was quickly turned into a blog post, Betabeat's Adrianne Jeffries asserted that MG "couldn't be trusted," based on his own admission that he couldn't be trusted?! What's shocking is that Jeffries didn't think once about the Liar's Paradox: What happens when a pathological liar tells you that they're a pathological liar?
What's weirder is that MG himself had broken this piece of "news" back in October, when Jeffries perhaps wasn't online to jump on it. Well now, most likely because it's summer, the same item of (true? false?) information sets off a media firestorm because people still working the holiday shift don't have anything better to do. (Siegler is, poetically enough, on vacation.)
When Jeffries asked me yesterday via email whether or not this "random information" thing was still going on at TechCrunch, my response was, "I'm not sure if it was even happening then."
"Did I actually plant fake information on TechCrunch or elsewhere to catch asshats in action?

Get ready for the real mindfuck: what if it was my tweet that was filled with false information in order to expose bullshit bloggers who have nothing better to do than write about nothing with absolutely no basis for doing so?" — MG Siegler
Hmmm … So did MG just pull off the world's most successful blogger honeypot? It may just be enough that his tweet about the state of blogging led to 
Blogception
, unleashing a torrent of the very same rewrites and thinly-sourced stories he was referring to.Including this
one.
Posted by Dr. Pete
Every few months, some mainstream news outlet runs a piece on how SEOs are just a bunch of "snake oil" salesmen. The implication is clear – we're the carnival barkers of marketing, promising you #1 on Google and bottling moonshine as magic potions. Cue outraged SEO industry posts until we're out of breath, wait 6 months, then repeat.
Here's the simple truth the angry back-and-forth arguments ignore – there would be no snake-oil salesmen if people weren't lining up to buy it. I'm not here to excuse thieves and liars – they exist, and they should be called out. I'm here to tell you why you need to open your eyes and stop gleefully walking into the same trap over and over.
Why We're All to Blame
This topic can get emotional fast, so let's step back for a minute and consider another example in the technology industry. Lately, there's been a lot of outrage about poor human rights conditions in consumer products' factories, most notably Apple's problems with workers at the Foxconn factory in China. One side is quick to defend Capitalism, while the other side rushes to blame corporate greed.
Both sides may be right, to some degree, and I'm not here to argue the veracity of the claims. The deeper, more interesting question is: what drives it all? Are corporations and shareholders looking to squeeze out profits? Sure, to some extent. What about us, though? We want a $600 computer that fits in the palm of our hand, plays movies in HD, takes video of our cats, and connects instantly to all of human knowledge. One month after we have it, we want it to be 10% lighter, 10% faster, make our cat look 10% fluffier, and cost $549. So, where did the greed really start?
Yes, "All" Includes You
Sorry, but you need to hear this. When you interview an SEO company, have wild expectations, only hear what you want to, demand results "by any means necessary," and want it all for just $99.95, then what do you expect is going to happen? You're going to attract thieves and liars, and you're going to deserve it.
Ok, rant over. This isn't about being holier-than-thou and I'm not just here to scold you. I sincerely want people to stop selling and buying snake oil. So, here are six tips to keep you from wasting your money on magic beans…
(1) Educate Yourself
I know what you'll say – "I don't have time, and SEO is complicated." Guess what – that's exactly what the snake-oil salesmen want you to believe. They may even say it out loud during your first meeting. Modern online marketing is complicated and covers a lot of ground, but you don't have to know everything. Invest a couple of weeks in learning just enough of the basics so that you can ask the right questions. While I was writing this post, we re-launched The Beginner's Guide to SEO – that's a great place to start.
It's not just about SEO, though – educate yourself about the company you'll be working with. Is their reputation good? Do they even have a reputation? Do they have a website (I hope so, but you'd be surprised)? How long have they been around? It's amazing how people will spend hours deciding whether or not to see a $10 movie or research where to get a donut but then will walk into a meeting and spend $10,000 with no information at all.
(2) Trust Your Instincts
We all feel pressure – time pressure, budget pressure, angry boss pressure, and just the pressure of fatigue and wanting to move things forward. When that pressure kicks in, we ignore our gut. We walk into a room and instantly have a bad feeling or just plain dislike the people we're talking to after 5 minutes, but we shake it off because we want the ball to keep rolling. Don't ignore your instincts – almost every time I've had a bad feeling about a prospective vendor or client and brushed it off, I've regretted it. There's always another vendor, and the sunk cost of a couple of hours of meetings is nothing compared to what you'll lose if you pay for 6 months of bad SEO.
(3) Roll to Disbelieve
Sorry, nerd joke. If it looks too good to be true and it sounds too good to be true, then it's probably a duck. Look at all of the recent Ponzi schemes where people were getting a 178% return rate against a market that was at -3%, the creator of the scheme got busted, and then EVERY SINGLE INVESTOR acted completely shocked. Really?
We don't believe most lies because of the skill of the liar. We believe most lies because the liar tells us what we want to hear. Ask the tough questions, even (or especially) if you like what you hear. Bare minimum, make sure you ask about the next two items…
(4) Ask About Tactics
We're a very results-oriented business culture, and that's great. You should ask about metrics and ROI and know what you'll get for your money. Just don't let empty promises of results gloss over the details of what specific tactics the vendor plans to use. It's not just about whether they use "white-hat" or "black-hat" tactics – it's about whether they have a plan at all. A qualified vendor should be able to map out what they'll do, and they should be able to explain why they choose to do it that way. It's also about accountability – if someone tells you what they're going to do, you can check later to see if they did it.
(5) Find Out the Risks
All SEO carries risks, no matter how "white-hat" it is – most notably, the risk that you'll spend your money on something that provides no benefit. Every vendor should be able to ballpark the risks in their approach – if they start saying things like "We only use Google-approved methods," keep pushing. Rules change, and the best SEOs know how to adapt. The ones who think their methods will always work (just because they've worked so far) are the ones whose clients get slammed by algorithm updates.
(6) Plan Status Updates
The worst thing you can do is to set a vendor loose, check back in six months, and realize they've done something completely different than you expected. Actually, there's something even worse – when you check back after six months and they can't even tell you (or won't tell you) what they've done. We see this all the time in link-building – someone hires an SEO firm, rankings drop months later, they suspect the vendor was to blame, but they have no record of what that vendor actually did. I've been involved in the kind of detective work that happens at this point, and it isn't pretty.
Treat your vendor like they're part of your in-house team – you don't have to micro-manage, but you should demand accountability. It's good for both of you – as a conscientious vendor, nothing's worse than going in the wrong direction for months because of bad communication. I think an Agile approach (borrowed from the software development world) works well – do short, frequent check-ins, agree on some kind of documentation (like a shared document with link sources or tasks), and adjust as needed.
What About Black-hats?
Before I hear about it in the comments, let me be perfectly clear – when I say "thieves and liars", I am not talking about "black-hat" SEOs. I'm talking about companies that literally steal their clients' money and lie to them about risks and results. If you want to pursue black-hat tactics, in the sense of knowingly violating Google's policies, that's your business. Whether or not I agree with you, all of my advice in this post still applies. Skilled black-hats may not advertise their tactics openly, but once you're face-to-face with them as a prospective client, they should still be honest about their methods and the risks.
Sign up for The Moz Top 10, a semimonthly mailer updating you on the top ten hottest pieces of SEO news, tips, and rad links uncovered by the Moz team. Think of it as your exclusive digest of stuff you don't have time to hunt down but want to read!
We Robot – April 21-22, 2012
Inaugural Conference on Legal and Policy Issues Relating to Robotics
Panel Presentation: Social Issues in Robotics
Extending Legal Rights to Social Robots (Updated), Kate Darling
Sex Robots and Roboticization of Consent, Sinziana Gutiu
Liar Liar Pants on Fire! Examining the Constitutionality of Enhanced Robo-Interrogation (Updated), Kristen Thomasen
Viral Friday is de wekelijkse rubriek op Marketingfacts in samenwerking met SocialMedia8, waarin de beste virals van de afgelopen week worden belicht. Met deze week campagnes van Tenacious D, Elephant's Galaxy Note and Liar, Liar! Heb je een tip? Stuur 'm op! Lees meer over: Viral Friday Week 13: Tenacious D, Elephant's Galaxy Note and Liar, Liar!.
Skittles' new "Liar Liar" ad is just as weird as the brand's previous efforts, but also a little meaner. The poor kid's friends and mom are exploiting what looks like a physically and mentally unpleasant symptom of dishonesty for their own gain, while previous ads were more benign in their absurdism. The only moral consolation here is that those Skittles probably taste awful. Ear wax is a terrible garnish, let alone what else those things picked up on their way out of that kid's body. On the flip side, this may be better than if he grew the stereotypical long nose and Skittles came flying out of that. Translation wrote the original script for this spot; DDB Chicago produced it, with some adjustments.
There's a scene in the movie Liar Liar where the movie's main character (a lawyer played by Jim Carrey who's been 'cursed' with an inability to tell a lie) is given the phone by his secretary and told that one of his clients has "knocked over another ATM, this time at knife-point.  He needs your legal advice."
Carrey's character grabs the phone and offers this advice: Stop breaking the law, ASSHOLE!
Recently I saw this quote from an emarketer article: "Marketers are abuzz over "Big Data" for its promise to deliver a more complete understanding of each customer, who can then be targeted with advertising tailored exactly to the individual."
And this quote from P&G's Head of Global Marketing on finding the ROI of Social Media: "What will revolutionize the industry, what we're working on an industry basis, is to define EGRPs [electronic gross rating point, a measure of audience reach]. You can look at what an impression from Google, or Facebook or Twitter is actually worth."
This is the exact problem with how 99% of companies are using and viewing Social Media: As a new channel to more effectively market to its customers.
Are you serious?
Let's take a step back and remember what Social Media is: Tools that allow us to create and exchange digital content.  The vast majority of us use Social Media as personal communication tools.
Companies, do you not realize the significance of this?  For decades, you've been struggling with how to better understand your customers.  The problem has always been, how do you really know what customers think about you, your products, and who they are?  What they want, etc.  The only options available to you were highly inefficient.  Surveys, focus-groups, and other forms of feedback.  At best it can give you a small sampling of your customer base, but connecting with individual customers just doesn't scale.
Yet with Social Media, suddenly you DO have a way to better understand your customers.  Because all the interactions they were having before in an offline setting (where you had almost no access to them) have moved online.  Now you can see what your customers are saying to each other, and about you and your products!  What's better, you now have a way to directly connect with them and they with you!
And your key takeaway from this fundamental change in how we humans connect with each other is that you see this as a great opportunity to turn your customers into digital marketing channels?!?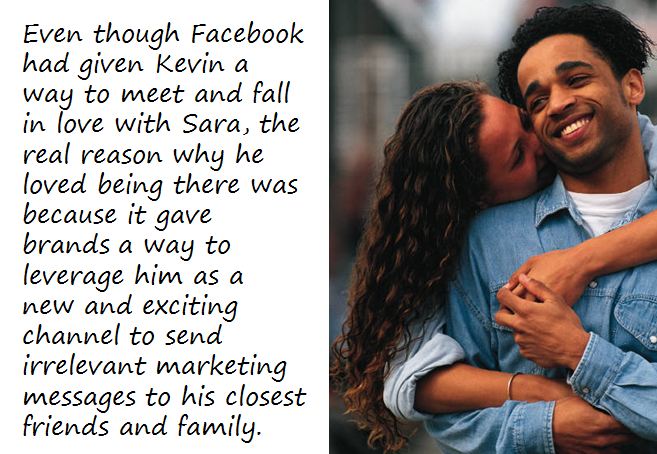 Companies if you want to be successful at utilizing Social Media, here's the most important lesson I can give you: Learn how your customers are using Social Media and for what reasons, and then work within that framework.
Recall Sunday's post on X-Box's Twitter account hitting 1,000,000 tweets.  X-Box was smart enough to realize that its customers are on Twitter, and complaining about the problems they are having with the console.  So instead of trying to leverage Twitter as a channel to shoot them marketing messages, the brand instead leverages Twitter as a channel to provide individualized customer service.  The customer benefits from getting personalized attention and help with their problems.  The brand benefits by deflecting calls away from its CS call centers.
This is what we call in the real-world a 'win-win'.  But it happened because X-Box saw how their customers were using Twitter, then worked with that behavior, not against it.
Would it be awesome if your customers put aside how they want to use Social Media and instead agreed to let you use them to broadcast your marketing messages via their Social Media accounts?  Of course it would.  Right after you teach your pet unicorn how to pee rainbows, you can get to work on that.
For now, we live in a world where we ALL act in our own best interests.  That's just as true for your customers as it is for you the company.  If you can use Social Media as a way to provide value to your customers, then you will be acting in THEIR best interests.
And you'll get their business.  Try it and see.  Oh and if you need some social media training to get started, call me.
You need not take a journalist's oath to tell the truth. You need only be born to a mother such as mine, who told me and my sister often–very often–that "there's nothing worse than a liar." It worked on us. My sister became a minister and I became a journalist.
Mike Daisey became a storyteller, a performer, a bald-faced liar whose lies only betrayed the cause he cares about. I just listened to the devastating — devastatingly honest — retraction This American Life issued for Daisey's stories — his jumbled fiction, his trumped-up tales — about Apple's factories in China. The most humiliating moments were those filled with silence — which public radio editors usually snip out, to make people sound surer, smarter — when Daisey couldn't fabricate his next lie.
The worst of this episode to me is Daisey's insistance — and he's hardly the first — that he need not be held to a standard of truth and he need not be expected to deliver facts because he is not a journalist. Now journalists might enjoy the notion that they hold a monopoly on truth. But, of course, this idea is just a bullshit layer cake.
Isn't telling the truth is the norm in our society? Don't you expect anyone you know — friend, family member, coworker — to tell you the truth? If they don't, aren't you at least disappointed? If caught in a lie don't you expect your credibility to be diminished? Isn't there a cost to lying in society?
So how could that norm be canceled for public figures, for politicians who insist we'll have death panels or for performers on stage who think the spotlight forgives lies?
I hope not and I don't think so. But perhaps we haven't made the price of lying for them high enough. So they think they can get away with it to accomplish what they want to accomplish. I'm given hope that This American Life and a Marketplace reporter, Rob Schmitz, held Daisey to their standard of truth, and that fact-checking of politicians and pundits has become a fad online. I'd say that's a possible good use of crowdsourcing energy: Wikipedia editors who are now bored because they have written about everything possible would do well to turn their attention to our public figures.
When anyone — performer, politician, blogger — says he has a license to lie because he's not a journalist, he's lying.
This week we took a look at what's coming in Android 4.0 "Ice Cream Sandwich", got to the bottom of whether or not it's worth it to use iOS 5′s Wi-Fi sync, learned how to spot a liar, and more. Here's a look back.
We've mentioned a few ways to detect liars, but Pamela Meyer has discovered just about all of them. She's taken a look at the most common behaviors of liars, scientifically, and shares her expertise on how to detect them. More »


A quick update: A lot of folks are e-mailing/IMing/Tweeting me that I 'outed' FTD. I didn't out anyone. The New York Times sent 6000 suspect links to Google a while ago. And the Seattle Times contacted Google while writing this story. All I'm doing is analyzing what folks said in light of the link profile. And I'm saying they're either, uh, modifying the truth, or somehow unaware of a massive link purchase program in their company. Could've been an SEO company working for them 2 years ago. Could be the one they've got now. I have no idea. But seriously, you're telling me they got those links without paying? You may have a fever – take your temperature.
First, here's the short version of the story, in a graphic:
The Seattle Times ran an article today about the big flower sellers, and whether they're buying links on other sites to try to rank for stuff like "Mother's Day Flowers".
Well, duh.
I'm not that interested in outing people for bad practices any more. Do what you want. But I took a look at FTD.com's link profile and it's just great for a Saturday morning chuckle. I'm pretty sure that Google already knows FTD is spamming the crap out of the rankings. Plus, post-Panda, I'm not sure how much buying dozens of totally fake links accomplishes.
FTD's link profile: Liar, liar, pants on fire
In the Seattle Times article, FTD said "the vast majority of its links were on websites owned by FTD." So, I cranked up OpenSiteExplorer and looked at 10,000 of 'em.
Of the 10,000 links, only 500 or so come from pages that mention 'FTD' or 'Flowers' in the title tags.
A quick sampling of the other 9,500 sites shows hosting companies, dead sites on hosting company servers, security software/spam sites and other fun stuff. I'm not going to list those sites. Google can sniff 'em out if they want to.
Really? FTD? You're going into the hosting business? And the security software business? And you're going to start selling social games?
Uh-huh. And I've just diversified into adult entertainment.
Benefit of the doubt
I'm not an unreasonable person. I'm sure a lot of the 9,500 links are from news, financial, dating and other sites that might have some tangential relationship with FTD and flowers. But more than half? I kinda doubt it. So that means FTD has a link profile that's only about 50% purchased, or that they're the luckiest web site in link building history.
Plus, I took a look at a few of the links. Again, I'm not going to show the links and give away the sites that are selling. But guys, you could at least try to look like you're not selling links. When you put a table at the bottom of the page, outlined in green, with five neatly outlined links and nothing else around them, you might as well just say:
| | | | | |
| --- | --- | --- | --- | --- |
| Yo Google | I am | selling | links | Neener Neener |
Have a little pride.
What does it meaaannnn?
For Google, these links may be meaningless: They might have it all handled now with the Panda update. We'll see about that.
For FTD, well, you might want to clean that crap up, before the New York Times writes about it, embarrasses Google and gets you banned.
Other stuff