Archive for the 'liberal democrats' tag
So, it seems there will be an announcement tomorrow morning on whether the Energy Secretary Chris Huhne will be prosecuted. This bring to an end months of speculation over allegations that Huhne asked his former wife to take speeding points on his behalf.
Nick Clegg has already made it clear that if charged, Huhne will have to step down, prompting speculation on who will replace him on the energy and climate change brief. The quota of Liberal Democrat ministers will of course need to be maintained, narrowing it down somewhat. Junior business minister Ed Davey appears to be the front runner, with junior Foreign Office Minister Jeremy Browne and former Treasury Secretary David Laws also mentioned in passing.
The Coalition Government has been under fire recently for backsliding on environmental policy, with even key initiatives such as the Green Investment Bank, feed-in tariffs and the Green Deal falling victim to a strong Treasury keen to keep public spending to a minimum wherever possible.
Of the three contenders named above, two contributed to the Orange Book of 2004, widely regarded as the manifesto of the right wing of the Liberal Democrats. If tomorrow does mark the end of Chris Huhne's cabinet career, all eyes will be on his successor for any hint that the 'greenest government ever' is not living up to its name…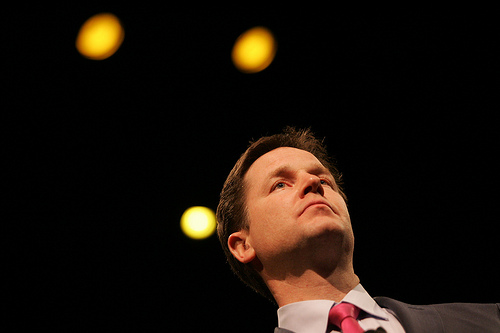 Image courtesy of Liberal Democrats
Nick Clegg, the rather pointless Deputy Prime Minister of Britain's sad little coalition, is in a bit of a pickle at the moment. No one in the country likes him not even Liberal Democrats, his party is about to be annihilated in the local elections on the 5th of May and the referendum on the Alternative Vote system hardly looks like its going to go his way. And this is entirely a situation of his own making, the man would be out of his depth in a paddling pool.
So to hear some sense come out of Cleggy's mouth was a rather unusual experience. And on one issue he seems to have got it right, his belief that valuable internships in Britain's best businesses, an essential way into the professional and financial services sectors and not to mention the creative industries, should no longer be allocated on the basis on nepotism rather merit.
While these jobs are often unpaid or paid at marginal rates they are a powerful way to gain work experience, get feet on the bottom rungs of corporate ladders and build relationships inside businesses. Informal though they often are, internships are important for both the young people that take them up and for the organisations that offer them.
Now let's put to one side the fact that the Cleggmeister himself benefited from a spot of nepotism in order to get his first job in some ghastly financial services organisation. The man has a point and it's a point that we should take to heart in advertising.
Because the sordid truth about our industry is that the people that tend to hoover up the internships on offer in Adland are the privileged and not the talented. Whether out of fear of the repercussions if they refuse or to garner a little favour, by and large agencies fall over themselves to offer internships to the children of their clients. And if not to them then to equally privileged kids that will have no trouble in finding a job and hardly need this leg up.
There is already a perfectly good way into our business for the privileged and that is the graduate recruitment programmes we run. Even the best and I would include our own summer scholarship programme in this, are only open to graduates and favour those people that have the sort of self belief only the British public school system can instil.
So let's leave the graduate recruitment programmes to bring in the nice middle class kids from decent universities that have a 'passion' for advertising. And let's free up our internships for kids that come from more diverse and unusual backgrounds, that aren't necessarily academically outstanding but are damn smart and who may not realise that advertising is their thing or even that there are jobs in creating and making the ads they see everywhere.
And not because we are all do-gooders that want to give a break to less advantaged kids. But for the sole reason that as businesses we depend on difference and diversity to create and shape our ideas, not to mention the fact that our work speaks to the whole of Britain and not to a privileged elite. Add the unavoidable fact that no qualification on earth can provide any indication of how good someone will be at this business and you have a powerful argument for us to follow Nick Clegg's lead and stop informal and nepotistic internships as he is doing in the civil service. Instead, we should all be creating alliances with schools and youth projects from all over the UK to find and nurture new and more diverse talent for our agencies with the internship as the essential first stage in these new careers.
As you would expect, last week's budget received a lot of press attention. UK Internet searches for the term 'budget' increased 27-fold between the weeks ending April 18th and 25th. However, as the chart below illustrates, searches for the term only reached a similar level to last year and were actually down on two years ago. Following the online reaction to last year's pre-budget report I was also expecting a spike in searches for the term '50p tax', but surprisingly that didn't occur.
Despite this, 'budget' was the third fastest moving term in the in the UK last week (in fact it was really the fastest, as the two that appeared above it – 'earth day' and 'st george's day' – were both Google Doodles), and lots of websites were competing to pick up traffic from it. As the table below illustrates, the most successful was DirectGov, which paid for the majority of its clicks. The Telegraph ranked second, also thanks to a significant investment in paid traffic, while BBC News, Google News and the FT all ranked in the top 10. The accountancy firms also did well from the term, with KPMG beating Ernst & Young to the top spot this year, despite paying less for its traffic.
The Conservative Party also ran a paid search campaign for the budget, and was the 11th biggest recipient of traffic from the term 'budget' last week. Over 90% of this traffic came via paid search and, as the table below illustrates, it was the highest placed non-branded term sending traffic to the Tories' homepage last week. The other terms that that Conservative Party received a significant amount of paid traffic from were 'budget 2009', 'vat threshold' and '2009 budget'.
The combination of more paid search traffic and the general interest in all things budget-related meant that traffic to conservatives.com increased by 71% last week. The official homepages of the Labour Party (up 20%) and the Liberal Democrats (up 33%) also received traffic boosts. Following on from the Daniel Hannan YouTube clip last month, it is starting to look like the next UK election may well be the first in which the Internet will play a significant role.