Archive for the 'marketing channels' tag
Editor's Note: Buy, build or both? This is the eternal quandary for many marketers and salespeople looking for a reliable list to contact. We've asked Andrea Johnson, Senior Editorial Analyst, MECLABS, to cover both sides of this debate. Today, she explores the downsides of list buying. It's the start of a three-part series. The next two posts will focus on how to build a list and then on how to use a purchased list if you choose to go that route.
You're on deadline when an email flashes across your screen. You don't recognize the company or person who sent it. The subject line is meaningless. You instantly banish it to the junk folder and carry on with the task at hand.
Or your phone rings. You pick it up to hear:
"Hi, this is Ima Teleprospector calling from Irrelevant Company, and I wanted to find out when you might be purchasing Irrelevant's Products."
The interruption has made the Irrelevant Company even more so.
I wish I could say these scenarios are exaggerations, but they currently happen at offices everywhere … every day. Why? Because there are marketers and sales professionals still entrenched in the '80s. They treat email like direct mail, where you:
Buy a list
Flood a certain ZIP or SIC code with a cleverly designed message
Wait for the leads to pour in
In fact, a couple of weeks ago, one of the members of the B2B Lead Roundtable group on LinkedIn asked:
"I am looking for input on lead purchasing. What data should I know before I purchase a list?"
I took this question to leaders at HubSpot and ExactTarget, organizations that launched marketers into this millennium by providing tools and knowledge to use today's marketing channels in a way they consider more effective.
Mike Volpe, CMO, Hubspot; Ellie Mirman, Head of SMB Marketing, HubSpot; and Chip House, Senior Director of Relationship Marketing, ExactTarget, agreed that no amount of data will help in a list purchase.
They have one piece of advice: Don't do it.
Here are three reasons why (and I'm sure they could offer more, but these are enough to strike fear into the heart of any marketer):
Downside #1: You could decimate your company's email marketing program
When you send emails and text messages without the recipient's prior permission, the Controlling the Assault of Non-Solicited Pornography and Marketing (CAN-SPAM) Act strictly requires the email makes it clear that what the recipient is receiving is advertising. (And we all love getting email advertising, right?)
"Names on any list you purchase did not give your company explicit permission to email them," says House. "So when you email them, it's unsolicited spam and you run the risk of having future emails blocked by Internet Service Providers."
House explains anti-spam organizations will seed lists with spam traps – inactive email addresses – which email deliverability experts refer to as honeypots. (Picture Winnie the Pooh's arm, or head, getting caught in the honeypot, and you can quickly understand what these traps are meant to do.) Legitimate companies will quickly scrub these inactive addresses from their email lists after they get a bounce message, while list providers may not. And, if these addresses receive an email from your organization, it could be targeted as a spammer, irreparably damaging your future email deliverability.
Downside #2: The response rate will be nil
Mirman insists relationships are critical to email marketing success, and buying lists does not buy an instant relationship.
"There are a lot of email best practices around segmentation, behaviors and triggers; you cannot practice any of these when you buy a list," says Mirman. At minimum, she says:
The recipient must recognize you and your company
The email should respond to her past engagement with your company
It must offer, in response to that engagement, something she'll value
Downside #3: You'll harm your brand's reputation and your sales results
"People don't like getting cold calls," says Volpe. "And you risk having your emails end up in spam filters because people don't want emails from people to whom they have not given permission.
"In some regions of the world, like Europe, automating emails to people without their permission is against the law," he points out.
Ultimately, when emails end up in spam and phone calls end up in voicemail or, worse yet, in a dial tone, conversion and close rates tank, resulting in an unhappy sales team.
So what's a marketer to when he needs leads fast?
"Names on list are not leads," counters Volpe. "Doing marketing right, building relationships and creating love for your company, requires some work. Suck it up and do your job, and please stop giving marketers a bad reputation by cutting corners."
To give you a full look at all of your options, on August 27, on the B2B Lead Roundtable Blog, I'll provide actionable advice to help you get started building your list. After that, we'll look at how to purchase a list and what to do with it, if you choose to go that route.
Related Resources:
Do You Expect Your Inside Sales Team to Practice Alchemy?
Email Marketing: Avoid the pitfalls of a direct-mail mindset
Email Deliverability: Riddles answered on spam complaints, feedback loops, and dedicated IPs
Email Deliverability: How a marketing vendor with 99 percent delivery rates treats single opt-in lists vs. double opt-in lists
How to Build a Quality List and Make Data Drive Leads
Back in 2010–you know, when I was actually writing blog posts–I published one of the most successful linkbait posts of all time for Marketing Pilgrim. Our Top 10 Best Infographics for Internet Marketing Pros was a big hit.
Well, two years on, and the fine folks over at Avalaunch Media have updated one of those awesome infographics. So, go ahead and tweet, like, buffer, and pin the History of Marketing Channels 2012 edition.
Want one of your own? Avalaunch Media is creating some of the best infographics around. (That's a real endorsement, not any of that paid link crappola)
Join the Marketing Pilgrim Facebook Community
Wildfire, the social media startup that's making huge strides in online marketing — Facebook marketing in particular — has just been snapped up by Google for an undisclosed price.
(Web rumors peg the deal at $250 million; however, a Google rep confirmed that the deal is not coming under regulatory review, so the dollar amount is not, by Google's standards at least, significant.)
Nice work, Google! Picking up one of the main marketing channels to a major competitor right as that competitor's marketing effectiveness is coming under fire — that's some Spy Versus Spy business right there.
Also, the deal likely gives Google some inside-horse access to very interesting Facebook marketing data. (If we were Facebook, for that reason alone, we'd cut off Wildfire's API access faster than you could say, "Hey! Don't look at that!")
The Google party line is that the company wants to own (and eventually integrate) the online marketing experience, full stop. It wants to have a single destination where a brand marketing manager can go to create and control all online campaigns, from search marketing to Twitter CRM to Facebook campaigns, the whole shebang.
If you talk to a Google rep, you'll hear that this isn't about controlling a key Facebook marketing platform per se, and it's not about the fact that Facebook now leads Google in its overall share of display advertising per se. It's just that Google wants to be online marketing. Everywhere, and to everyone, including Facebook-using brand marketers.
If this is the case, we'd expect to see a comprehensive ad management platform for the entire web emerging from the bowels of Google within the next six to 12 months. For now, Wildfire will continue to operate as-is, a standalone social marketing shop.
Potential conflicts of interest aside, we read on the official Google blog, "We're happy to share that the Wildfire team will be joining Google. … With Wildfire, we're looking forward to creating new opportunities for our clients to engage with people across all social services. We believe that better content and more seamless solutions will help unlock the full potential of the web for people and businesses."
That last sentence is a goulash of buzzwords, but in a word, Google is promising that Wildfire's offering will not lose its diversity of services. Still, we have some serious doubts about how good this deal will ultimately be for Wildfire's continued growth; time will tell.
We did an in-depth tour and interview sesh at Wildfire a few weeks ago, just before the startup launched its Suite 2.0 marketing tools. At that time, Wildfire co-founder and CEO Victoria Ransom (pictured at top) told us that Facebook was hands-down the company's largest area of focus. In fact, Wildfire got its start making turnkey sweepstakes apps for brands to use on Facebook.
As for Google+, Ransom said marketers weren't as interested due to the (real or perceived) lack of richness in content and interaction on the newer social network.
We're waiting to hear back from Wildfire and Google now and will update this post as soon as more details are available.
Filed under: deals, social
Remember Deep Thoughts by Jack Handey that used to appear on Saturday Night Live? (You don't? What's wrong with you?)
Well, Snarketing 2.0′s deep thoughts might not be as witty or humorous as Handey's, but we still have them. Here are a few:
—————
Competing on service is a flawed strategy. It's like saying "We're really good at fixing our mistakes." If you didn't screw up so much in the first place, you wouldn't have to be so good at service.
—————
A lot of studies show that online user reviews are used by consumers researching products and services online. But none of them indicate whether or not user reviews help consumers: 1) find product from providers that they didn't know about before searching online; 2) choose between a set of providers they had already decided on; or 3) select between a set of products from a provider that had already chosen.
—————
A recent survey asked consumers about the extent to which they trusted their financial providers. The survey scale went from 1 to 7, where one was "complete trust" and seven was "no trust". But is "no trust" simply the absence of trust, or does it mean distrust? It's not the same, you know.
—————
Claims regarding the performance of various marketing channels are bullshit. The DMA released the results of a study which found that the response rate for direct mail to an existing customer averages 3.4%, compared to 0.12% for email. Prospect response rates for offline channels also outpaced digital channels. Telephone ranked highest, while email, display ads, and paid search response rates were barely distinguishable from zero.
What are marketers supposed to do with this so-called research? Allocate marketing efforts away from email and display ads to phone calling? Send out more 2 pound catalogs? And am I crazy for thinking that maybe — just maybe — results vary by industry? As far as I'm concerned, you can take your channel performance research and shove it.
—————
What's all this I hear about the threat of pier fishing? Some Greek company has a problem with a beach, and now we're worried about pier fishing?
I've been fishing off piers all my life, and I'm not going to stop now.
What's that you say? It's a threat of "spear phishing"? And Epsilon had an email address breach? Oh. Never mind.
On one hand, I realize this is a very serious topic to some, and that some (many?) people are worried about their email address falling into the wrong hands.
But on the other hand, my email address (more accurately: a number of my email addresses) has been in the wrong hands for quite a while now. I get phishing email and spam — as I'm sure you do — every day, and I have no idea how the senders got my email address in the first place.
What baffled me about the furor over the Epsilon breach is that most of us are OK having our addresses and telephone numbers made publicly available, but we're outraged if our email address falls into the wrong hands?
—————
Filed under: Marketing Tagged: Deep Thoughts, Jack Handey, Marketing
If you think marketing and advertising are one and the same, there's a pretty good chance your marketing efforts are being less than successful.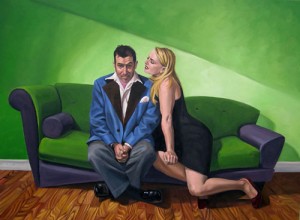 If you cast your mind back to the bad old days, companies would advertise to you left right and centre. You would be bombarded by less than subtle sales messages wherever you went.
Our TVs, magazines, newspapers and mailboxes were full of 'buy from us now' messages desperate to grab your hard earned cash.
But the landscape looks very different these days, with businesses moving away from advertising and towards marketing.
Nope, still don't get it
In that case, you're probably a business that has dabbled in social media, blogging, article and video marketing only to decide that it doesn't work for you.
Well, the reason it's not working is probably because you're still advertising rather than marketing.
Let me explain.
If you're advertising, you're effectively shouting at your customers 'buy now' with little regard for what they actually want.
Perhaps that approach used to work for you, but today's consumers want more than that, they want to be appreciated, wooed and persuaded.
The subtle art of marketing
Today's marketing channels are social media, video and article marketing and blogging. Each of these disciplines offers the consumer engagement, information, and advice – effectively something for nothing. Or at least that is how it appears.
You see, people now want to feel as though you, as a company, value them and their business. They don't just want you to come along, take their money and then head off into the night.
Today, you must engage with them, talk to them, offer them great information, be responsive to their questions and generally take in interested in what they want. And that's why you must market and not advertise to them.
You see, marketing is all about getting to know your customer and being interested in what they really want, their likes and dislikes and being prepared to chat with them to build relationships.
Think carefully about them and how your product or service will benefit them and then show them.
The days of the blatant advertising are numbered; today your consumers want more. Talk to them, engagement with them and give them something for nothing. As you do so something magical happens, they begin to trust you and that trust will be manifested in the form of their credit card.
Market to your customers and they'll be customers for life.
As smartphone technology comes ever closer to equaling that of the personal computer, many of the tried and true marketing techniques of the Digital Era are transitioning to those miniature devices. Mobile search is the latest frontier to be pushed by app developers and web designers. Mobile search is expected to surpass desktop search by 2015, according to Marin Software's March 2012 State of Mobile Search in the U.S. report.
Nearly half of all Americans own a smartphone, and most use them for more than calling and texting. With that in mind, marketers are finding great value in shifting dollars away from traditional Web marketing channels to mobile targeted initiatives, specifically to mobile pay-per-click ads.
As a relatively new technology, mobile PPC ads are starkly underpriced. Compared to desktop and tablet pay-per-click ads, smartphone PPC ads yield the highest click-through-rate (4.12 percent) and the lowest cost ($0.53). Mobile clicks continue to sell well below their actual value, while generating a higher conversion rate. As a result, more businesses are investing in mobile campaigns.
In 2011 alone, mobile paid search advertising spend more than doubled from 3.4 to 8.7 percent as a fraction of the pay-per-click industry. The State of Mobile Search report predicted that by the end of this year, mobile ads will account for 25 percent of all Google's PPC clicks, a significant spike from 5 percent in January 2011. With this upward trend, one Cowen analyst expects Google to bring in $5.8 billion in mobile ad revenue in 2012, up three billion from last year.
The rapid adoption of smartphones is seen as the main driving force behind the growth in mobile PPC ads. Research shows that consumers are more likely to notice ads on their phones than on a desktop. Increased visibility means an increased likelihood of someone clicking the ad and interacting with it in some way, with 53 percent of consumers at least visiting the landing page after clicking a mobile ad, and 24 percent making a purchase.
At the very least, mobile pay-per-click advertising represents a substantial value buy; its growth is outpacing its pricing. Price corrections are no doubt on the way as third-party research is consistently showing more firms are adopting mobile PPC. At the moment, however, it may very well be the best value marketing play available in the digital space.
Anush Alexander is director of marketing for RW Lynch, a comprehensive marketing platform for personal injury attorneys, where she oversees company branding efforts, web, and internal product development and B2C marketing for the Injury HelpLine, a service that has connected over three million potential victims with lawyers in their area.
[Top image credit: SVLuma/Shutterstock]
Filed under: VentureBeat
Facebook, Twitter and Google+ may be the most popular social media nowadays, but it doesn't guarantee that it could help promote your business on the Internet. Although social media can really create brand awareness, it all depends on its features and whether it addresses your business' marketing needs.
Before you hop in to social media marketing, there are factors that you need to consider in choosing which platform might work for your brand.
Where Potential Customers Usually Hangout
It's not surprising that social networking sites enable a business to connect with a wider range of audience. However, it depends on the site's culture and the type of users that it caters. If you want to reach out to professionals, LinkedIn is an ideal platform. Facebook and Twitter, on the other hand, are ideal for those who want to target the casual netizens from various demographics.
The Contents You Want to Share
Various social media has their own way of letting share your content. Thus, each networking site were not created equal. YouTube is best for video marketing, while Etsy is ideal for those who use the power of photographs to attract customers. If you're more into text and links, Facebook and Twitter can be an appropriate platform. If you want to attract customers by addressing their issues, a Q&A type of social network like Quora can be useful.
Flexible Features and Marketing Platforms
Since every networking sites are not created equal, their features and marketing platforms also varies. There are social media that provides paid advertising, while others offer free marketing channels like Facebook Pages or Google+ Business page. Depending on what your business could afford, consider which media will let you promote your business on your own terms and financial capabilities.
Customer Engagement
Many businesses make the mistake of treating social media as the end to their means. What they didn't know is that it should be regarded as a tool to leverage marketing efforts. The word "social" in social media simply refers to interacting with other people. Therefore, choose a network that won't just aid you to reach your market, but will also help you engage them to stay
Knowing which social media platform to choose for promoting your business doesn't depend on the network's name. It depends on how you want to present your content and what do you want your customers to do with it. Simply put, choosing the best social media relies on which platform gives wider reach and most leads for your business.
Source: Girl with Computer/ Public Domain Image
The post The Right Social Media for Your Online Marketing Needs appeared first on About Social Media.
Small and medium-sized e-commerce companies need all the help they can get to connect with their customers, provide support, and create positive word-of-mouth. That's why Sunnytrail has built a social intelligence platform for identifying and interacting with customers online.
To find out who their customer are, companies need only connect their digital storefronts with Sunnytrail, and it will scour social networks to find them online. It then provides information about customers in an easy-to-use dashboard and provides tools for communicating with them.
The platform works by using publicly available information on various social networks, which helps it determines how influential various users are, and provides guidance about which customers a company should proactively engage with. Sunnytrail also monitors new customers as they make purchases, which can helps e-commerce companies identify when they get new high-profile users.
Why's that important? Because word-of-mouth is still a valuable marketing channels, especially when some customers reach potentially thousands of connections on various social networks. Sunnytrail claims that about 60 percent of users share with friends when they have a positive customer experience, which for e-commerce companies can translate into new potential customers with little to no marketing, if they play their cards right.
Sunnytrail charges clients for use of its product based on the number of customers they have and manage through the platform. It has a free tier for clients who have less than 500 customers. Its second tier, for companies with up to 5,000 customers, costs $49 a month. Above that, and clients pay $99 a month for up to 20,000 customers. Currently, Sunnytrail works with Shopify or Goodsie e-commerce sites, but it's looking to add more platforms as time goes on.
Sunnytrail was founded by Octav Druta, Vlad Berteanu, and Andrei Soare, and is based in Vancouver. The startup is part of the GrowLab startup incubator there. In addition to GrowLab, it's raised seed funding from Boris Wertz's new fund Version One Ventures, Mike Edwards of Initio Group, and BDC Venture Capital.
The other week we were delighted to be part of Marketing Week Live, exhibiting in the Online Marketing Show, and more excitingly, speaking in the Search, Affiliate and Display Arena (the video link is at the end of this blog).
Matt Hopkins, our MD, examined The Evolution of Online Marketing, looking at:
• the various stages in the development of the business website
• the changing factors within search engines and social media
• the demands of information-hungry consumers
• how marketers have adapted so far to keep up
• the challenges they face today and in the future
He focused on three key takeaway points for the audience:
1. Search vs Discovery.
What are the differences between search and discovery, and how can we as marketers use both to create the right audience for a brand?
There are two ways that people access information online. Search we're all familiar with. To 'Google it' has become a commonly used phrase because search is really an essential part of life for most people.
Discovery, on the other hand, is different, and has traditionally been 'owned' by offline marketing channels. Browsing through a magazine or passing a billboard you may stumble on the latest gadget to change your life. You didn't know it existed before, but now you need it!
The point is that search delivers expected results, whereas discovery yields the unexpected. Tweet this!
2. Brands are now publishers.
The nature of the business website has moved on, and to attract and retain readers – not traffic – you must adopt an editorial approach to your online marketing.
For businesses to be successful in their market they need to engage customers early in the buying cycle. And this doesn't mean hitting them with your sales pitch from the start.
Building loyalty for your brand starts with content – for engagement, education, information and persuasion. Tweet this!
3. Convergence.
Social media isn't replacing search; it generates content and relationships. Search helps us sift through content and conversations in pursuit of a specific goal/information.
Technical SEO on its own no longer works. Content on its own goes nowhere. Social on its own is just conversation. Marketers must integrate all three to be successful. Tweet this!
So you've successfully created an amazing offer that you think will boost your lead generation like whoa. You've launched it on your blog, via social media, and in your email marketing — and you're watching those conversions climb and climb … until they eventually plateau.
Wait. That wasn't supposed to happen. Was all that hard work creating your offer for naught? Do the lead generation benefits have to end so soon? They certainly don't, so you figure you need to launch another few rounds of promotion for your offer to get those conversions climbing again — but how are you supposed to do that without seeming like you're recycling old gifts?
Fear not, readers! There's a way to repromote your offers so the content is still fresh for your audience … and this post will teach you how.
Repackaging Your Offer Content
Before we get into how to repromote your offer content via various marketing channels, let's talk about how to do a quick rework of your offer content itself. When you can apply little tip, it will help you keep your offer promotion even fresher, you'll likely see better results because you're creating more targeted content, and it amount of work required is pretty minimal.
If you've created an offer — let's say it's about how to write SEO content — that could apply to lots of different people. That's great! But, have you ever considered how you could tweak that offer to address the problems of specific segments within your database? For example, ecommerce companies, B2B organizations, franchises, and international organizations might require slightly different approaches to writing SEO content. Not so radically different that you need to start from scratch! But different enough that if you put a little time into tweaking your original offer, you could actually end up with 5 distinct offers to promote to different segments of your audience!
You could apply this concept to content formats, too. Let's take that offer about how to write SEO content as our example again. Let's say you wrote an ebook about that originally, but some of your audience doesn't take well to long form content of that nature. You could distill the information therein and create a cheat sheet or checklist that appeals to the short-form content junkie. Boom! You just reformatted your offer so you now have two pieces of lead generation content in your arsenal!
This repackaging won't be applicable to every offer you create — but it's something to keep in mind to help you keep your offer content fresh, and allow you to re-promote those offers without boring your audience with the same old stuff.
How to Re-promote Your Offers on Social Media
Your social media channels are going to be one of your biggest weapons in the continued promotion of your offers. According to bitly, the average shelf life of a tweet is only 2.8 hours. For a Facebook update, that number rises … but only to a measly 3.2 hours. And while some links can defy the statistics and stay relevant in the social world for a bit longer, you certainly shouldn't bank on it. You'll need to periodically unleash your offers onto your social media networks in ways that don't make your fans and followers think you're just hammering them with the same content over and over. So what rules of thumb should you be following?
First, get used to changing up your language. That incredibly clever tweet you wrote to announce your offer is only clever once. Find a new angle — and a new value proposition — to re-promote your offer and grab audiences that weren't compelled to click on your link in previous social updates. Check out these tweets from @HubSpot, for example; they're all promoting the same offer, but in different ways:
Each of those tweets could appeal to a different audience — those that are interested in Instagram might click the last tweet, but gloss right over the first two. Your offer is likely valuable for many reasons, so find what those angles are and compose your social media updates based on those multiple value propositions.
You should also experiment with different timing in order to reach a wider audience. If you share your offer at the same time each day, chances are you're hitting a relatively similar audience with each update. So start posting at different time of day, and days of the week (and track the data, of course) to see what works well for your audience. If you're looking for more in-depth information on social media experiments, check out our free webinar about the science of social media.
While doing all this, however, you need to ensure you're keeping a nice content balance. If you're only promoting one offer, no matter how creative you phrase your updates, your audience will start tuning out when they receive that same old link again and again. In addition to the offer you're trying to promote, promote other offers in your arsenal, blog posts, visual content, industry news, other people's content — you know, all the great content we always encourage you to post! The point of social media is to keep your networks engaged with you, and that's not going to happen if you bombard them with just one type of content, let alone one singular offer over and over again.
How to Re-promote Your Offers on Your Blog
Your blog is a goldmine for offer re-promotion! Let me explain.
Every blog post you publish includes a call-to-action, right? Right. So the more blog content you publish, the more visibility your offers receive! Your readers expect to see a call-to-action that's relevant to the subject of the blog post, so if you're trying to get more visibility for a particular offer, all you need to do is write more blog posts about that subject matter. Approach it from different angles, too, to tap into what makes different segments of your audience tick.
You should also be linking to your offer through every blog post you write — even if it isn't directly related to the subject matter of the post. For example, this post is about re-promoting old offers … but that doesn't mean I won't talk about other concepts tangentially throughout the post! You might remember this little ecommerce lead generation link from earlier in the post, for example:
Internal linking not only helps the SEO of the landing page your offer lives behind, but it helps drive traffic from that blog post to your landing page. So as long as your internal link is contextual, there's no reason you can't encourage blog readers to learn more about a particular topic right within the copy of your post!
Finally, you can take excerpts from your offer and use them as blog posts for some serious promotional real estate. This works best for long-form offer content that has several nuggets of information contained within it that can stand on their own as pieces of blog content. For example, you might notice many of our ebooks contain a table of contents that break up the information into more digestible chunks. If you take this same approach to your long form content, grabbing a chapter of that content and repurposing it as a blog post, then explicitly saying the blog post is excerpted from your ebook (with a link to the landing page in that copy, of course!), is a fantastic way to not only promote your ebook, but to get some quick blog content, too!
How to Re-promote Your Offers in Email Marketing

Email is one of the most direct ways you can reach people who care about your content. And that's great … when your offer is brand new and you're sending it for the first time. But did you know that, according to Experian, over 80% of email marketers send the same content to all subscribers? Yikes. That's a surefire way to make your offers stale in a jiffy. When repromoting offers during email sends, there are a few tips to keep in mind (and yes, we do plan to hard on segmentation here so you're not part of that 80% metric!).
First, don't send the exact same email twice. Think about it, if you send out the same email to your mailing list twice, you're sending it to exactly two groups of people: people who already read your email and don't care, and people who already chose not to read or click through the offer in your email. The answer, of course, is segmentation.
Instead of sending out a general email to everyone and hoping your subject line will hook the segment of people who actually want this offer, segment your email list and include your offer as a component in a segmented campaign. That's where the lead intelligence you've gathered on your list will come in handy. Have the contacts you're emailing this offer to shown an interest in this type of content in the past? Alternately, have you repackaged your offer content like we discussed in the beginning of this post, letting you align your offer to segments of your list based on business type, industry, or another identifying factor? When you approach emailing your offer in this manner, it's much more likely your emails will reach people who actually care about the content.
You don't have to rely on email sends dedicated exclusively to your offer for email marketing promotions. Consider alternate email formats to resurface your offers, like email digests or newsletters. If your company sends out a weekly, bi-weekly, or monthly digest or newsletter, you could include a section that highlights the offer you wish to re-promote. It's a simple way to land the offer in the inboxes of your subscribers another time, without bombarding them with another email dedicated to the offer. I bet there are some people on your list who have only subscribed to this type of email, too, so including your offers in your newsletter is imperative for reaching those particular subscribers.
If You Remember Nothing Else …

Regardless of how you choose to re-promote your offer content, there are two takeaways you should always keep in mind to ensure your audience doesn't feel bombarded by the same content over, and over, and over.

1) Don't repeat yourself. The audience backlash isn't worth the time saved by sending out duplicate emails, tweets, and other content. Those who chose not to interact with your content the first time obviously had a reason — that's why its critical to find the other angles that make your offer content valuable, and match those value propositions up with the proper segments of your audience in a repositioning of your content. Even though you're not sharing a brand new offer, your copy and context should always be new, so you're giving everyone who sees it a new decision to make!
2) Cross-promote, but not simultaneously. If you send out an email, a tweet, a Facebook update, and a blog post (with links and a CTA!) all at once, people are going to 1) not see everything you sent out, and 2) be incredibly annoyed with you. So don't do that. Use marketing software, spreadsheets, a Google doc — whatever works best for you — to schedule your updates in advance and ensure promotion from all of your channels isn't all happening on the same day at the same time, so you don't flood your audience all at once.
How have you found success repromoting your older lead generation offers?
Image credit: asenat29