Archive for the 'marketing program' tag
Posted by Kate Morris
The simplest ideas can be the best link building ideas. If you spend a few hours really thinking like your customers, stop thinking about competitors, and stop being yourself (executive, SEO, etc.), there are a number of ideas out there that can turn into multichannel success stories for your marketing program. This inspiration came from my time spent in marketing classes.
Who here took a marketing class in school? *waits for hands*
If you were a marketing undergrad like myself, you want to shoot the next person that says "pick a company and build a marketing plan for them." For those of you that were spared the annoyance of hearing about Starbucks year after year, count yourself lucky. (Don't get me wrong, I love Starbucks, check my credit card statement.)
Marketing students are well versed on how to develop out of the box ideas for companies all over the world. Know why? They don't have to implement any of them! It is amazing how everyday politics and budgets can hinder the ability to brainstorm really good ideas.
Creating a marketing plan out of the blue is something everyone should try. It is truly amazing how many great, yet simple ideas come out of starting fresh and thinking not as an employee, but as an outsider. The key is getting out of your own head to generate fresh ideas.
Forget Yourself and Find Them
The first step is to get out of the office. For consumer facing industries, it's time to go find your customers. If you have the ability to visit a retail location, do that. You don't need hundreds of customers, you just need a few. If you are an online retailer, look up some of your clients and ask if you can visit them. Find real people and ask for 15 minutes to chat with each of them.
No, I am not kidding. This might be difficult, but it's worth the time.
If you are not a retailer (more B2B), do as the online retailer does and look up your clients to go visit a few. Flying across the country does not work for many businesses, so you'll need to get creative. If all else fails and all of your customers are far away, ask to Skype chat with a few.
You need to enter their world. Don't come to the meeting with questions prepared. Don't take more than the time they give you, and try to be brief. Simply chat with them about their day. Ask them how their life is and how your company fits in. You don't want company specific feedback, you just want to see how you fit into their life and what is on their mind at the moment. Really get to know them.
Take notes. Give them a $5 giftcard and sincerely thank them for their business.
(PS: you probably have a customer for life now)
Get Outside of Your Box
Now that you are in the mind set of your customers, don't go back to work. (Believe me, your boss will understand when they see these ideas.) Instead, find one of those co-working places in major cities. If you aren't in a major city, visit somewhere that isn't home or work. It can be a coffee shop, but try to pick somewhere you can be creative and productive for a few hours. If that means the local library or a friend's office, then cool.
Now, sit down and think like your customers. What would they say your marketing plan should be? What makes your company/client the place to go to for your products/services? You want to be the favorite place your customers go online and offline when they need something related to what you do. How do you make your company that important?
Don't be you, be your customer. What would you want done differently in your company? Find a whiteboard, a notebook, a computer, or similar. Write down everything that comes to mind.
Most Important: Answer Without Abandon
Take those questions and just answer. Don't think about what is plausible. Don't consider what other people will say. You want the ideas that you don't have to implement, which is what makes this exercise fun and awesome. Don't consider cost for ideas, just get them all out there. Your only concern should be how to make your customer happy. Don't think about selling them more, getting links, shares, or email sign ups. Just make them love you.
Do they already love you? Woo! Now, how do you get more people to love you?
Other questions to ask yourself if you are stuck include:
Where would potential customers go to find out about our products or services?
How do they know they need us?
How can we solve their problem faster and more efficiently for THEM? (Stop thinking about shipping and costs, this is about them.)
How do we make ourselves avaliable to them whenever they need us?
What can we do to make them LOVE us?
The Result: Great Ideas
The above is a brainstorm that turned into a marketing plan for Dick's Drive-In in Seattle. The key take-aways were to have a spokesperson, "Dick," that had a van he drove around in to drum up love and business. If any of you have Uber in your city, think the ice cream truck promotion. They would also give away t-shirts in addition to yummy deluxe burgers. By the time these guys were done, everyone in that room was hungry.
Ther kicker here is that Dick's is not a client at Distilled. They a well-loved local eatery. Everyone knows who they are and how to get a yummy burger. They probably don't need help online, but they can get help with this 30 minute brainstorm and marketing plan by people who do not work for them. And the idea was fantastic. I was not a part of this team, but I can only imagine the applications.
Ahem, Links?
I mentioned that these brainstorms can turn into major successes for you, including link building ideas. I can't promise that every idea you come up with will result in killer link building, but I have faith that if these ideas are actually customer focused and impactful, any number of them can get the attention of the media and make your customers want to share your business with their friends.
More sepcifically, let's use the ideas above for Dick's Drive In.
Spokesperson "Dick"
Depending on the success of the branding and the events around Dick, this could mean interviews (links) and social shares. If developed right, a meme could develop around a particularly funny photo with captions.
Van with Slogan "Dick, the man with the Van"
This has Reddit written all over it. There are some possible reputation issues with famililes and what a van might mean to parents (think abduction vans), but you get little to no reward without some risk. This would do great with the festivals in Seattle and online. Think about how many people would tweet and share photos with Dick and the Van? All of these mentions and shares can have a positive impact on your search metrics. And Redditors would be all over talking about this promotion.
T-Shirts
Depending on the slogan, the shirts could be sold on the website. If good enough, they could drive people to the site via friends. How many times have you asked or been asked about an awesome shirt? The shirts themselves can be link bait. Check out this post from Shoemoney linking to Acquisio for the fact they had an awesome shirt.
What are the great ideas you have had in the past to grow your business? I'd love to hear them and maybe I can give some ideas of how I would turn them into link building ideas.
Sign up for The Moz Top 10, a semimonthly mailer updating you on the top ten hottest pieces of SEO news, tips, and rad links uncovered by the Moz team. Think of it as your exclusive digest of stuff you don't have time to hunt down but want to read!
Way back in the day, I worked at Avenue A. This was in 2000, the wild west days of the internet. I was granted stock options that were worth $2,000,000. Three months later, my stock options that were worth $0. Fun times.


We cookied client websites. We knew that in e-commerce, the average customer visited the website three times before buying something. We knew that this rule held for a customer on a first online purchase, and on a fifth online purchase.


Not much has changed in twelve years. At first, an unconverted visit was viewed as a catastrophe. You had to execute "retargeting", or the more aptly named but equally invasive "remarketing" programs to "win back" customers. Trade journals, bloggers, ad folks, and analysts love these things. Customers? Not so much.


We realized that the programs worked, but didn't move the needle. It's like improving an email marketing program where 1 in 700 buy something to 1 in 640 buying something. It's a nice improvement, but it is meaningless in terms of overall impact on customer behavior.


Eventually, marketers embraced these unconverted visits as a sign that the customer was "engaged" with our brand. We convinced folks that it was good to spend money on outcomes that yielded no sales whatsoever. It's kind of like buying somebody a drink at a bar, then the person leaves and we say, "well, we engaged the person for fifteen minutes, so that counts for something!"


Half of the marketing world wants you to spend more money to get that customer to convert.


Half of the marketing world wants you to spend more money to engage the customer without a purchase.


All of the marketing world wants you to spend more money.


At Nordstrom, we had a "3/2/1″ rule … for customers who bought online and in stores, we observed that the customer visited the website three times a month, visited the store two times a month, and purchased once a month, 85% of the purchases happening in-store.


Maybe we just realize that customers "do things". Maybe we don't have to spend money on retargeting. Maybe we don't have to spend money to encourage engagement. Maybe we just accept that the customer is going to do what the customer does, and we simply focus on providing a great experience coupled with great merchandise.


Imagine that?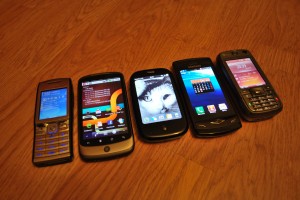 Everything I read lately reminds me that mobile marketing is going to be big, BIG, REALLY BIG.
From advertising, to websites, and of course, all the apps — having your brand accessible and in the public's eye from a mobile device will be crucial.
Mobile text, ads on apps, mobile only sites… each mobile marketing tactic needs to further the marketing goals and objectives of building awareness, encouraging trial, generating leads, and otherwise improving sales.
The challenge is that mobile is not just another tactic like a billboard or a newsletter or a trifold brochure.
It needs more specialized IT resources than a blog or a customer database.  Could require almost as much interaction as a consumer call center.  But has more potential than almost any other medium in the next few years.
What are you doing to further your brands' mobile marketing program? Are you going to build a mobile component into your 2013 marketing program?
Leave a comment below describing how you're planning to take advantage of the growth in mobile with your brand.
photo by:
The fine folks at Appinions have put together a very nice guide to understanding social influence measurement tools that should be rather helpful if you're interested in understanding and leveraging influencers in your marketing program. Honestly, I missed this report when it first came out, but have recently read it and am quite impressed.
Not only is it thorough and thoughtful, but even breaks the tools (like Klout, Kred, Traackr and so on) down into personal influence and contextual influence spheres. I consider myself fairly well-read on the topic and I learned a few things here.
The good news is that I think they still have a few of the free downloads of the report left. Beyond that, the report will require a payment. But if you hurry over, you can download a free one. If you don't get there fast enough, I believe the report will be just $20, which is well worth it.
As with any other niche in the social software space, influence measurement tools are ever-changing. Getting a bit of insight into how they work and which one or ones might be best for your business is smart. Check out the report.
Editor's Note: Appinions is a client of SME contributor Stephanie Schwab. She did not, however, contribute to my analysis or this post. Social Media Explorer is not affiliated with Appinions as of this writing.
When carpenters build a house, they create a plan, get the materials, and gather their tools – from saws and sandpaper to hammers and screwdrivers. The carpenters carefully sequence their activities. First they lay the foundation, then the frame. Then they install drywall, and finish with paint, carpet, and appliances.
It's the same with your marketing program. You create your plan, gather your tools, and begin to lay the foundation. As you gather your tools, it's important to understand how each fits into the larger marketing mix, even if it's not your core area of expertise.
Martin Waxman talked a bit about this in What's Wrong with Advertising? He talks about how important it is to know basic programming, search, social, and more as an advertiser.
You don't have to be an expert in all of the tools available to us, but you do need to know enough about how they work in order to include them in your planning.
Most marketers are specialists so when it's time to think about strategy, we tend to gravitate to the tool we know best – even if they're not the best for the job.
Never has that been truer than it is with social media. Talk about the shiny object syndrome! A new tool comes out (cough, Google+ orPinterest, cough) and you'd think the silver bullet of marketing had been discovered.
Tools of the Trade
There are four things you should consider when selecting which tools to use for your marketing program:
Key performance indicators. We also know these as business goals. Is the goal of the brand to improve revenues? Shorten the sales cycle? Improve margins? Increase grant funding? Gain more volunteers? Whatever the goals are, understand them as best you can so you know how your efforts will provide the best return.
Corresponding marketing objectives. What is it you're trying to achieve? Is it your job to generate leads? Increase brand awareness? Both? Figure out what success looks like so you know which tools to incorporate.
Stakeholders. Every organization has more than one audience – customers, employees, the community, a board, etc. Think about the most effective ways to communicate with them before you begin to decide on the tools you're going to use.
Capacity. One of the mistakes we make, especially with social media, is thinking that because most of the tools are free, the cost is minimal. But you also have to consider how much time it takes to keep up with those tools. Capacity is always budget plus human resources.
These components form the foundation of your strategy and dictate the tools you decide to use.
Marketing for Victory
In Marketing in the Round, Geoff Livingston and I discuss marketing strategy as compared to military strategy. Unlike a military strategist, you do not want to attack people or treat any stakeholders like enemies…even if they're saying negative things about you online.
But you do want to realize objectives in your campaign. You do want people to buy your product or service, and to advocate for your brand. That allows a company to "win a market" and defeat its competitors. In that sense, there is much to learn from military strategists.
One of the greatest books on military strategy is The Book of Five Rings by 17th-century Japanese samurai Miyamoto Musashi. Several of his battle tenets are relevant to your fight to communicate your brand's message and achieve victory.
In the book, Musashi discusses four primary approaches to strategic engagement:
The middle (or direct)
Above (or top-down)
Below (or the groundswell)
The left and right sides (flanking)
Independently or sequenced, these approaches form a baseline to approaching marketing strategies. All four of the approaches work best when they are integrated into a holistic campaign, but invariably one technique is primary. The more sophisticated a program, the more likely it is to deploy multiple approaches.
Determining which approaches you use depends on your budget, the resources you have internally, the strengths of each person in your marketing round, and customer preferences.
Sometimes the choice is obvious while, at other times, it's more difficult. If you use the four approaches described in "tools of the trade," and understand where your team has strengths among the four, your decision will be a whole lot easier.
What do you think? How do you best choose the tools for your marketing plan?
A version of this first appeared on Sparksheet.
The inbound marketing rules have changed. Simply attracting leads naturally through content, social networks and search engines is no longer enough—especially for organizations with long or complex buying cycles (often the case in B2B). 
Today's B2B marketers need to also keep leads interested and engaged throughout the buying cycle, establish trust and preference, and then retain the relationship post-sale.
Success in this type of closed-loop marketing requires:
Greater sophistication and personalization in outreach and communications.
Better reporting capabilities, pinpointing which activities drive results.
Increased coordination and alignment with sales representatives.
Integration of loyalty-building strategies to nurture existing customers.
Take your marketing program to the next level by moving beyond lead acquisition, to lead nurturing and client retention, and reap the financial benefits.
Our new ebook, The B2B Marketer's Guide to Going Inbound, will help you learn how to leverage marketing technology, inbound strategy and tactics, to generate and nurture high-quality leads smarter and faster than the competition. 
 The ebook dives deep into the following topics, with specific takeaways you can use to enhance your marketing program to deliver real results. 
The Evolving Marketing Landscape – A look at how inbound marketing, and consumer expectations, have changed over the years, and how marketers must respond to keep up.
Advanced Marketing Strategies and Tactics — Today's inbound marketing software offers capabilities that yesterday's marketers only dreamed of. Learn more about how to leverage tools like A/B and multivariate testing, behavior-based analytics, marketing automation, lead scoring and more.
Tools and Technologies — An overview of the top players in inbound marketing and marketing automation software, as well as other key software needed for successful, track-able, accountable and sales-aligned programs.
Skills for Success —The technology is great, but can your team deliver? Here, we outline the skills your team needs to deliver on the promise of inbound, and why quality, hybrid professionals are so damn hard to find.
Is your marketing team up for the challenge?
What Steps Are You Taking?
We'd love to hear your experiences.
What steps are you taking to build a more sophisticated marketing program?
What strategies, tactics and tools have you implemented?
What success have you seen?
Stay updated: Subscribe to the PR 20/20 blog, check us out on Facebook or follow the team on Twitter.
With more than a decade of digital media experience, I've seen plenty of bad ideas posing as innovation. For example, a few weeks ago I noticed a QR code that was incorporated into a mobile display ad. I stared quizzically at the screen on my mobile device and thought: How the heck am I going to take an image of that QR code when my camera is on the opposite side of the screen?
It's baffling to me how someone could think that was a good idea. Not all such efforts are as obviously laughable. For years now, marketers have spent countless dollars and man-hours urging consumers to download mobile apps using solely mobile display ads. Think about it: How often have you seen an ad encouraging you to "DownloadMobile App Now"?
Now ask yourself how often you've actually clicked on the ad and rushed to download that app. Not often, right?
The reason mobile display ads don't work at the top of the marketing funnel is because they don't give consumers any indication of the app's value-add. Your iPhone is already cluttered with dozens of other apps, so why should you respond to a display ad that doesn't provide any insight into the benefit of adding this particular app?
According to recent study from mobile ad network xAd, click-through rates for typical mobile display ads are only 0.6%. A 2011 MediaMind study tells a similar story, revealing that click-through rates for mobile ads on iPhone are 0.37% (higher than any other smartphone, if you can believe it). With these numbers, it's clear that consumers have responded to mobile marketing by simply not responding. So if mobile marketing doesn't work, what are the alternatives for those of us tasked with driving mobile app downloads?
Believe it or not –a comprehensive content marketing program that is driven by earned media is a powerful, but often-overlooked strategy for driving mobile app downloads. Instead of largely ineffective mobile ads, why not let your app's fans – particularly those in media – do the talking?
Here's a three-step approach to get you started:
1) Get your app in front of the media
This may sound daunting, but there is an entire segment of media – from tech writers to mommy bloggers – dedicated to rating and reviewing mobile apps of all kinds. And if you have a great product, it's just a matter of finding the right audience for it. If you don't have a dedicated PR team, you'll need to do your homework to figure out which outlets to send your app to. A service like TestFlight makes it super simple to send apps that are still in beta or aren't yet available for download (and ideally, you should be pitching your app to media before it launches).
Once a review is published, it becomes a valuable piece of evergreen content. And perhaps best of all, positive earned media will ultimately be more reliable to consumers than any ad copy your creative minds can conceive.
2) Put your earned media front and center
After you've received a positive review from a reputable media outlet or blogger, utilize this asset and make sure to drive as many people as possible to it. You'll get some traffic from search and social shares, but you probably also need to help people to discover those reviews. Sending traffic to these reviews via a content recommendation platform can help you get your earned media in front of readers when they're already in content consumption mode.
3) Use mobile display ads to seal the deal
When awareness for your app has reached its pinnacle, your display ad can go from a nuisance to a value-add. Reminding consumers to download an app after they've read a positive review will save them the time of having going to the app store to search for it. Be sure to stay away from generic copy like: "DownloadMobile App Now." Fine-tune your messaging by citing a sentence from earned media that explains the value and capabilities of the app. Place your logo next to the quote and consumers will intrinsically understand that the next action is a click-to-download. By leveraging the earned media in your display ad, you've given consumers a clear window into value they're going to get out of downloading the app.
Companies that employ content marketing and earned media as the foundation of their campaigns are witnessing double digit (!) conversion rates. Marketers must test all mediums to assess what's right for them, but rarely will running a mobile display ad campaign without first making sure people know your true value-add be enough to drive the results you need.
Gilad de Vries is vice president, brands and agencies, at Outbrain, a content discovery and amplification platform. Previously, he was Principal and VP of Digital Media at Carmel Ventures, a venture capital firm. Follow him on Twitter at@giladdevries.
Photo via TheMacGirl/Flickr
Filed under: media, mobile, VentureBeat
I've been reflecting recently on the changes that have happened to the public relations industry in the past few years.
We've seen more technological advances in the past five years than we've seen in the last 50 combined. It used to be all we had to worry about was advertising, public relations, and direct marketing. Then we added websites and email marketing.
Now we're told our websites are about our customers, not about us, so the content has to be revised. Websites can't tell our story, but we can use the Facebook Timeline for that purpose. It's OK to be self-serving there, as long as we're also engaging and providing valuable content.
Then we have to figure out Twitter, Pinterest, Instagram, Google+, Path, Flickr, YouTube, LinkedIn, content, search engine optimization, inbound marketing, infographics, webinars, videos, email, search engine marketing, gamification, mobile marketing, oh my!
And, of course, in this "new economy," we're all doing more with less.
It's no wonder we have no idea how to integrate the marketing disciplines, what to measure, or when to use which tools (or if at all).
Looking at everything available, it's easy to get overwhelmed. Where do you start? How will you staff? Where do you get the resources? What should you include? How will you measure it all?
The answer is: Not all at once.
Just like we do as we grow up, we learn to crawl before we walk. Then we learn for run. Then we grown up, navigate high school and college, and further our skills and talents with a job. It takes time. It doesn't happen overnight…ever.
In Marketing in the Round, Geoff Livingston and I talk about how to do exactly this with your marketing program: Crawl, walk, run, and fly.
Crawl.
More than likely, you already have a digital monitoring and listening program in place (you do, don't you??). If you don't, buy a social media book (such as Groundswell) and learn how to set one up. It's easy with free tools, such as Google Alerts. It's impossible to integrate your marketing program without monitoring what is being said about you, your industry, and your competitors online.
This is the phase where you establish your infrastructure. What resources do you have available internally? Do you have several people working on marketing, or is it just you?
Take a look at where your team has strengths, and where you have weaknesses. Based on your strengths, as a team, you want to figure out which approaches (direct, groundswell, top-down, or flanking) make the most sense.
Assign roles, decide on your first priority, and create a 90-day plan. It takes 75-90 days to figure out if a program is working, from a measurement standpoint, so give yourself that amount of time during the crawl phase to make sure what you're doing is working.
Walk.
You've tested a few things, you've created benchmarks, you have a dashboard that gives you the business information you need to understand whether or not your program is reaching company goals, and you have confidence about what works and what doesn't.
Now leverage that knowledge: Use technology to your benefit, produce content, participate in the conversations, use multiple platforms for communication, and measure your results.
Run.
At this point, you're working efficiently. You're measuring results. You're refining and improving. Now it's time to begin engaging, responding multiple times each day, and leveraging employees from other departments.
To get other employees involved, ask the following questions:
How can HR use social networks to recruit candidates?
How can customer service use a chat feature on the website, the social networks, the telephone, and email to provide immediate response?
How can sales network with customers and prospects before they attend a trade show or travel to a new city?
How can R&D use focus groups, crowdsourcing, and market research to innovate and develop new products?
How can legal keep the policies and employee code of conduct current?
How can the executive team get in front of customers on a daily basis, with the use of technology?
How can you reach beyond your own team to produce content and develop an owned media program?
How can customers help create content?
How can you support all of these needs in the most efficient way?
Fly.
Now you're at the point you can fly. You will scale and integrate marketing into all business functions. You may do it by using Google analytics, customer relationship management software (such as Salesforce with Radian6), and your website. Or you may use a program such as Infusionsoft to help you manage it all.
It's easy to get overwhelmed with new things coming at us all the time. But, if you start small and add slowly, you'll be able to integrate all of the marketing disciplines in a very efficient, and measurable, way.
A version of this first appeared on the DivvyHQ blog. If you don't know DivvyHQ and you are charged with editorial calendars and content management, I recommend you check them out!
Not every email address is created equal. And if your email marketing program does treat them equally, well, that's pretty whack. And as a result, I suspect your open, click-through, and email deliverability rates are quite whack, as well.
There are two reasons for this. First, there's more than one way to opt in to permission-based emails, and different content is required based on how someone has opted-in. Second, the better you are at lead nurturing, sales, and customer service, the more likely it is that a contact in your email database will change email needs over time, because they've changed the type of email under which they are categorized in your database.
Uhh, what? If you're confused, don't worry — it's all actually pretty simple once we get down to brass tacks. So let's do that without (much more) ado. This post will identify the four different types of email addresses you'll find in your database, explain who exactly they represent, and outline how an email marketer should treat them in their email marketing and lead nurturing campaigns.
A Little More Ado
Just a little more; I promise. Sure, this post will break out four different types of email contacts you will encounter in your database — but it's important to note that what you call them within your company may differ than the names we've given them in this blog post. For example, some companies think leads are further down the funnel than prospects, and vice versa. That's why in HubSpot's email tool, we allow customers to create multiple 'Subscription Types' so the names jive with your company's internal naming structure. The point isn't that the entire marketing world have the exact same monikers for all these types of email contacts; the point is that you recognize email contacts are all at different stages of engagement with your company, and thus need to be treated as such in the emails they receive from you.
So try not to get too hung up on names, and focus more on creating a clear internal understanding of the categories of your email contacts based on their opt-in method, behavior, engagement, and lead intelligence.
How to Treat Subscribers (Lowest Level of Engagement)

A subscriber in your email marketing database is someone who has opted in to receive email related only to a specific type of content. The most common example of a subscriber is a blog subscriber — we've actually set up a dedicated landing page just to promote subscription to this blog you're reading right now. And you know what happens when you become a subscriber to the HubSpot blog and nothing else? The only emails you receive from us are emails alerting you that a new blog was posted:
That's it.
Think about it this way. If you subscribe to Life magazine, and then Time Warner decides they should also send you In Style magazine, because hey, you'd probably like it … isn't that what you'd call junk mail? Luckily (err, unluckily) print junk mail doesn't have the same dire repercussions as junk email — but that's exactly what your email would be considered if you suddenly sent your blog subscribers emails about your latest ebooks.
It really just boils down to email marketing best practices — only email content that will be relevant to the subscriber's interests. And how do you determine what they're interested in? Well, one way to know is by them telling you. And that's what subscribers have done! They told you exactly what content they want to receive from you, and that's where the email marketing line gets drawn.
That doesn't mean, however, that you can't use the real estate in that email to try to reconvert them into a different type of email contact. Take a look at a test we performed in our blog subscriber alert emails to gauge whether blog subscribers were interested in our marketing software:
We manually designed a slightly modified email that still highlighted the newest blog post that was posted at the top per usual, but also included a call-to-action in the email for a free demo of our software. Those subscribed to receive email updates about the blog still received their email alert, but they could also choose to visit a landing page to register for a different type of offer — and that, my friends, is a reconversion that turns a relatively unengaged subscriber into more engaged prospect or lead (and maybe even customer)!
How to Treat Prospects (Fairly Unengaged)

In your company, a prospect might be someone in your email database that isn't quite ready to be elevated to the status of 'lead' and be worked by a sales person. Again, you may call them something else within your organization — call them purple people eaters if you want, point is, these people aren't very engaged with you right now. They have, however, indicated interest in your company, products, or services above and beyond simply subscribing to receive an update that a new blog post was published. So there's opportunity here to increase their engagement level! To do that, we have to consider why they are still living in the 'prospects' stage.
Two things may have happened that result in these contacts living in the 'prospects' stage — either they have never "raised their hand" to indicate they are interested in being contacted by a sales person, or they did raise their hand, but have long since become cold. As a result, they will need to "raise their hand" again to move themselves back along into the 'lead' stage.
So, what types of email might a prospect receive to make them raise their hand again? Well, let's consider scenario #1 first — they have never indicated they are interested in being contacted by a sales person. Your goal here, then, is to get more information about this prospect so you can deliver content extremely targeted to their needs. And how do you do that? By delivering ridiculously high-quality offer content that prompts them to reconvert on a landing page form, thus gathering more information about them and what type of content resonates with them. The more you know about your prospects, the more you can segment your prospect list; the more you segment your list, the more targeted your email content can become; the more targeted your email content, the more likely you'll give these prospects the ol' razzle dazzle that makes them want to learn more about your company's solutions — you know, the feeling that leads have! Are those prospects' hands being raised?
If they have, however, talked to a member of your sales organization in the past and have simply gone cold, consider implementing a re-engagement campaign to reawaken their interest in your products and services. Because they've been a lead in the past, you should have plenty of lead intelligence that you've gathered from the forms they've filled out and the conversations they've had with their sales person. Use the information you know about them, particularly the reason for not becoming a customer, to deliver email offer content tailored to their pain points.
For example, perhaps one of HubSpot's formerly engaged leads was also a HootSuite customer, and their biggest pain point was excellent social media lead nurturing. Well, a couple years ago maybe our software couldn't help them out that much, but now that we've partnered with HootSuite to provide, well, social media lead nurturing — we could send some offer content that addresses their exact pain point, and increases the likelihood that they see us as a potential solution to their problem instead of just a resource for educational content.
How to Treat Leads (Engaged)

We've talked a lot about what prospects are in relation to leads, so you've probably already figured out the definition of a lead as it relates to your email marketing. Leads are defined as — in this blog post, anyway — the contacts in your email database that have shown interest in your company above and beyond simply educational offer content. No, they want to know about the solutions you provide. These folks could be in one of two stages of the sales cycle: 'Evaluation' or 'Purchase.'
There are certain types of content assets — case studies, FAQs, data sheets, and the other types you see under the 'Evaluations' column in the table above — that indicate a lead is interested in your product or service, not just your educational content. Then there are types of content assets — like free trials, estimates, consultations, and the other types found under the 'Purchase' column in the table above — that indicate a lead is really, really, really interested in your product or service. To determine which stage a lead is in, just take a look at their form data to see the type of content your lead is downloading. This lead, for instance, is in the 'Purchase' stage since they've asked for a free trial of our software.
Now that's a seriously engaged lead! At this point in your email marketing, you should be vigilant about following up with both automated email offers, as well as personal emails from your sales team. If your lead is in the 'Evaluation' stage and has downloaded, say, a case study about how to use your product within a specific industry, then up the ante in your next email with an offer for a free consultation with one of your industry specialists! Or if they've already had that consultation, you better be sure that consultant is sending personal emails alongside your automated emails to offer a free trial of your product. An engaged lead is not the time to be sheepish with your stellar email offers.
How to Treat Customers (So Engaged They Put a Ring on It)

Turns out your free consultation worked. Great job! You have a new customer, and now they should be moved into an entirely new segment of your email list … the customer segment! Now, every company will have different email content that their customers need to receive — welcome emails, payment emails, order reminders — we'll leave that up to you to sort out. But just because you've converted a lead into a customer doesn't mean you're done marketing to them. You should be using your email marketing chops to keep your customer educated and engaged with your company, and maintain your status as a thought leader and industry resource.
First, remember that your customers may still be converting on offers typically reserved for those in a lead or prospect stage. Think about it, if you maintain an excellent business blog with calls-to-action for educational content, or you're active on social media and your customers convert on the offer content you post, you'll still be emailing them with ebooks, whitepapers, kits, and the like. The difference will be that you should denote in your list segmentation that these are customers that should not be on a lead nurturing track that tries to sell them on bottom-of-the-funnel offers — they should simply continue to receive educational content that makes them better, smarter, faster.
But you should also be sending customers emails that make them better, smarter, faster with your product or service. The more customers use you (in a good way), and use you correctly, the more likely it is they'll be successful with you. And success means they'll stick with you longer (higher lifetime value!) and refer more customers your way (super low cost of customer acquisition!).
So do what you can to automate email tips and educational content based on triggers from your CRM and marketing software. Have your customers visited a lot of help pages recently? Maybe you should offer them a free consultation with a support representative. Are your customers not using an important feature of your product? Send them a guide on how to use it, and why it will help them be better. Did one of your internal consultants note in your CRM that a customer needs more sophisticated products and services that you offer? Well, then they're both a customer and a lead — send them a free trial so you can upsell that customer into an even more valuable customer!
Are you segmenting your email lists based on your contacts' level of engagement with your business?

Image credit: ☺ Lee J Haywood
It seems as though social media marketing has been "around forever" but many marketers are just now starting to see the value of building their brand on social media.
Here are three helpful best practices for using social media to brand and market your business:
1) Build trust and reputation with respect: This Best Practices page for Twitter is a good resource for someone who is thinking about starting a social media marketing program for their business but feeling overwhelmed on where to start. I like how this list of Twitter rules includes listening and being respectful.
2) Look to the big brands for inspiration and ideas: For those starting a Facebook Fan page for their business, I would suggest checking out the different pages that you already follow on Facebook. Here's a quick link that will work for a vertical directory of your pages if you are already be logged into Facebook for it. If you're not logged in to Facebook, you'll be able to see the top Fan Pages. Great examples.
3) Be sure to focus your efforts on sites that match your target market: If your target market is female and your product has something to do with either decorating, recipes or crafts, consider a Pinterest social media program. Brafton has some best Pinterest marketing practices for your brand for starting your boards and pins. On the other hand, if your target market is content hungry 20-30 something young professionals, then Reddit might make more sense for your brand.   Reading the  rules of Reddit would be a good thing to review before attempting to post content.  LinkedIn has less than 1% of all the social media traffic but is the number one site for business professionals.
Each media has their own function, best type of audience and best practices.
Feel free to link other social media sites best practices pages in the comments below.