Archive for the 'media efforts' tag
New Yahoo CEO Marissa Mayer has been attempting to recruit Twitter VP Katie Jacobs Stanton to boost the company's media products, AllThingsD reports.
Mayer is reportedly pushing Yahoo to focus more on its products and users, a dramatic shift that could help revive the company. She's even removed Yahoo's stock ticker from its internal company website to get employees thinking more products about less about the company's finances.
Stanton seems an ideal choice to help revive Yahoo because she has worked for Yahoo, Google, and now Twitter. At Yahoo, she helped launch Yahoo Finance, and at Google — working under Mayer — she helped launch Google Finance. Stanton then had a brief stint working for the Obama Administration working on citizen participation. Now she's shaping Twitter's international experience. She knows popular products that people rely on and ideally could help oversee more big launches.
If Mayer successfully peels off Stanton from Twitter, she'd need to offer her a big role. Since Stanton is a VP, ideally she'd become a high-powered Yahoo VP with some major responsibilities. Since former Yahoo interim CEO Ross Levinsohn, who was previously in charge of all media efforts, has left, there is a vacancy there. Stanton could also be put in charge of revamping Yahoo's popular but outdated home page.
Check out a video of Stanton speaking below at the Re:publica 2012 conference in May:
Stanton photo: republica2010/YouTube
Filed under: media
In case you were wondering, Veronica McGregor, Courtney O'Connor, and Stephanie Smith form the trio of tweeters behind the adorable, yet accurate Twitter account chronicling NASA's mission to Mars. McGregor had also handled the social media efforts for the Phoenix Mars Lander in May 2008.
New Career Opportunities Daily: The best jobs in media.
The relatively fast Pinterest adoption rate, of what we might call nontraditional to social media verticals, is amazing to me. From financial services, manufacturing to B-to-B, Pinterest seems to capture the imagination of marketers. In particular is the healthcare sector where many hospitals and medical centers are embracing visual communications and doing interesting work on Pinterest. I was very excited when Ashely Howland from Bayler Healthcare System agreed to tell us the back-story of Bayler's Pinterest strategy. Ashely graciously shares her insights and learnings. In fact, her interview was so rich and detailed that we decided to run it as a series. Please join me in welcoming Ashley to Diva Marketing! About Ashley Howland is the social media manager for Baylor Health Care System. She has been with Baylor for 8 years where she got her start in Media Relations. She took on Baylor's social media efforts in 2009 "on the side" and it quickly turned into a full time job. Diva Marketing/Toby: I applaud Baylor's step into Pinterest. Your boards were one of the first that I pinned to my Brand Board. Perhaps you can shed some light on something I've been thinking about since I first saw your boards. Healthcare, as an industry, was slow to participate in the social web. However, it seems the opposite is true for Pinterest. On a high level why do you suppose that's the case? Ashley Howland: Thanks for adding us to your brand boards! You're right; health care was very slow…
Look, I know there will be those that dispute the idea I've put forth in the title to this post, but I've become more and more convinced of its validity over the past couple of years.
I think there's a hierarchy in the world of building a total web presence for your business and mastering things like Facebook and Pinterest fall somewhere far behind getting your content strategy, SEO and email marketing machine oiled and ready for prime time.
It's not that I don't think social media is an important or effective part of the puzzle, it's just that without the proper foundation to build on, content to amplify and email strategy to convert through, your social media efforts will drain your focus and time with little opportunity for return.
An engaged email list, eager to hear from you, is the most valuable asset your can build. 1000 responsive email followers trumps 25,000 Twitter followers every day when it comes to actually promoting the things that make your money. (Unless you're Justin Bieber I suppose.)
Focus on building a list of email subscribers that want to hear from you and social media will become a tool set to help you do more of that.
So, if you're one of the many wrestling with how to get more deeply involved in this week's tactic for getting more fans, but don't have a strategy to attract and capture email leads, I'll let you off the hook – ditch social media for now and focus on email marketing first.
Your email marketing plan
One of the most important elements in your email marketing arsenal is a value filled eBook that motivates people to willingly give you their email address. Drop everything you're doing right now and come up with a plan to create or repurpose valuable, educational content into the form of an eBook, with an accompanying value laden title, and make that the foundation of your lead capture program.
This is a numbers game. You need to promote and highlight your eBook through blogging, guest posting and any participation you have on Facebook and Twitter for the primary purpose of building links, traffic and subscribers attracted to the topic of your eBook and blog content.
These subscribers won't all be hot prospects, but they will generate the momentum you need through their sharing, linking and otherwise supporting your continued marketing efforts.
In addition to your free eBook you'll want to plan on consistent communication through the use of a weekly newsletter that offers additional and ongoing value.
You need to build a following first and then you can start to narrow your focus to conversion.
Basic email capture plan:
Choose an email service provider (ESP) such as Constant Contact, AWeber, MailChimp or Infusionsoft
Use your ESPs form building tools and place a lead capture form on every page of your website. (Don't ask for more than name and email at this point)
Create an email subscription landing page – a page that describes and promotes your eBook and lists all the benefits of why a viewer might give you're their email address.
Create a series of emails, delivered through your ESPs autoresponder function that provides additional information on downloading the eBook as well as related topics that they may find on your blog and in your newsletter.
Consider using a pop up form such as Pippity for WordPress that can be programmed to bring focus to your offer in smart ways.
Many ESPs have "tell a friend" function that allows readers to easily email your offer to friends – use it!
Some ESPs – Aweber specifically – have a feature that make it very easy for people leaving comments to your blog to add their name to your email list. Finding ways to integrate your email capture into other actions is essential
Work your networks online and offline and start telling people about your free eBook and newsletter
Ask any strategic partners or close associates to trade plugs in their newsletter for the same in yours.
Promote your free eBook in social networks on a regular basis
There are too many things to do and not enough time to do them. Don't divert your focus on the next shiny object that pops into view until you get your email marketing list and follow-up built.
Don't Bother With Social Media Until You Have Email Marketing Nailed is a post from: Small Business Marketing Blog from Duct Tape Marketing
You never see people talk about competitors on social networks, and on marketing blogs.
It's the ultimate taboo topic.
Get behind closed doors and that changes quickly.  Marketers obsess about their competitors, messaging, and corresponding market share.
That's why we talk about competitors a great deal in Marketing in the Round.
Some believe they should focus on their own core actions and grow a bigger pie for the whole industry, and others see competitors as all-out enemies. Whichever side you're on, it's helpful to have context and evaluate your competitors' successes and failures in the marketplace. Here are some tips to help you.
Monitor the Competition
There are some marketing actions all companies have to take to become viable. Almost all of them end up online. These include publishing a Web site; creating news stories; initiating social media efforts; developing advertisements for print, broadcast, interactive, and/or search; and creating content and publicly available newsletters.
Analyze your competitors' marketing—see which efforts work well, and understand why stakeholders like them: What is their primary messaging? Why does or doesn't it work? How do people respond to the company's overtures online? Is word of mouth positive or negative? Why?
Which products or services compete directly against your own? What are the price points? Are there public partnerships that help distribute their offerings? How loyal are their customers?
If you are competing against U.S. publicly traded companies, look at their 10-K and 10-Q SEC filings on EDGAR. Such companies are required by law to inform investors about prospects and threats—a great way to get intelligence about your competitors' actions and about general market risks.
Set up a search for them in your Twitter stream so you can see what their customers are saying about them…and how they're responding (if at all).
Record this analysis in an easy-to-access document, perhaps a spreadsheet on a shared workspace if you're dealing with more than a handful of competitors. Organize your competition by threat level—some are more successful than others, some will be head-to-head rivals in sales situations.
Ranking the players in the total marketplace will allow your marketing team to focus energy on combating the players that pose the biggest threats to your sales and viability.
Competitive focus allows your marketing round to see what kinds of offerings and products will meet consumer demand, what it can do to be different, and how it can capitalize on weaknesses or gaps.
Your effort should be different from the competition in tone, and adaptable in form and price by customers who will clearly use it. Good marketing positions a product or service into the market that's almost undefeatable.  It's about creating separation and standing out. Otherwise it's a commoditized battle for market share, and that often turns into lower margins.
Competitive Response
If marketers do their job well, and their product, service, or solution gets a warm reception, the competition won't sit and watch while your marketing round takes away market share.
They will act.
Sometimes they refuse to even acknowledge you or the incredible job you've done, dwindling into the past.  Other times they mimic your offering. Some competitors get angry, and trash, sue, and undercut you at every opportunity.
The toughest competitors go toe-to-toe with you, countering every move you make. The best competitors just leapfrog your offering, bettering it and seize the marketplace.
It's so important to have monitoring in place, not just for your brand, but also your competition.
A significant percentage of executives find out about a competitor's move only when it is announced.  The ensuing drama can send a company's marketing team into an unfocused tizzy of overreaction and distract it from its most important focus: customers.
There's big danger in over-responding to the competition, in focusing on secondary and urgent-feeling goals instead of on the primary objective. Those smaller issues become distractions, and distractions are a hindrance to achieving success.
Your marketing team needs to know when to respond to a competitor's actions. The scenarios that are most likely to require a response are a new competitive offering or a price cut. In other instances, it's difficult to know whether working to counteract a competitor is worth the investment or is just a distraction.
Here are some questions to consider:
Does the competitive response significantly increase the quality of their offering?
Does it surpass your company's effort?
Are you losing customers as a result of the competitive action?
Are customers actively discussing your competitor on social media?
Is the competitor getting fleeting attention from the media, or is there sustained marketplace buzz?
Has the announcement hurt your brand equity?
If you are answering yes to some or all of these questions, you will want to respond. But respond intelligently. Think it through. Fifty-five percent of companies respond with the most obvious action, says McKinsey and Company. You want your response to yield a competitive advantage, not just noise.
How do you handle competition in today's marketing environment?
About the Gini Dietrich and Geoff Livingston:

Gini Dietrich is founder and CEO of Arment Dietrich, a digital marketing and communication firm offering alternatives to traditional marketing, the author of Spin Sucks, and the founder of Spin Sucks Pro, professional development for PR and marketing pros.

Geoff Livingston is an author, public speaker and strategist who helps companies and nonprofits develop fantastic marketing programs. He brings people together, virtually and physically to build loyal networks for business, change and higher knowledge.
Eating Their Lunch: Using Technology to Monitor and Respond to Competitors is a post from: Convince and Convert Blog: Social Media Strategy and Social Media Consulting
Who hasn't wrapped their arms around content marketing yet? Believe me, plenty of companies are still navigating the pros and cons, ins and outs of how to better implement content in their digital marketing mix.  In a recent interview I was asked about content marketing basics and what companies should consider. I thought it would be useful to share some of those insights here as well.
If you're new to implementing content marketing as a productive complement to your paid, earned and shared media efforts, check out the basics below on starting out, measuring success and where content marketing may be headed.
What is the one key thing that marketers need to know to kick-start a successful content marketing program?
Most importantly, to realize that it's not about you, it's about the customer.
In my book, Optimize, I describe a content marketing trilogy to help marketers understand the content and customer connection. Those connections are Discovery, Consumption and Engagement. How does your target audience discover content and information online? What are they searching for and talking about on the social web? What are their preferences for media, content type and device for consumption? What kind of message or content will inspire your target audience to engage and take action?  By answering those questions, marketers can optimize the performance of a content marketing program.
What are your top content marketing tips for those starting out?
With a clear set of goals and business objectives in mind (but open to adaptation), its important to profile customer segments that you're after and to map the customer journey from awareness to purchase. Content planning that factors in the varying topics, formats and content types along the sales cycle will help guide the customer on their journey through interest and consideration to purchase.
Understanding the key values, pain points and goals of both the target customer community and those who influence them are important for more effective content planning. Knowing what customers care about can serve as a basis for a content plan that includes topics, keywords, themes and the overall narrative that will guide the storytelling within the content tactical mix.
Using a hub and spoke model for content promotion is a basic and effective approach for marketers just starting out. The hub is a deep repository of information where themed content is published and the spokes serve as distribution channels for promoting content and in some cases fostering social engagement.
How do marketers need to think about measuring success with content marketing?
Goals drive measurement but monitoring progress with KPIs along the way is important too. Content objects are not individual actors, they should work in tandem with other content and media to communicate key messages, themes and stories relevant to the objective with a particular audience.
Measuring KPIs of individual content objects like comments, inbound links, 3rd party citations and social shares are pretty common but marketers must also consider trends of these engagement behaviors over time and across the mix of content objects being used in a program.  Content marketing KPIs overlaid on business objectives like leads, sales, order volume, order frequency, length of sales cycle, retention and other key business metrics are also important in determining the real business impact of a content marketing program.
Where is content marketing headed this year?
Content marketing is becoming widespread and more sophisticated. Companies often see content marketing initially as simply "more content".  However, "more" leads to "better" content as companies become more savvy about the importance of content usefulness. As content becomes more thoughtful with a purpose, audience and outcome in mind, the next evolution is to integrate marketing's content best practices with other areas in the organization that are publishing content. Why should content effectiveness be limited to marketing? Why not Public Relations, Customer Service, HR, Operations and Legal?
Another really important direction for content marketing this year is towards the use of content management systems that integrate planning, production, promotion and measurement all within one system. Compelling content is very difficult to scale and with the right software solution, marketers will be able to coordinate, collaborate and optimize their content marketing efforts based on a common system.
---

Gain a competitive advantage by subscribing to the
TopRank® Online Marketing Newsletter.
© Online Marketing Blog, 2012. |
Content Marketing 101 – Essential Questions & Answers | http://www.toprankblog.com
Do you have social media plan?
Are you looking for an easy to follow guide to formulate a plan for your business?
Keep reading for seven tips to help your business develop a social plan…
Why Businesses Fail With Social Media
Businesses often fail in their social media efforts for the same reason New Year's resolutions fail: It's a good idea, but there's no structure or commitment.
Then, when there are no immediate results, or the goal ends up being more difficult to attain than previously thought, it goes by the wayside.
Has this happened to your business's social media presence? You aren't alone. Very few people can simply choose to be active in social media and stick with it.
For the rest of us, we need something to keep us honest. That's why I advocate you create a social media plan—a checklist, if you will—complete with daily maintenance, recurring tasks and milestone projects.
These seven tips will help you design a social media plan that will keep you on track, active and moving forward.
#1: Make a Commitment
Before you even start creating your plan, you have to make a promise. Establishing a healthy social media presence can be a very slow process. You can't expect your list of fans, followers or subscribers to grow overnight.
You don't want to start your business's presence out by posting and updating consistently, only to get bored, lose interest and forget to log in when there's no immediate gratification.
To prevent that kind of slide, make a commitment. Even if it's just to yourself—even if you have to frame it and hang it above your computer.
No matter how silly an exercise it may seem, acknowledging and agreeing with yourself that building this presence could take upwards of a year (and then some), and then promising to invest time, energy and resources into it no matter what, will keep you committed and prepare you to be active and engaged even when you feel like your presence is stagnating.
#2: Find Your Best Fit
If you're just getting your business's social media efforts up and running, part of creating your plan revolves around seeing if you already have a fanbase out there.
So do some searching. Are there lots of people posting videos to YouTube of themselves using your product? Does your company have a bunch of mentions on Twitter? Do you have reviews on Yelp?
Although it's important to establish a presence on a giant like Facebook, make sure you also set up shop where you're already visible.
#3: Schedule Engagement
Now that you've identified the social media platforms you're going to focus on, it's time to turn your attention to the ways and frequency with which you'll engage with your users.
Infrequent interaction is one of the main reasons businesses experience social media failure.
Those who are most successful in social media know that you have to engage steadily.
Think of creating and responding to comments, tweets, posts, etc., as simple daily maintenance. It must be done. You need to start the conversation with your users, and anytime they reach out to you, you need to be prepared to respond.
Remember that the timetable for creating and responding to content is platform-specific. Twitter moves so fast that tweets can become irrelevant within the hour, whereas Facebook status updates and posts have a few hours of staying power, and videos are great because of their longevity.
#4: Create Expert Content
Your fans and followers don't want commercials, they want conversation. They don't want to hear how great your company is, they already like or follow you. They don't want sales numbers, they want industry news and thought leadership.
A good rule of thumb is to talk about your customers and your industry 80% to 90% of the time, and then discuss your own business. That means you need to start a blog, write white papers, explore trends, release case studies and create infographics.
Post frequently and do it consistently. Your ideal goal should be some kind of content every couple of days or so. Avoid going longer than a week without posting.
Thorough, in-depth articles and papers will position your business as an industry expert and thought leader, and keep your fans and followers (and even competitors) looking to you.
#5: Run Contests and Promotions
Contests and promotions keep fans and followers excited, interested and coming back. Most importantly, they're a covert way to get your business or brand in front of more people. That doesn't mean you need to run one all the time.
If you've always got some kind of giveaway going, they'll soon become more social background noise. This is especially true if you're giving away not-so-great prizes.
Run a contest or promotion every couple of months, and make sure the prize is something to get excited about.
#6: Broaden Your Horizons
Every social media plan needs to start out the same way, with a commitment to the long haul and a focus on the basics like interaction and content. But once your presence is established and your users are engaged, you're free to open things up to experimentation.
If you've built a solid fan following on Facebook, create and install some custom apps on your page, start posting videos on YouTube or interact more frequently by hopping on Twitter. Try things out for a few months, and then go back and see how they've performed for you.
Not every platform will be a fit, so if your business isn't performing well on one for an extended period of time, don't be afraid to pull the plug and explore different options.
#7: Delegate Tasks
If you're at the point where you're looking at expanding to new platforms, congratulations! You've likely got a healthy presence. But don't let all of this growth overwhelm you. The larger you grow, the more in danger you are of failing to engage (point #3), because—let's face it—social media is a lot of work.
So look into adding some more team members. Graphic artists for your infographics, writers for your blogs and white papers and even some interns to manage the day-to-day social media conversations and information-gathering. A talented team can give you a richer, more robust presence than you could ever achieve on your own.
What do you think? What's your business's story? Do you already have a social media plan? How's it working out? Or are you about to implement one? Leave your questions and comments in the box below.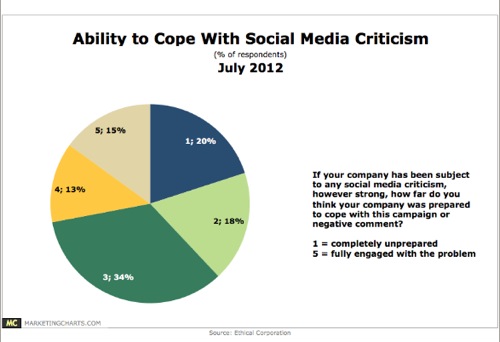 A vast majority of CEOs agree that a company's corporate reputation is more important today than it was five years ago. New technology and social networks are reshaping the landscape of how society convenes and campaigns on critical issues.
So you would expect those CEOs would be mindful of the importance of being ready for an unexpected problem online.  But a recent study shows that 72% of companies that have been subject to social media criticism however strong (ranging from a single complaint to a full-scale campaign) rated their preparedness as average or below, with 20% being completely unprepared, according to a July 2012 report by Ethical Corporation and Useful Social Media. Just 15% of companies reported that they were fully engaged with the problem.
This finding follows from research showing that social media users believe that companies are out of step in their use of the social tools. In fact, according to a Allstate/National Journal report from June, 64% of these users want to see an increase in companies using social media to respond to questions and complaints. 73% believe that companies use it chiefly for advertising.
What should those CEOs being doing to ready their companies?
Bottom line — prepare, adapt, respond and take ownership.  Don't be like the 72% who talk a good game but aren't ready to respond in the heat of the moment.
You might also like
Social media has quickly evolved from being an online tool for personal communication to a powerful marketing channel for business. Now, we're moving one step further into the realm of social business. This is about those companies that use social media as a means of engaging with employees, suppliers, clients, the press. In other words, it's about doing business in a very casual,transparent, and inclusive way.
FedEx and Ketchum have just released a new study that looks at the emerging trends in social business. The common thread you'll see throughout the study is the expansion of social media from brand awareness to a relationship tool.
More than 50% of the companies in the study said they feel that their social media efforts have strengthened their relationship with their current customers and the general public. 40% said they use social to build relationships with partners and suppliers and many are using it as a means of improving communication with their own employees.
Involving employees in the social scene is working two ways. First, companies say it helps employees feel like they're a part of the business so employee retention and productivity are higher. They also realize that their employees are in a position to be enthusiastic and credible brand ambassadors. So they're actively encouraging these folks to post on Facebook and Twitter on the company's behalf.
85% of the companies who use social media to engage employees reported that employee participation in their organization's social business efforts increased over the past 12 months. These companies believe they are effectively using these strategies with employees in the social space to:

Strengthen relationships (46 percent)
Share and tap into expertise (44 percent)
Foster collaboration, dialogue and discussion (44 percent)
Increase participation in a program or an initiative (38 percent)
The downside here is the loss of control at the management level. As we discussed earlier today, one person has to be responsible for reviewing all that's being said and done in public to make sure the message is appropriate and consistent.
Stop, Listen, and Learn
The FedEx / Ketchum study also reveals a trend toward social listening. Now, we aren't just using social media to broadcast our message, we're using it to conduct a two-way conversation with partners and customers. B2B companies in particular said that this tactic has led to an increase in innovative thinking and stronger business relationships.
One change that is just emerging is mobile awareness. Companies are only now starting to tweak the types of communications they send out so that they can be easily accessed on mobile. They say they're moving more toward graphics and lowering the amount of text in a message so everyone can see the point quickly, even on a small cell phone screen.
This area has been a particular challenge for me as I routinely send complex reports to people who almost always read them on their cell phone. Sweetly formatted docs with bulleted lists and graphs simply don't translate. Often the answer is a shared doc online or a cloud server that can be accessed while on the go.
The Measure of a Man
Any discussion of advances in social media wouldn't be complete without the obligatory nod toward measurement, or the lack there of. 84% of the companies surveyed said they measure their effectiveness in terms of engagement. 69% looked at impressions and 53% said they "analyze influence." Some said they attempt to track the correlation between profits and social media. To that I say, good luck.
84% of those surveyed have come to the inevitable conclusion that some aspects of social media can't be measured even though they are important. That's a fact we simply have to learn to live with because social media is here to stay.
If you'd like to read the full study, visit http://www.2012socialbusinessstudy.com.
This guest post is by J. Steve Miller of Sell More Books!.
I studied the right books and attended the right seminars. I gave my strategy time. Yet, few followed my blog and I could trace scant book sales (my main reason for blogging) to my social media efforts. Could it be—dare I suggest—that building a social media following simply wasn't the best use of my time, given my unique passions, strengths, subject matter, and goals?
Gathering a following works marvelously for some. But is there proof that it can work for everyone in every industry?
I think I've identified twelve such scenarios. Consider these three.
1. When time is limited
Like most debut authors, Danny Kofke has a day job and a family. To market his book, he wakes up early to use these precious minutes emailing media to suggest interviews. He links them to his one-page, static (no regular posts) blog, which functions as a press page, highlighting his past interviews, including USA Today and CNN. Readers and viewers can spread the word through their own social networks.
It works for Danny, given his personality, his topic (personal finance for school teachers) and his limitations. For Danny, pursuing a following would consume too much time.
J.R.R. Tolkien taught full-time and wrote after putting his children to bed. Had social media existed in his time, and if he spent that time on Facebook and Twitter, could he have written Lord of the Rings and The Hobbit?
2. When another marketing approach may work better
I know a restaurant owner who outsells all his fellow franchises. His secret? He spends hours away from the restaurant each day, building relationships with local businesses to promote his catering services. 
Imagine that his marketing time is limited to two hours. Could we tell him with any degree of certainty that he'd be better off spending those hours trying to build a following on social media? If so, based upon what evidence?
3. When your social media following will not likely be your customers
An agent urges her debut mystery writer to build a social media following with a blog. Her topic? Something to do with writing. Her competition? Thousands of writers competing for the same audience. Her challenges?
Who wants to follow a writer who's not already successful?
Would her followers more likely be mystery readers (her target), or mystery writers?
So perhaps your dismal results don't mean you're a social media moron. Maybe people in your industry simply don't want regular insights, or your target audience doesn't tend to follow social media, or you don't relish the research required to become a true thought leader.
Alternative social media approaches
If building a following isn't working for you, consider a few of the principles that guide my personal book marketing strategy.
Consider quality over quantity
Sometimes I wonder if "the next big thing" just might be, well, "small." Some gurus are cutting back, using Twitter and Facebook to connect with only their most valuable contacts—those they truly enjoy and learn from. In your case, could 150 significant Facebook friends trump 1,000 Facebook contacts who blabber incessantly about meaningless trivialities?
Let others praise you, rather than praise yourself
A Gallup study of over 17,000 social media users found that people don't typically buy our products when we're doing the selling. Instead, they trust independent experts and customer reviews. I find niche forums and offer free books for review, so that my Amazon pages are persuasive and the resulting fans can spread the word through their social networks.  
Go where people already gather, rather than gather a crowd around yourself
Shiv Singh, social media guru for PepsiCo, considers the holy grail of social influence marketing to be identifying and harnessing the influencers in your field. For my personal finance book, I found the top 200 personal finance blogs and offered a free book for review and another for a giveaway. My sales increased 300%, and the tactic was both cost- and time-effective.
Consider your strengths and passions, rather than assuming you can replicate any marketing scheme
A Gallup study of over two million people in the workplace suggested that we're typically miscast in our roles. Instead, we should identify and concentrate on our strengths. If your strengths and passions incline you to blogging, Facebook and Twitter, you may do well building followings there. But if it's a chore that you endure solely to sell your products, don't be surprised if you make little impact. Choose methods that fit your unique passions and strengths.
Ideas? Objections? Experiences? Please interact with me below!
This is a guest post by J. Steve Miller, author of Sell More Books! and Social Media Frenzy:Consider These Alternative Social Media Strategies. He is president of Legacy Educational Resources, offering character and life skills resources to teachers and schools.
Originally at: Blog Tips at ProBlogger
When Building a Significant Social Media Following May Not Work