Archive for the 'one million' tag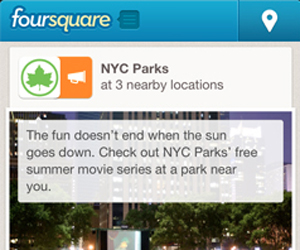 Local merchants that've ignored location-based check-in platform foursquare have just been handed a serious reason to get on board: Local Updates, the first-ever way for merchants large and small (all one million of them, currently) to communicate directly with their customers on the platform, has arrived. As of today, they've even begun testing the waters with Promoted Updates, a way for a business to attract new customers through paid placement (the difference: spots, matched relative to interests and activity, are only seen when you're actively searching on the Explore tab). This, coming a month into foursquare's strategic shift in approach—including a rebuilt mobile app (try it out if you've written FS off)—means that the newfound focus for the platform as a social-exploration tool is as much about enabling richer user-to-user interactions as about enabling richer business-to-customer and customer-to-business interactions.
Until now, brands that have had a presence on foursquare were able to engage only from the sidelines, by planting tips and offering static deals and discounts. The proliferation of daily deal sites may merely have been a modest first step toward the local, contextual future of advertising. Now that a when-it-matters, permission-based, content-oriented solution is being pieced together by foursquare, is the market for geolocation advertising primed to explode?
All About Merchants
So why the concerted push by foursquare for more merchant involvement? As a means to an end, monetarily speaking: As far back as August of last year, foursquare was dropping hints about charging for deeper merchant-to-customer communication. It would start as a free service but transition to a paid product and, eventually, become a major source of revenue for the company.
Giving local merchants the ability to broadcast updates is something foursquare appears to be managing closely: Complete and total info pollution and ad spamming that could stem from an unregulated operation is prevented by granting merchants' broadcasting rights only to users who've checked into or "liked" the spot (another way to look at it: They've given the social media age's equivalent of a public endorsement). And these users can't be cherry-picked or segmented: foursquare decides for itself who receives the updates according to prior association with the business (as mentioned) and attributes such as proximity and time of day. So only once you've checked in at a given location a number of times and started associating yourself with that location with some regularity will you start receiving its pushed-out Local Updates. According to foursquare, these updates will be controlled and contextual and pushed out at a tolerable frequency. Don't want to receive updates from a business anymore? "Turn them off with one tap," foursquare says.
GigaOm's Ryan Kim reports that Local Updates—published in the form of free-for-now status updates—can appear in three places: the news feed of a user in the same city as the business; within a merchant's foursquare page; as an automatic alert, directly after the user checks himself into the location. Furthermore, as of launch, businesses "can include text, one to three photos, and an attached special" in their updates, according to  VentureBeat's Jennifer Van Grove.
How Local Indies and Big Brands Fit In
What's great about foursquare's approach to merchants is that the playing field is essentially leveled: A small mom-and-pop bakery is rendered just as capable of connecting with its customers through foursquare as a nationwide brand, like Panera. (Of course, this may change when Local Updates become a paid-for product, but perhaps even then, sliding-scale or size-based pricing could be enacted.) No matter what the size of your business, everything is essentially, rightfully localized—reduced to the individual store or set of stores in a given area. If foursquare were to introduce merchant pages as a simple Facebook pages clone, it would undermine what's essential and unique about its platform: real-time, location-based discovery.
Consumers are turning more and more to what's nearby and taking a vested interest in their local economies. It may be that the cultural influence of and gravitation toward an app like foursquare—an app that helps you discover, share and help collect the best of what's around you—will only become stronger. International businesses, because of their identically designed layouts and product lines, must find a way to fit in. 
Bloomberg reported about the trend as far back as 2010, mentioning Starbucks's quasi-local 15th Ave Coffee & Tea as an upfront example of an international brand name "unbranding" itself as a sort of experiment: How might it fit into and compete with local culture better? Meanwhile, American Express (a flagship sponsor of foursquare's new app; it's doling out discounts on shopping, restaurants and other attractions for cardholders) has been promoting small businesses with Small Business Saturday and Shop Small.
From the perspective of big business, foursquare's take on business and advertising is a welcome step—a way to easily inject more local personality and individuality into each location via distinct status updates, and to encourage and reward the customer's affiliation with and endorsement of the individual store they happen to be a regular at.
What's stranger for the customer: the single, seemingly almighty voice of a company 3,000 stores strong (the usual big-box Facebook page), or the voice of the store three blocks down that she roams weekly? Local = friendly. Or think of a loyal Starbucks customer, who knows all the baristas by name at the location he frequents. Who would he rather hear from on foursquare? As illustrated in an early example of Local Updates, a national clothing chain, like H&M, has the opportunity to publish generic, one-size-fits-all updates to every loyal customer of each and every store, or it can take the extra time to craft updates that are unique to individual locations. While it goes almost without saying, we here at Post-Advertising recommend a heavy reliance on the latter and establishing strict self-regulated guidelines for how many mass updates are allowed, lest things get lazy or spammy, or local branches get silenced. 
Tech Crunch's Colleen Taylor has a practical application that rationalizes macro and micro publishing: "Whole Foods can use Local Updates to make a nationwide announcement regarding a deal on wine across its entire chain of stores; the company can also use it to broadcast a deal on locally grown avocados to just its Southern California locations."
As much as this tool will be a powerful way for a local business to improve broadcasting and connecting with fans on the cheap, it's also, if utilized correctly, a great way for a franchise to cozy up closer to its clientele and individual communities. But according to this model, those on both sides of the fence will have to prove their savvy: Local businesses are perhaps under even more scrutiny because of the practices and expectations of the customers who frequent them more often.
Smart Tippin' for Brands
About foursquare's tips (along with badges, the platform's social currency): While a well-thought-out, insightful tip will afford a brand additional authority on a topic, it's best if your brand is at least tangentially related to the subject matter. I'm more likely to trust a tip about a music venue from a music blog than from Mazda; I'm more likely to trust a restaurant tip from my local Eater blog than from FoodNetwork.com. Also important: Tips should be separated into clearly defined lists based on location. Mazda currently boasts more than 400 tips on everything from baseball fields to music venues to coffee shops. While its efforts are admirable and while as a lifestyle brand, it does have a vested interest in appearing savvy about cultural hot spots, it'd be best if it covered off-road trips and driver-focused locales—even becoming a thought leader on the best parking lots in the city—before drilling down to individual local businesses. Bing is doing an exceptional job at this as part of its Summer of Doing campaign.
As a primarily local platform, foursquare is looked to by users as a way to learn more about the city or surrounding burb they reside in. Tips for a restaurant 1,731 miles away won't do me much good, especially when it's not readily apparent which city it's in; at least there's a chance a user might be planning a trip there. Label your lists clearly.
What's on Your Chalk Board?
foursquare's Local Updates is potentially very powerful, especially considering the opportunity foursquare has in its hands: Through the wealth of location-based data it has on its users, winks and nudges can be broadcast at exactly the right place and time. Imagine it's lunchtime and you're contemplating which of your go-tos to go to. Better yet, imagine you're outside, on the move, within a stone's throw of your favorite lunch spots. Open foursquare and daily specials, discounts and other incentives from each business appear—your business being fought for in the brief moments that matter most. As it should be. Competition's good for everyone, after all—especially the end-user.
Foursquare product manager Noah Weiss told Business Insider that "a lot of businesses have chalkboards outside for new promotions. This is the digital equivalent of that." A business's "chalkboard" is what it makes it—Local Updates, depending on the business and its demo, could draw in considerable new traffic if updates offer something of value and aren't done excessively—in short, if the postings are treated differently than the advertising and promotion most businesses currently do. While foursquare has begun to provide businesses a free-of-change tool for reaching its customers—as a result strengthening the value of the app to consumers when they receive more for their check-in buck—if used incorrectly in the hands of said businesses, the ad platform will become little more than the same ol' traditional-advertising-stuffed-into-news-feeds we've seen elsewhere. Used correctly, as a way to instill and reward customer loyalty, it will let brick-and-mortar businesses suddenly, powerfully convert digital behavior (documented via check-ins, tips) into long-term foot traffic.
Will foursquare's new approach to user and merchant allow it to take this category of social life to the next level? Will the sort of behavior encouraged by geolocation apps ever become trusted, accepted and ubiquitous enough that you'll have as much of a friend's network on foursquare as you currently have on Facebook? We want your thoughts.
With one million business owners who have claimed their listings on Foursquare, the location-based social network has found a new way for merchants to reach out to their most loyal customers. Foursquare has started rolling out Local Updates: a digital version of the classic sidewalk chalkboard.
New Career Opportunities Daily: The best jobs in media.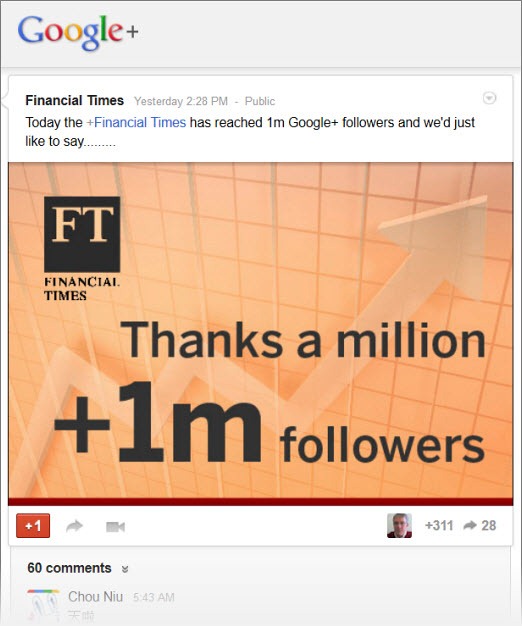 The Financial Times' post on Google+ yesterday was understated yet powerful:
Today the Financial Times has reached 1m Google+ followers…
Just three months ago, a survey reported that of all British national newspapers with a presence on Google's social network, the FT was the leader in terms of numbers of followers – meaning, people who have added the FT to a Circle in their own Google+ account – with more than 372,000.
Yesterday's news shows a huge leap to one million in such a short period. As I write this post today, the FT's Google+ profile shows the paper now has 1,004,275 followers, a jump of over 4,000 since yesterday.
What's driving the connections? A compelling presence? Great content? Engaging people who run the G+ account? Adding them simply because it's a media property? All of the above? Something else?
Even though the FT's own description in its profile says only "Updates and announcements from the FT," I'd like to think it's a lot to do with the content that they choose to share via Google+. That suggests to me that the people behind the account have a good and very clear sense of what works on the social web.
And that fits well with what you see going on with the FT as it embraces a serious approach to being a digital mainstream medium.
It also gives a clear signal to doubters that Google+ is a place on the social web that can be worth investing time and effort to develop a strategic presence that people want to connect with and share.
Related post:
A great milestone for work media vendor Podio: its users have installed one million Podio apps.
Podio supports the creation of data-oriented 'apps', such as a customer database, which can support business processes. Podio also supports an app store where thousands of predefined apps can be reused.
I think this is a sign of the growing maturation of social tools in the enterprise, as well as the acceptance of Podio's quite unique approach to creating and sharing business process-oriented apps.
This Friday's iPad launch will be another blockbuster for Apple, with one new analysis projecting that the company will sell at least one million on the first day alone.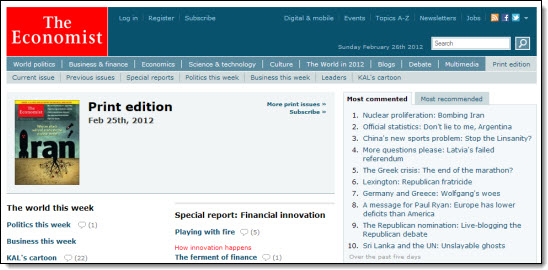 A clear and robust outlook on print media:
[...] Despite recent digital successes and developments – with digital-only subscriptions topping 100,000 at the end of last year, 300,000 out of the Economist's one million print subscribers using the Economist's apps, and 70 per cent of subscribers expected to be reading the publication digitally in two years – the magazine remains committed to print.

"We will continue to print the newspaper as long as people want to consume it," [Audra Martin, vice president of customer engagement] said.

"But we want to be ahead of of the game when people move from print to digital."
Embedded Link
#paywalls12 – The Economist: 'We have doubled content in two years'
'We want to be ahead of of the game when people move from print to digital', says vice president of customer engagement at the Economist
Google+: View post on Google+
Post imported by Google+Blog. Created By Daniel Treadwell.
Related post:
CNN iReport, CNN's global participatory news community, announced earlier this week that they have surpassed one million registered contributors.  Over 1 million people iReporters from all over the world have submitted stories on topics from politics to entertainment, tech, health, living travel and more and the community is continuing to grow.
continued…
New Career Opportunities Daily: The best jobs in media.
It's no secret that eBay is pushing mobile in a big way. Especially during this holiday shopping season, the e-commerce giant is seeing record mobile engagement. And today, eBay is announcing that more than 1 million listings are now made every week through eBay mobile.
That means that now more than ever, eBay's marketplace sellers are uploading items they want to sell via mobile devices. Last year, eBay consolidated its buying and selling iPhone apps, allowing seller to quickly take photos of items and post them on eBay from the same app that buyers browser items on.
eBay is also publishing a new video series, called eBay MoneyMakers, which will feature families who turned to eBay to make money in tough economic situations.
Quantcast makes it easy to see the largest one million sites in the US (by traffic). There's a signficant consolidation going on, with the vast majority of popular sites being owned and controlled by larger, public companies.
Because onine traffic follows, as most things do, a power law curve, the top 100 sites account for a huge amount of overall web traffic–probably more than the next 900 sites combined.
After removing public companies and those that only do commerce, here are the thirty independent companies on the top 100:
facebook.com
twitter.com
wikipedia.org
answers.com
wordpress.com
craigslist.org
tumblr.com
pandora.com
whitepages.com
manta.com
photobucket.com
yelp.com
wikia.com
webmd.com
hubpages.com
metrolyrics.com
inbox.com
squidoo.com
grindtv.com
drudgereport.com
coolmath-games.com
city-data.com
urbandictionary.com
wunderground.com
chacha.com
bleacherreport.com
twitpic.com
deviantart.com
cafemom.com
zimbio.com
typepad.com
When we think of a professional social networking, LinkedIn comes to mind because it is dedicated to business people worldwide. LinkedIn has over 100 million members. CEO Jeff Weiner proclaimed, "We're now growing at roughly one million new LinkedIn members every week, the equivalent of a professional joining the site at faster than one member per second." However, LinkedIn's success may experience some tough competition with Google+, who've recently announced its Profiles for Business app.
continued…
New Career Opportunities Daily: The best jobs in media.