Archive for the 'recipe' tag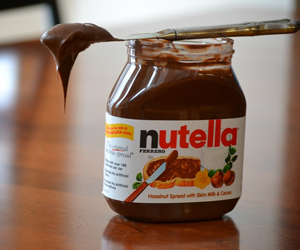 My dearest Nutella,
For decades your hazelnut spread has turned everyday consumers into product purists. From brownies and cookies to hot chocolate and crepes, Nutella has been the cornerstone of a delicious treat.
As you're aware, since 2007, Sara Rosso—arguably your most passionate superfan—has hosted World Nutella Day. She love(d) your product so much that she wanted the world to dedicate a single day—February 5—to embracing it.
What she did was nothing less than astounding. On the World Nutella Day website, Rosso has gathered more than 700 recipes, tweeted and shared on Facebook the favorite sayings, stories and links of Nutella fans and, most important, encouraged everyone to try Nutella just once.
But on May 25, all her hard work will have been in vain. That's because you inexplicably shut down her tremendous efforts, sending a cease-and-desist letter to her mailbox—the sort of action a brand might take against a brand hijacker, hacker or activist. 
I'd like to explain something we've learned about fans like Rosso. She is a rare breed. Fans like Rosso doesn't come along often, and for many brands they doesn't come along at all. She generated free positive press from the likes of NBC, CNN and ABC (credit to HuffPo for sourcing the links). She even built social-media presences with more than 47,000 fans and followers. 
Sara Rosso is a bona fide Nutella superfan: a consumer so passionate about Nutella that she has dedicated her precious time to furthering the brand's cause. She's the type of fan that brand managers dream of—creating content on behalf of the brand and sharing it with her following of other superfans and casual fans, who then pass the message along to potential fans. This superfan activity helps the brand's message spread exponentially, at little to no cost to the brand.
I didn't know there was a World Nutella Day. However, I now know that there isn't going to be another one. So not only have you eliminated one of the most impressive superfan-created content-marketing activities that I have ever seen, but the story of the holiday's cancellation is garnering national attention. You've turned a positive into a negative, and I haven't the slightest idea why.
It's funny that something like this has come up, if only because embracing the superfan is at the core of many of our social-media strategies. It's what expanded a community of "Mother Lovers" (fans of the show How I Met Your Mother) from zero to more than 2 million in less than two years. It's what keeps that community's People Talking About This (PTAT) percentage above 20 percent (well above the industry standard). The ability to celebrate the passion of a brand's fans is exactly why social media is such a powerful marketing medium for brands.
We have a category on our blog called Consumers Control Brands. That's not meant to be taken literally, of course, but we strongly believe that in the post-advertising age, it's the conversations between people—the content they're sharing and creating across a variety of publishing channels—that can spell success or failure for a brand. So it's a fool's error to think that one can fully control one's own brand. Your attempt to control the Nutella brand by eliminating World Nutella Day has not, in fact, controlled the message. Instead, it has spawned negative press that will be read by thousands, if not millions.
So what did you accomplish? 
I don't mean to come off as brash (though I'm sure I did). All of us here at Story are passionate about creating engaging branded content, and it's heartbreaking to hear a story such as this one. But there's still time. If you'd like to save your story, we'd love to help.  
Sincerely,
Jon Thomas
Editor-in-Chief, Post-Advertising
P.S. Sara, if you're reading this, bravo. Regardless of what Nutella has decided to do, your actions are utterly impressive, and I'm sorry I've only now noticed them. We should have been applauding you for years. 
Photo Credit: allison.hare via Compfight cc
If you're cooking, need a cup of heavy cream, and don't have any on hand you substitute ¾ cup milk and ¼ melted butter thoroughly mixed. It won't whip but otherwise will work well in any recipe that calls for heavy cream. More »


Editor's note: Former VentureBeat intern Sarah Mitroff wrote this post before leaving us for her new gig at Wired.
Five content-saving services have hit the market, but only the fastest and easiest to use will win. My organizational obsession led me to pit my favorite organizational apps, and a few I've barely used, against each other to figure out which reigns supreme.
To wrangle years of newspaper clippings, recipe cards, photos, and videos into an organized space, I decided to put Evernote, Springpad, Clipboard, Bitly's Bitmarks, and Minilogs, a new link-saving service, to the test. I measured how fast and how easy each service saved a news article, a YouTube Video, an image, two recipes, and a bookmark.
Evernote: quick and comprehensive
As I prepared for this post, Evernote was my favorite to win. I use the service daily for notes and web clippings. After comparing it to the other organizational apps, I wasn't as thrilled with its content-saving capabilities. The web clipper is fast but grabs all the HTML and extraneous formatting on a page. Evernote's advantage is that you can edit unwanted content out of your saved notes. It's downside is that it doesn't effectively save YouTube videos. Evernote is my winner for saving content on the iPad, because its web clipper plays nice with Safari. 
Best for: making notes and saving webpages.
Springpad: content-aware and robust
Springpad and I go back a few years: I started using it to save recipes before its big redesign earlier this year. Its shining feature is that it's content-aware, so it recognizes the types of material you're trying to save. This is helpful when saving a recipe, a book, or a product you want to buy. Springpad's clipper is far from perfect — it doesn't always understand what you're trying to save — but it's the only service I tested that offers this feature.
Best for: saving content with context.
Clipboard: great for videos and links
At first, I wasn't completely impressed with Clipboard. But the service grew on me. The clipper often makes me feel like I'm chasing a highlight box around the page, so this could use a bit of work. However, Clipboard did an excellent job of saving videos from YouTube and organizes clips in a simple and clean way. Clipboard's biggest downside is that it basically takes a screenshot of a webpage, which prevents you from editing what you've saved.
Best for: videos, images, and links.
Bitly and Minilogs: link-only saving
Bitly's Bitmarks and the newer Minilogs are two different services that do the same thing: saving links, not content. Minilogs creates a shareable collection of links for friends to use together, while Bitmarks is a more personal link-saving log. Minilogs is missing a clipper, so you must copy and paste links to save them. Bitmark's clipper is fast and easy to use, even if the theme is cheesy.
Best for: links.
Conclusion: Two winners
It's hard to choose an outright winner, because each of these services have their merits. Springpad wins for the best way to organize and view your saved content. When it comes to actually saving content, Evernote's clipper has yet to let me down.
What are your favorite ways to save the stuff you find online? What did I miss? Let us know in the comments.
Paper hoarding image via Flickr user Karl Sinfield
Filed under: VentureBeat
About six weeks ago, I wrote about Avocado, a new mobile app that lets couples share photos, to-do lists, and exchange messages with each other. The app was created by a couple of ex-Googlers, who had raised a $1.3 million seed round from Baseline Ventures, General Catalyst, Lightspeed Ventures, and others to further develop the app.
Avocado is one of the latest in a string of apps focused on mobile sharing between couples: There's also Pair, Cupple, and SimplyUs, among others. But the team fully expects more to pop up — which is why they've just released Guacamole, an API and toolkit for building cross-platform apps and services for couples.
According to Avocado founder Chris Wetherell, the idea behind making the API available is to enable any developer to quickly and easily create up new services for couples, without having to rebuild its code from scratch. It's early days for couples apps, and it's not really clear which features will most resonate with users, so opening up its toolkit will allow different developers to experiment and determine what works and what doesn't.
It could also help expand apps to new platforms that the Avocado team doesn't necessarily have the resources to build on their own. Avocado has three clients right now — an iPhone app, an Android app, and a web app. But if somebody wanted to build a Mac app for the Avocado service, Wetherell said they'd be more than welcome to do so.
But what about security? One of the key issues facing these types of apps is the private information shared between couples. How does Avocado plan to ensure that third-party developers will be as careful with private messaging and photos as it is? Well, for one thing, Avocado isn't passing out API keys willy-nilly — it's asking developers to tell it what they're building and how they plan to use its tools before they grant access, according to Wetherell. And if they find any developer doing anything nefarious with its API, they'll revoke access.
Developers who wish to use the Guacamole toolkit can go to avocado.io/guacamole, where they'll get API documentation, utilities for managing multiple asnyc callbacks through Node.js, an http wrapper for native functions, and the team's own canonical guacamole recipe. Wetherell said he fully expects developers to argue over the recipe — just hopefully not the API or tools.
Almost every single food manufacturer in the world does the same thing with their product, a way to help provide value and hopefully get the consumer to buy and use more of it.
They include recipes.
Some recipes become famous in their own right; the back of the Nestle chocolate chips package contains a recipe for their Tollhouse cookies. Many become parts of compilations like cookbooks, cooking magazines, and recipe cards distributed with products or as products in their own right.
Here's the question to ask yourself: how many recipes do you provide with your products or services? None? One or two? How many could you provide if you really thought about it and talked to your customers to see how they're using your stuff?
At every company I've worked with, I've created recipes and recipe books as part of what I do. When you take away all the fancy marketing talk like eBooks and white papers and studies, what I've been doing is writing recipes so that the product is more useful and is perceived as more valuable.
Here's an indicator that you have a serious marketing problem: you can't write a recipe or five right now, off the top of your head, for your product or service. Even if it's not the most original (Tollhouse cookies are nothing more than chocolate chip cookies), as long as you can write that handful of recipes, then you know how your customers use your product and can quickly instruct new or prospective customers in how to get immediate value out of their purchase.
So, how many recipes do you know for your product or service?
---
If you enjoyed this, please share it with your network!
---
Want to read more like this from Christopher Penn? Subscribe now:
---
Marketing White Belt



Basics for Digital Marketers
is now on Amazon & B&N

I recommend & use:

SEOMoz SEO software.
I recommend:
---
The post What a cookie recipe should teach you about marketing expertise appeared first on Christopher S. Penn : Awaken Your Superhero.
Around these parts, there's no substituting a good rinse with Listerine in the morning, but if you prefer natural mouthwash, or just want something a little different, the folks at Tipnut have an old but good recipe for cinnamon mouthwash. All you'll need is a handful of cinnamon sticks, some water, and a container to keep your mouthwash in. More »


Probably the most beautiful filmed recipe you've ever seen. "Sweet" work by french filmmaker, Thomas Blanchard, who shows us how to bake Plum Cake. You can see it, you can smell it, you can even taste it.
Zaarly, the online marketplace where users find and hire talented local builders and artisans, is announcing a new "Zaarly Anywhere" initiative that allows any site to enable offline commerce from online content.
This comes just a month after the local shopping startup integrated with The Fancy to enable social commerce on that Pinterest competitor.
Zaarly users have already requested $30 million in custom projects, such as building a custom treehouse or setting up Christmas lights. But the new initiative broadens the reach of Zaarly-style local commerce to every site on the internet, significantly extending the number of internet users who can participate, and enabling publishers to monetize their content in new ways.
"For example," Zaarly chief executive Bo Fishback told VentureBeat, "someone might see a recipe on the EveryDay Health website, which has millions of unique monthly visitors, and click the Zaarly button to get it made for them."
When users see an interesting item on a participating website — perhaps a custom-made table, or an amazing cake — they can click the Zaarly button. That creates a request on Zaarly's website which skilled local creators can bid on. When the potential buyer picks one of the bids, a deal will be consummated, and the original participating site gets a share of the revenue.
Early partners using the Zaarly API also include the LA Times, Cookstr, and IKEA Hackers. But Fishback told VentureBeat that it's simple for any site to join.
"It's as simple as putting a Facebook like button up," Fishback said. "You could literally put it up on your personal blog … and even match the colors of your site."
Fishback has eaten his own dogfood … he used the service to to get a raised garden built in his backyard. The expert who built it for him turned out to be a farmer for 30 years and an expert in raised gardens.
The service is designed for custom, personalized items and services, not products you can buy at Amazon.com.
"Sites like The Fancy have their own e-commerce for commercial items like a Rolex watch," Fishback says. "But other things, such as home improvement projects … there's nowhere to go for that."
That's exactly where Zaarly excels.
Zaarly was founded in 2011, and has investments from Kleiner Perkins as well as super-angels such as Ron Conway and Paul Buchheit. The company is based in San Francisco.
Image credit: PixelBliss/ShutterStock
Filed under: deals, Entrepreneur, search, social, VentureBeat
Ahh, McDonald's secret sauce … so zesty on the palette, so testy in the digestive tract. In this video from McDonald's Canada, the chain's executive chef, Dan Coudreaut, shows us how the sauce is made. Once I got past the irony of McDonald's calling one of its employees a chef, I learned that the recipe has been declassified for some time, and that it mainly consists of mayonnaise, sweet pickle relish, yellow mustard, white wine vinegar, garlic powder, onion powder and paprika. Coudreaut mixes up a batch and prepares a version of the Big Mac in a suburban kitchen to underscore, I suppose, that McD's food is non-threatening and just like home cookin'. This clip reminds me of a do-it-yourself primer on bomb making, where everyday store-bought ingredients are used to assemble a deadly explosive device. (Not that I've ever streamed a bomb-making video, no matter what it says in my FBI file.) This video follows another one from the same series that showed why the Quarter-Pounders in ads always look better than the real thing. Frankly, these stabs at transparency seem awfully transparent, little more than marketing gristle on the fatty all-beef patties of sizzling corporate profits, or some overblown fast-food analogy like that. As a consumer, I made my peace with McD's long ago. It's deadly, but it tastes great. Seems like a fair tradeoff to me.
A guest post by Sherry Orel of Brand Connections.

QR codes were starting to get a bad rap because marketers were using them so mindlessly. Now, we are finally beginning to see some good examples of how the codes can help further a brand story.
The change in useless to useful action codes has been slow to unfold. Sadly, most QR codes send the folks scanning the codes to a website landing page that they could already find through Google or to a website that delivers virtually no new information. As ubiquitous as the codes are now, examples of them being used well remain few and far between.
The problem is that the codes are misunderstood and thus misused. Their potent creative possibilities haven't been explored. QR codes can deliver customized content specifically created for where consumers are right that minute. They can deliver enhanced brand messages that are not available anywhere else. Even better, QR codes can give back what marketers crave: information about their customers.
Up to now, QR codes have felt used only because marketers "can" use them. But my motto is: "Just because I can doesn't mean I 
should." Marketers have a responsibility to use technology bells and whistles to deliver real value to consumers, not to just thoughtlessly use technology bells and whistles.
Here's one example of good QR code use. Allrecipes.com noticed a bump in Web traffic during the evening commute—when people started to think about what to make for dinner. So, the company launched an out-of-home campaign that included photos of its 10 most popular recipes and a QR code on bus shelters in Los Angeles. Commuters scan the code, and then the recipe and a shopping list app pop up. The app makes it easy to plan to prepare "Actually Delicious Turkey Burgers" or "Asian Lettuce Wraps," for example. Clever and helpful!
There needs to be a return on consumers' investments. If customers make the effort to scan, we should deliver value.
Here are some tips on making the most of QR codes.
Use content that is unexpected and customized for that particular moment. Don't just send customers to a generic website.
Naturally integrate the codes into consumers' lives. If you're a wine brand, for example, offer intriguing recipe pairings or entertainment ideas.
Use the technology to measure and deliver insight. Capture email addresses, locations, buying behavior, and more. Setting up a QR code without that extra layer is missing out on its value to you, the marketer.
Make sure the QR codes are scannable. Just this year, Facebook painted a humongous QR code on the rooftop of its headquarters. This followed an early trend to place QR codes in impossible places. They are tough to scan when you're a human being with your feet on the ground. Keep the size and placement of the QR code simple and convenient. Don't oversize the codes, and don't make them too tiny to be seen.
Think about place-based advertising for QR codes. A Korean fast food place hung its codes outside, where the codes were only scannable when the sun cast shadows over them—at lunchtime. The reward for scanning was discounts and deals at the restaurant. Guinness added them to beer glasses, so the codes were only visible when the glass was filled with its dark beer. If you know where your consumers are, ask yourself what they need from you right that minute. The answer will deliver some clever ideas for valuable or fun content.
And as for those early adopters, they are taking the idea of scanning to the next level. I love this: The New York Times recently reported on Muppet-branded Band-Aids that activate a singing Kermit when scanned. The scanning is done through a special free App called Band-Aid Magic Vision. The child scans the Band-Aid with an iPhone or iPad, and Kermit magically appears as if he's perched on the Band-Aid. This idea is sheer delight and  a just-right use of new technology.
What are some good examples (and terrible ones) you've found and why do you think they've worked (or failed)?
Sherry Orel is the CEO of Brand Connections, one of the largest and fastest growing global marketing and media companies focused on creating branded consumer experiences by integrating media, technology and product experience networks for national and global brands.
(Photo courtesy of Bigstock: Scanning Advertising)