Archive for the 'Salesforce' tag
Today is just jam-packed full of acquisition-shutdowns. Just hours ago, word broke that Yahoo! had acquired both MileWise and GoPollGo, with plans to discontinue both. Next up on the happy-now-sad-users-later train: Clipboard, the bookmarklet-based web clipping service we covered previously here.
According to a notice e-mailed to its users, Clipboard has been acquired by Salesforce and will be shutdown in a bit over a month.
[Disclosure: Clipboard was backed by CrunchFund, the venture capital firm headed by TC founder Michael Arrington. While Mike — nor anyone else involved with CrunchFund — has ever even mentioned Clipboard to me in passing, we try to be transparent about these things.]
While terms of the deal weren't disclosed, we're hearing that the final figure was in the "double digit millions" — UPDATE: We're now hearing from a very, very solid source that the purchase price was $12 Million. Leading up to today, the company had raised $2.5M from Andreessen Horowitz, Index Ventures, CrunchFund, SV Angel, Betaworks, DFJ, First Round and others.
Wondering what the heck Clipboard is — or, soon, was? Not unlike Pinterest, Snip.it, or the myriad other web clipping services that popped up around 2010/2011, Clipboard let you highlight things from around the web and "clip" them into a digital storage locker for later perusal. Once in their backend, clipped content could be annotated, shared, or just browsed at a later date. Given the similarities to existing services like Pinterest and Evernote, both with huge traction themselves, Clipboard had yet to find a substantially sized audience for its service.
Prior to the acquisition, the company had grown to around 100,000 users, and was seeing growth rates of 40 percent month-over-month. In January, it reported having reached 1.7 million+ clips since it had opened its private beta, back in October 2011.
The company had some interest in the education space, however. At the beginning of the year, it received a strategic investment from ed-tech company Scientia. But following the Salesforce buyout, the product itself will be shut down and discontinued on June 30th, 2013, so those earlier plans to further develop the product for use in the education space will be discontinued as well.
While the notice itself makes no mention of what's next for the team, an acquisition FAQ on their site lays it all out: Clipboard founder and CEO Gary Flake will be joining Salesforce as VP of Engineering, and much of the service's design and engineering team will still be working under his guidance out of Salesforce's Seattle office.
Clipboard is giving users until the end of June to say goodbye to the service and get their data out through a provided export tool. Come June 30th, that data heads for a server farm in the sky (read: it's getting destroyed).
The full text of the e-mail:
Hi [user],

We have some bittersweet news. We are extremely happy to announce that salesforce.com has signed an agreement to acquire Clipboard, allowing us to pursue our mission of saving and sharing the Web on a much larger scale. But at the same time we're also sad to see this stage of our adventure come to an end, especially since it means that our relationship with you, our users, will irreversibly change. The Clipboard service at clipboard.com will be discontinued on June 30, 2013.

But we have your backs. If you want it, all of your data will be preserved into a personal archive from which you can view your clips and boards offline. And if you want your clips destroyed, we can handle that as well. All of the details for what comes next are in the FAQ and some more personal reflections are on our blog.

In nearly two years, 140,000 of you created nearly 3 million clips while over a million of you interacted with them. Thank you for joining us on this journey. We will dearly miss seeing all of you on Clipboard, but we hope you'll support us in the next leg of our journey.

Best,
The Clipboard Team
Clipboard has been acquired by Salesforce, the company announced today. Following the sale, Clipboard CEO Dr. Gary Flake will join Salesforce as VP of Engineering at the company's Seattle headquarters. The web clipping service will be discontinued June 30.
See full announcement, addressed to Clipboard users, below:
"We have some bittersweet news. We are extremely happy to announce that salesforce.com has signed an agreement to acquire Clipboard, allowing us to pursue our mission of saving and sharing the Web on a much larger scale. But at the same time we're also sad to see this stage of our adventure come to an end, especially since it means that our relationship with you, our users, will irreversibly change. The Clipboard service at clipboard.com will be discontinued on June 30, 2013.
But we have your backs. If you want it, all of your data will be preserved into a personal archive from which you can view your clips and boards offline. And if you want your clips destroyed, we can handle that as well. All of the details for what comes next are in the FAQ and some more personal reflections are on our blog.
Members of Clipboard's engineering and design team will also join salesforce at its Seattle headquarters.
In nearly two years, 140,000 of you created nearly 3 million clips while over a million of you interacted with them. Thank you for joining us on this journey. We will dearly miss seeing all of you on Clipboard, but we hope you'll support us in the next leg of our journey.
Best,
The Clipboard Team"
The terms of the sale were not disclosed.
New Career Opportunities Daily: The best jobs in media.
Brands understand the importance of content marketing, yet most have not yet addressed their content needs on either a strategic or tactical level, according to Altimeter's Rebecca Lieb.
Researchers for the company conducted interviews with executives actively engaged in content strategy or marketing; their findings were the basis of a new report, Organizing for Content: Models to Incorporate Content Strategy and Content Marketing in the Enterprise. Lieb and report co-authors guide brand marketers through a variety of organizational models for content, with recommendations to help companies execute an effective content strategy. Read the full report on SlideShare.
Trust Can Make or Break the B2B Buyer Relationship: Study
Buyers are overwhelmed by the amount of content available to them, making the content marketer's challenge greater than ever, according to a new study from Demand Gen Report. Content plays an increasingly important role in B2B purchase decision making, with 68% of survey respondents indicating they rely more on content than they did last year. Variety is key: five out of nine content formats gained in popularity, while only podcasts and interactive presentations lost traction. Researchers found that three specific content formats stand out in 2013: white papers, E-books and webinars.
Sales messages are a huge turnoff for buyers, 61% of whom said sales-heavy content has been a problem for them in the past year. Survey respondents indicated they would like B2B marketers to focus on making content more readable, adding value, and showing their research to their audience.
Google Launches Interactive Customer Path to Purchase Tool
The customer journey is complex, with engagement happening across platforms, devices and possible over a period of time, says Google. Their new tool on the Think Insights website aims to help marketers "explore and understand the customer journey to improve your marketing programs."
Users can toggle through different industries and countries including the US, Canada, Brazil, UK and Germany in order to see whether channels tend to play an "assist" or "last interaction" role in the typical path to purchase. The length of the customer journey can impact purchase value; Google's tool also allows marketers to explore combinations of number of days or steps to purchase, industries and countries, with their resultant effect on average order value. In the example above, Google shows that 66% of total US retail revenue comes from purchases made in more than one step. Their findings are based on Google Analytics data and should offer valuable macro-level insight for marketers.
Bing Research Shows Over 50% of Users Click on the First Results on the SERP
The majority of searchers click on the first link available on a search engine results page, with a dramatic reduction in clicks for each position thereafter, according to Dr. Ronny Kohavi from Bing's Research & Development team. By the time you reach the 8th link on a results page, less than 1% of users will choose it, as shown below.
Dr. Kohavi explained in the announcement of their findings, "The figure (above) shows the click-through rate dropping from position 3 on, where position 3 could contain an Instant Answer, or the 2nd web result that was pushed down because there was an Instant Answer above it, etc."
Expect more changes in the near future. "These are our first steps in dynamically sizing the page," Kohavi wrote. " If you're getting different number of results, you're probably in one of our ongoing experiments."
Goodbye, Google Instant Previews
If you noticed that Instant Previews are now absent from Google search results, you're not alone. Search Engine Land went on a quest to find out what had happened to the feature Google promised on its launch it 2010 would result in greater user satisfaction. After confirming Instant Previews are indeed gone, SEL found an online help thread with a statement from a Googler reading, "Instant previews saw very low usage by our users, and we've decided to focus on streamlining the page to benefit more users."
New Social Platforms Venture Beyond Real-Time Marketing to Predictive?
Two major players and a startup all released new social platforms this month. ClickZ's Susan Kuchinskas shares details on Social.com, the new offering from Salesforce, and Adobe's Predictive Publishing for Facebook dashboard plug-in.
It gets really interesting with startup Blab, launched April 9. "We don't do projections, we do predictions based on the pattern and behavior of the actual conversation," Tamsen Galloway, vice president of Blab, told Kuchinskas. "We can see where a conversation will be in 24 hours, and how that may change between 48 and 72 hours later."
Blab uses a "conversation canvas," as shown above, for each brand interest or goal, ie.: brand mentions, competitor mentions, news around events or topic, etc. Kuchinskas explains, "The platform applies its patented predictive and analytic technologies to data streams from social channels and the web, analyzing some 1.3 terabytes of data at any moment." This gives brands a unique opportunity to actually get ahead of conversations, with time to craft messaging and content in anticipation of opportunities.
This Week in the @TopRank Community
Members of the @TopRank social community tuned in for TopRank CEO Lee Odden's content marketing presentation at Content2Conversion this week in New York. Attendees shared livetweets, photos and even a cool takeaways Vine on Twitter throughout the event.
Over in the TopRank Facebook community, 10 fans will each win a copy of Lee Odden's Optimize: How to Attract and Engage More Customers by Integrating SEO, Social Media and Content Marketing as we reach a milestone with 25,000 members in our community. Stop by and check it out; page comments get preference!
Check out the @toprank Twitter channel and stay tuned to #trnews for breaking news across the digital marketing landscape in the weeks ahead!
---

Gain a competitive advantage by subscribing to the
TopRank® Online Marketing Newsletter.
© Online Marketing Blog, 2013. |
Online Marketing News: Predictive Social Tools, Content Marketing & The Customer Journey | http://www.toprankblog.com
Salesforce.com is expanding its social ad offerings today with a new product called Salesforce Social.com.
Thanks to its acquisition last year of Buddy Media, Salesforce already runs social ad campaigns for a number of major ad companies like GroupM and Omnicom. But today it's breaking out its ad product into a separate entity that's distinct from Buddy Media's social publishing capabilities.
Vice President of Product Marketing Gordon Evans said that even though Salesforce has already run nearly 500,000 social campaigns, "There's still a problem here — companies are sitting on this incredible customer data in their CRM systems, but they're not really connected [to their ad campaigns] in a very efficient manner." He added that companies also lack the ability to take "full advantage of all the information that's shared on public social networks."
Salesforce is in a good position to tackle those issues, given its core business as an online CRM system, and its acquisition of social listening service Radian6. Evans gave me a quick demo of the product, and while he said it includes the tools for creating, optimizing and automating ad campaigns on Facebook and Twitter "that are necessary for every powerful ad management organization," what's new here is the integration with Salesforce CRM and Radian6.
For example, Evans created a test Facebook campaign, and he was able to target that campaign at different customer groups by importing his data from Salesforce. (Facebook started allowing advertisers to target users based on CRM contact information last fall.) He noted that as a company's CRM data gets updated, the ad targeting is updated, too. So you could launch an online contest, then target ads at people who participated in that contest. As more people signed up, they'd get added to the targeting.
Evans also created a test Twitter campaign, where he looked at Radian6 data showing trending topics and relevant conversations. Using that data, a company could find appropriate topics to target with its ads, and based on that topic, Social.com recommends content to include in the tweet. Evans acknowledged that advertisers could already use social listening data to tailor their ads, but he said they had to do "swivel chair analysis" that required them "to log in to multiple applications to user interfaces." Now they can do it all in one place.
The big theme here is bringing a variety of Salesforce products together. In doing so, Evans said Salesforce is hoping to tempt its existing CRM and listening customers who are "trying to figure out what their social advertising strategy should be" while also creating a product that works for ad agencies.
Oh, and if you were wondering how Salesforce got such a sweet URL, it reportedly acquired the Social.com domain for $2.6 million a couple of years ago.
Salesforce today launched Social.com, a marketing dashboard that unites the social monitoring of Radian6, acquired by Salesforce two years ago, and a beefed-up version of the social advertising tool the company acquired with Buddy Media last June.
"We believe more than ever that social marketing is the future of the ads business and how companies are connecting to their customers," said Eric Stahl, the vice president of web content and strategy.
Social marketing is expected to be an $11 billion business by 2017, according to a recent study from BIA/Kelsey.
Social.com is the first tool to offer both social monitoring and ad placement, an integration that Salesforce says will make it far more feasible for companies to advertise based on real-time social media trends and conversations.
The Social.com dashboard allows corporate users to access their customer data and their social listening research from the same place and to import social interactions into their customer relations management, or CRM, databases. The dashboard allows marketers to create and place ads, monitor their performance and boost investments in the better performing content.
Marketers can place ads on Facebook or Twitter using the software.
Salesforce CEO Marc Benioff highlighted the opportunities Buddy Media's social advertising tool presented at the time of the acquisition.
Prior to today's launch, the social advertising tool accounted for 2.5 billion ad impressions per day.
New Career Opportunities Daily: The best jobs in media.
Are your company's marketing and sales efforts in alignment? Are they working in union or are they operating in separate silos?
It's widely recognized that companies who make the effort to intentionally foster the relationship between sales and marketing through marketing automation tools or other means perform better than those who don't.
Then why don't many still do it? Well, it's not as easy as you think.
Our Inbound Marketing Channel sponsor HubSpot will be addressing this critical issue in a webinar with Salesforce on August 16, 2012 at 1pm EST called "5 Steps to Establishing an Effective Sales & Marketing Methodology"
Join Linda Crawford, SVP & GM of Sales Cloud at salesforce.com and HubSpot's CMO, Mike Volpe as they explore this important area of marketing.
This free 60 minute offering may be one of the best ways to spend your valuable time. In it they will explore how to:
-Define shared metrics for sales and marketing.
-Build social into your sales and marketing strategy.
-Assess what matters to sales and marketing.
-Align sales and marketing on common goals.
-Connect the dots between lead capture, lead nurturing, lead qualification, and opportunity
With the rise in popularity of visual content, marketers are realizing that Pinterest is a great way to show off their brands' personalities, engage their social media fans and followers, and even generate some leads along the way. But many marketers — particularly those who represent B2B companies, are still left wondering, what in the heck should I be pinning?
Well let me tell you, fellow marketers: You sure do have some options!
I scoured Pinterest looking for examples of truly engaging pinboards and realized there are quite a few companies out there doing some really creative things with their Pinterest accounts. So if you're ready to get your feet wet with visual content, here are 28 creative pinboard ideas to power your Pinterest marketing. And what's even better? Most — if not all — of these pinboard ideas can be transferable to your own Pinterest account, whether you're company is B2B, B2C, or nonprofit. Time to get pinning!
1) Idea/Inspiration/Example Board
Inspire your fans and followers! Think about your target customers' interests and hobbies, and create a board to give them examples and ideas to inspire them. For example, Grand Image, a source of fine art for the corporate, hospitality, and healthcare design markets, uses its "Color Inspirations" board to inspire its followers with colorful examples, and Drake University uses its "Study Inspiration" board to motivate its student audience.
2) Philanthropy Board
Show off your business' philanthropic side with a philanthropy board! Pinning images of your employees giving back to the community will show followers that your company cares about the greater good, just as FedEx has done through its "FedEx Community Involvement" board pictured below.
3) Marketing Campaign Board
Use one of your boards to feature one of your latest marketing campaigns. DoubleTree hotels, for instance, uses one of its own to highlight images depicting its "Little Things Project Tour" campaign, which travels the country to bring the guests of its hotels little things that make a big difference when traveling. DoubleTree also uses its board to link to its Facebook page about the campaign to encourage engagement there, as well.
4) Video Board
Pinterest isn't only for pinning pretty images. Users can pin videos, too! So if videos are a part of your marketing mix, create a board just for them as Gemvara and Econsultancy have done below.
5) Customer Success Board
Highlight your customers' successes in one of your boards as Salesforce does in its Customer Success Stories" board, populated mainly by video pins.
6) Products/Services Board
We don't recommend you litter your Pinterest presence with product-specific pins, but we think one or two boards dedicated to your products and/or services is just fine. AMD, for example, has a board dedicated to its technology, and we have one at HubSpot, too, featuring a peek at our marketing software.
7) Behind the Scenes Board
What happens behind the scenes that makes your company run like clockwork? Give your Pinterest followers the inside scoop with a board that highlights just what happens behind the scenes at your business. Peapod does this well with its "Where in the world is that Peapod Truck" pinboard, and General Electric makes machinery fascinating in its "From the Factory Floor" board.

8) Contest Board
Use your Pinterest presence to hold a contest and motivate your followers to action, like GE does with its "Freshpedition Sweepstakes" board. You can also highlight submissions to past contests, as the manufacturing company does in its "#GEInspiredMe" board.
9) Employee Board
Give Pinterest users the opportunity to get to know the awesome people behind your brand. Petplan Pet Insurance does this creatively in its "Meet the Team" board, in which it features most of its team members with a furry friend. Furthermore, Salesforce uses its board to highlight why its employees love working at Salesforce, and Peapod profiles its employees in its "Peapod Pros" board.
10) Mission Board
Give your Pinterest followers a sense of your company's mission and values, like the U.S. Army does in its "Army Values" board and Heart Shaped World does in its "Supporters & Causes" board.
11) User-Generated Board
Because you can allow other users to contribute their own pins to your hosted pinboards on a user by user basis, this opens up a great opportunity to involve fans and customers in your marketing. Let Pinterest users get in on the action with a user-generated pinboard. You can either gather images and compile them into a board yourself, as the Weather Channel has done through its "iWitness Photos" board, or give specific users permission to pin content to your boards themselves, as Drake University and ModCloth have done.
12) Blog Board
Highlight your awesome blog content via a blog board. Just be sure each post you pin has a compelling visual within. Grand Image and HGTV both offer stellar examples of blog boards.
13) Content/Resources Board
Piggybacking on the blog board idea, create a board to showcase some other awesome content and resources, whether its content you've created or content you've aggregated from other sources. Petplan does this well with its "Healthy Reads" board, and HubSpot even has its own "Helpful Marketing Ebooks" board.
14) Testimonials Board
Are people saying nice things about you? Share it with Pinterest! Or take a spin on this idea, like the U.S. Army does through its "'Thank a Soldier' Notes" board, seen below.
15) Visual Industry Data/Statistics Board
Does your audience love data? Highlight interesting data and statistics for your industry in a visual way — through charts and graphs! Econsultancy has a cool "Stats and Charts" board, for instance.

16) Industry Infographics/Diagrams/Flowcharts Board

Similarly, if your audience is crazy for industry-related infographics, diagrams, or flowcharts, create a board just for them, whether you've created them yourself or collect them from the web. Mashable has a board just like this, as does Intel!
17) Meme Board
Creating memes to help power your social media presence in general (here's how!)? Feature them on their own board, as we've done in HubSpot's "Meme-tastic Marketing!" board.
18) Complementary Products Board
Okay, so maybe you have a board for your own products. But you're super helpful, too … right? Create a board for complementary — not competing — products that your audience would find useful, like AMD does in its "Laptop Bags & Cases" board.
19) Inspirational Industry Quotes
Motivate your audience with inspirational quotes from industry thought leaders and experts. The Wall Street Journal adopts this idea in its "Quotes" board, for example.
20) Events/Conferences Board
Feature awesome conferences and events in your industry, or create a board to promote an event you're hosting yourself, as we've done at HubSpot with our "Inbound Conference" board. You coming?
21) Brand Lifestyle Board
Create boards that appeal to the lifestyle your brand promotes. Chronicle Books does this well with its "Library Love" board, for instance.
22) Industry Tips Board
Offer some tips! You can either pin original tips you've visually optimized, or pin content like tip-focused blog posts you've written or aggregated from others. Take a look at how Petplan and CNET do it.
23) History Board
Appeal to the history buffs in your audience. Compile a board to highlight your history, whether its the history of your business — like in Intel's "Our Heritage" board — or the history of your industry, as MarketingProfs features in its "History: Vintage Marketing" board.
24) Customer Interest Board
Create boards that play to the interests of your prospects and customers. Jewelry maker Gemvara knows that a lot of its customers come looking for engagement and wedding rings, so its "'Fit The Dress' Recipes" board is a great choice. Similarly, HubSpot customer AmeriFirst Mortgage has its "Lavish Landscapes" board for its future and current home-owning clients.
25) Industry Cartoons Board

Use a board to feature funny industry cartoons, as MarketingProfs does in its "SnarketingProfs" board. HubSpot has a board like this, too!
26) A Day at the Office Board
What's office life like at your company? Give your followers an idea with a board that features the goings on at your office, like Petplan does in its "Just a Day at the Office…" board.
27) Newsjacking Boards
That's right. You can use Pinterest as a platform for newsjacking, too! The U.S. Army does this nicely with its "U.S. Army Olympians" board, where it highlights U.S. army soldiers who have competed or coached in the Olympics — just in time for the 2012 London Olympics! Peapod did this, too, for the Super Bowl, using its "Super Bowl Party" board to feature snack food and recipe ideas for the big game.
28) Boards Organized By Location
Is your company a franchise? Maybe you just have multiple office locations around the country — or the world! Create a series of boards focused on each of your locations, as Ronald McDonald House Charities has done with its Pinterest account.
What other boards are you using to power your Pinterest marketing?
Image Credit: net_efekt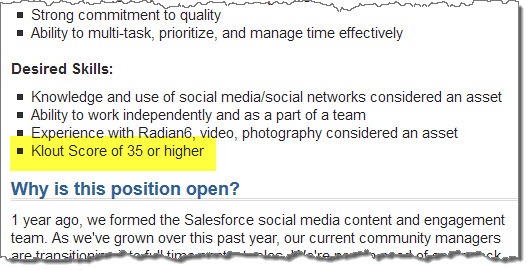 If your job embraces community building and engagement across the social web, does your ranking on an online influence-measurement service like Klout matter?
For some companies and recruiters, it certainly does.
A case in point – Salesforce.com has a job ad for a community manager where the list of desired skills includes this:
Klout score of 35 or higher
According to Klout, the Klout Score or ranking "measures influence based on your ability to drive action. Every time you create content or engage you influence others."
It uses data from social networks to measure True Reach ("how many people you influence"),
Amplification ("how much you influence them") and Network Impact ("the influence of your network").
The job Salesforce is hiring for requires skills including 2-3 years of community management experience and building a following in social media. Especially regarding the latter skill, some kind of ranking could help a candidate stand out from the crowd.
I can imagine a situation where three candidates, say, for the job each has impressive credentials for the role, with clear evidence of all the required skills. The differentiator might be in the desired skills, where one candidate has a higher Klout score than the others, and so gets the job.
We've already seen this notion of your online reputation ranking starting to come into the world of hiring – US retailer Best Buy set the bar back in 2009 with a job ad that stated "250 plus followers" on Twitter as a preferred qualification – and it seems definite that it will be a feature of recruiting for some types of roles.
An insightful feature in Forbes.com in May offers an indicator of what's coming with an assessment of the role of social media in recruiting, with this clear signal:
[...] forward-thinking companies and employers recognize that social media is the platform of the future. Whether or not you work in an industry where building your online influence matters (i.e. public relations, marketing or sales), over the next decade you will be hired and promoted based upon your reputation capital.
It looks as though paying attention to your ranking by services such as Klout as well as competitors like PeerIndex and Kred would be a smart idea when you're considering your career – which probably should be all the time these days.
Welcome to the future process of your next job.
Related posts:
Networking giant Cisco has added Salesforce CEO Marc Benioff to its board of directors, a sign that it wants to get more serious about cloud-focused services and hardware.
Benioff spent 13 years at Oracle before he founded Salesforce on the correct notion that SaaS applications would become a hot thing. Salesforce is now a cloud-services powerhouse, with Force.com, Heroku, Radian6, Desk.com, Do.com, and more. (Check out the update Do.com just launched.) He might be able to bring some of his knowledge into the Cisco fold and get the company looking to the future.
Cisco also added Enduring Hydro CEO and former U.S. Under Secretary of Energy Kristina Johnson. Other folks on the now 14-person board include former Yahoo CEO Carol Bartz, Yahoo co-founder Jerry Yang, Emerging Company Partners founder Steven West, and Cisco CEO John Chambers.
"We are extremely pleased to welcome Marc and Kristina to Cisco's board of directors," said Chambers, in a statement. "Marc has changed the face of technology through his bold ideas around cloud computing and the social enterprise. Kristina brings us an unmatched expertise in science and technology, which will help guide Cisco as we continue to innovate and transform our customers' experiences."
Marc Benioff photo: Kevin Krejci/Flickr
Filed under: VentureBeat
Salesforce.com has added contacts, deal tracking and public APIs to its do.com platform for task management.
Initially, Salesforce.com is adding the capability to integrate Facebook and Google contacts. It will soon after add Twitter and Salesforce.com. The deal management capability adds to the do.com lightweight CRM environment. Do.com is also opening its APIs for integration into third-party apps or into a customer's own environment.
Do.com is a task management service built on the Manymoon technology that Salesforce.com acquired last year. Manymoon coined the term "social productivity," for the platform environment. I don't fancy the phrase for describing the service. Anything with the term "social" in it these days makes me cringe. I see do.com as about getting things done with tools that also helps augment your ability to manage the data deluge that we increasingly face.
Regardless of my curmudgeon ways, the do.com team is getting closer to providing a sense of community in its task management service. Contacts has to be a core functionality for any service to have some sense of community. It's that and the need for personal profiles that act as the foundation for features which add value to the experience and enjoyment of using a task management system.
It's that capability that do.com executives like to say gives do.com its Facebook like capabilities. I agree to some extent. But it's only because of the addition of contacts that sells me on this idea.
With do.com, contacts also create ways to add different paths for building a community environment. People have their contact data distributed across multiple platforms. A flow emerges when these contacts get connected into a service. Do.com gives the the ability to manage that flow. Customers decide who gets permissions to be part of an individual's network.
You can see the contacts from Google or Facebook but only do they become part of your do.com network when you check the box by their photo icon. Messages can be sent through contacts by using the @ symbol, which is becoming more universal with these types of services.
With the new deal tracking, Salesforce.com has added a visual representation to see where the deal is in the process.
The customer can assign tasks to the deal. The layout can be customized. Reminders can be added.
Do.com competes with companies like Asana. I had lunch today with someone who really loves Asana for task management. I've used it myself. It's okay but it feels like Outlook to me. Do.com has a more unstructured feel that I like. But I am not sold on it, either. I am a fan of Kanban style apps like kanban2go that allow me to drag and drop tasks.
But overall, do.com does work. It serves well as a platform that allows for its different features to interconnect. I like that in a service. Add a kanban capability by dragging and dropping tasks into different priority buckets and the service would have some more muscle.
Do.com serves the prosumer market. It can be used as much to manage tasks for a product deployment as for a 50th birthday party.
I think that reflects the new reality we face. Our lives and work are interconnected and we need services that help us manage both.