Archive for the 'social business' tag
In November, Jive Software acquired Bay Area cloud-based, collaborative task manager, Producteev, to boost its social business platform. Going forward, as Alex wrote at the time, Salesforce.com and Jive will increasingly butt heads as they compete for mindshare in the enterprise. With Producteev's multi-platform task-management system, which allows users to create tasks from emails and collaborate around projects in teams, Jive acquired a service that was already beginning to compete with Asana and Salesforce.com's Do.com.
Producteev has been quiet since the acquisition, but that changed today, with the announcement that the startup is launching a revamped version of its social task management platform. The biggest change, founder Ilan Abehassera tells us, is that the new Producteev targets larger companies (naturally, given its acquirer) and is entirely free. Yes, this means that companies of any size will be able to use Producteev for free — no strings attached.
The founder tells us that, in spite of the "By Jive" addendum to the company name, Producteev continues to operate as a startup and remains a standalone offering inside Jive's product ecosystem. The team is still working on integrating the task management platform into Jive's products, which it hopes to have completed by the end of the year. It's not clear yet how pricing will change (if at all) once the integration is complete.
When asked "why free?" the founder said that he believes "tasks are the most basic, fundamental part of getting work done" and, as such, are "the way into the enterprise." For that reason, and for ease-of-adoption sake, Abehassera takes the "fewer barriers, the better" approach, as going free offers Producteev users (and beyond) a more frictionless pipe into Jive.
The platform has been free to individuals up to this point, but this move is clearly something that the company has wanted to do for some time, and now that it's under the Jive umbrella, it has the latitude to do so, especially with integration coming this year. As of now, there are no Jive products that I'm aware of that are available for free (forever), so the likelihood that its social collaboration module comes without a price? Not high.
The changes evident in the "revamped" Producteev are notable, and the team has been working on the new version of the platform for the last 11+ months. The result, the founder says, is that Producteev has pretty much been rebuilt from scratch. Firstly, that means Producteev added a lot of scalable tech on the backend to allow for new users coming over from Jive's other products — with more to come once the products are integrated.
The new backend is also relevant considering that, since its inception, Producteev has really been focused on startups and small teams. But its newest iteration sees it re-tooled for larger companies and allows them to more effectively break up teams into smaller groups (and collaborate within those groups).
Jive is currently working on a new task-management module/dashboard to integrate into its enterprise social networking platform, and as of now, its collaboration and task-management capabilities leave plenty to be desired. Producteev's new features help shore up that gap and fit into the new social (and social collaboration) image it's trying to sell to its clients and compete with the likes of bigs like IBM (and Salesforce.com).
In addition, the new design, which includes its apps for the web, iPhone, Android and Mac, introduces the notion of "Networks," allowing users to collaborate with their entire company — something that wasn't possible in previous versions. Producteev has also added Dropbox integration so that users can quickly attach Dropbox files to tasks and activity feeds on projects, which enable users to see updates on projects in real time.
Users can also now assign tasks to multiple teammates, tag tasks for easier filtering later on, follow individual tasks and take advantage of one-click filtering.
All in all, Producteev is starting to look more like a quality, enterprise-grade social task-management system. Granted, it's still not all the way there, as the platform isn't something you'd use if you're working on heavy-duty industrial design projects — completing the Bay Bridge in San Francisco, for example. But for most other uses, this is a welcome upgrade for Producteev. And now that it's free, it wouldn't be that surprising to see this take off in the same way Yammer did before Microsoft got a hold of it — at least until those integrations hit the pavement.
There has always been an irony for me – that the term 'a business' sounds impersonal, separate and almost intangible!
Yet business is all about people, it is emotive, personal and brought to life through connections and collaboration. When coaching I try and concentrate on the word 'US' in business because if we understand their true value then we grow our business.
Us is wide in definition and covers…
US= How well you collaborate with your colleagues
US= How well you connect the vision to the team and the team to the business vision.
US= How well you connect to the outside world – suppliers, stakeholders
US= How well you understand and communicate with customers
US= How well you see the pivotal role of business within society
US= How well we connect personal values to business value creation
Another US that we often ignore is both sides of our personality! Let me explain….
We have many human behaviors or aspects of business life that need reconciling
Risk vs Secruity
Routine vs Different
Self critical vs self confident
Work vs Home
Decisions vs Consensus
And many more….to ensure that our career's achieve our full potential…our relationship with ourselves gives us the strong base to connect with others.
Business value is something that I am researching as part of my social business PhD. The valuation of a business has always been linked to adding value  - value through service or value through the combination of raw materials.

Business strategy for creating value used to be "easy" but with the advent of the Internet the consumers have so much more power – they can make, they can access services through social networking, they can even challenge what value you are creating…..
My initial PhD research is showing though that although value creation may be changing…as always the foundation of growing a business has not changed. (Note I will be sharing the PhD research in future newletters – so if you want to know more subscribe to The Engaging Times!)
Value creation is based on living your values 
When customers buy into those values, recognising the value of their purchasing, their recommendations, their brand loyalty etc
I often work with entrepreneurs on how to grow their business – in this social age, it is now imperative that you understand this value creation equation
How to grow a business = Living your values in your product/services + Recognising the value of your customers + Undertanding the Values
We can so easily slip into producing, servicing without reflecting on the above….and in a social age, you may ignore…but the customer won't!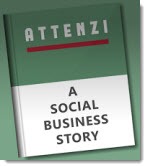 Philip Sheldrake's new business book Attenzi is published today. Earlier today, I published an FIR Book Review of it as I'd had the opportunity of reading it prior to formal publication.
I don't do many book reviews these days – our FIR Book Reviews Editor, Bob LeDrew, does an admirable and far better job – and I wanted to prepare well for this one. So I wrote up my notes as a narrative and that's what made it into the podcast.
As I have that narrative – in essence, the transcript of the podcast – I'm publishing it here as an additional review: the words on a screen that will show up in search results whereas audio yet cannot.
Think of it as bonus content, Philip!
Attenzi review notes

Hello, I'm Neville Hobson, co-host of the For Immediate Release podcast series, with a review of Attenzi – A Social Business Story, the new book by Philip Sheldrake published on May the 15th, 2013.

Attenzi is a business book with a huge difference – it's not a business book, it's a novel.

It tells a compelling and credible story of one man's journey that, unbeknownst to him at the start, would help him and his leadership team "redefine the way we all think about our business and its place in the market and its place in the world."

With Attenzi, Philip Sheldrake presents a sympathetic character in the story-teller Eli Appel, newly-installed CEO of Attenzi, a fictional international company that makes and sells top-range kitchen equipment and services.

Philip gives us a believable hero in Eli, a man who many readers will easily identify with in his desire to understand the shifting sands of contemporary consumer behaviours, the needs to respond to those changes in ways very different to old management and leadership preconceptions; and his endeavours to knit together a team of people that will be the driving force to enable Attenzi to make the jump to that next level.

As the tale unfolds, we see Eli and his colleagues consider aspects of organizational design, business performance management, marketing, public relations, branding, complexity, and the imminent empowerment of the individuals that make up all organizations.

The story also begins to explore the evolution of the customer-centric mindset that, Philip says, has dominated management thinking for the past two decades.

It's good writing, good story development, credible characters all. It's a highly probable storyline of individuals trying to understand the changes in their business world, and in their business itself, figuring out what it all means for them and their business, and working out what to do, who will do it, and when.

The kinds of things that business leaders face all the time in the real world.

Philip has done well in presenting business themes and topics that anyone really could grasp without getting lost or losing interest.

As Eli notes early on in the story, 'social business'  is the kind of buzz word or buzz phrase you hear about at conferences yet have little belief that even those who bandy the words around have much real idea of what they mean to businesses.

I think Attenzi will make you really think about social business, probably in a way you might not have if you've thought about those two words before.

The thinking will be about the very things Eli Appel tells his story about – behaviours, engagement, influence, new ideas, organization culture, change, risks, rewards, and so on. It's not about the tools and channels of social media.

That's where I think Philip's story works well. Yes it's about social business. But unlike every  other business book on this topic, it's not a business book – it's story-telling, it's a novel, a work of fiction.

In sum, it's a surprisingly good read on a topic that doesn't sound like it would be. Social business? That dry old thing?

I think you'll enjoy Attenzi. It's not just a good read, a passive activity, though. You could engage with the primary characters, each of which you can find on Twitter. You could add to the content, build on it, with chapters of your own that you can connect via the hashtag #attenzi.

After all, Eli concludes his tale with: "I'm finishing this first part of the new Attenzi story." In the concluding words of Adam Pisoni, Microsoft Yammer co-founder and CTO, who wrote the foreword, addressing you the reader: "Perhaps you'll even write the sequel?"

Philip has written this book to give away under a Creative Commons license. The more people who read it, the possibility increases that they'll talk about it, hopefully favourably, attracting more interest and readers. Word of mouth in action.

You can download a copy of Attenzi free of charge in a variety of digital formats: HTML, PDF, ePub, Kindle, and iBooks. There's also a version on Scribd.

All available right now from www.attenzi.com.

If you have comments or questions about this FIR Book Review, or suggestions for future reviews, please share them in the online FIR community on Google+. You can also email us at fircomments@gmail.com; and connect with us on Twitter: @FIRpodcast.

You can find more information about the For Immediate Release podcasts, including the weekly business show The Hobson and Holtz Report, at www.forimmediaterelease.biz.

Thanks for listening.
Philip's set up the foundation for a community surrounding the book, and its broader concepts, on Google+. Well worth being part of that in developing, influencing and extending the conversation.
Related post: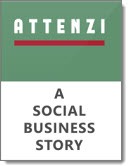 Attenzi – A Social Business Story is a novel that shines a light on social business that goes beyond the all too typical homages to social media. It's a relatively short and easy read intended to help readers explore what social business means for their organization, marketplace, communities and career.
With Attenzi, author Philip Sheldrake presents a sympathetic hero in the story-teller Eli Appel, newly-installed CEO of Attenzi, a fictional international company that makes and sells top-range kitchen equipment and services.
The book tells a compelling and credible story of one man's journey that, unbeknownst to him at the start, would help him and his leadership team "redefine the way we all think about our business and its place in the market and its place in the world."
FIR co-host Neville Hobson reviews the Kindle edition of Attenzi and considers the power a work of fiction – a novel – can have in empowering the Eli Appels of our world with the clarity of vision and perspective to explore the evolution of the customer-centric mindset that has dominated management thinking for the past two decades.
As Eli says, "I hope it helps you develop your organization's relevance, competitiveness and profitability. I hope it helps you forge your career and helps you bring your colleagues with you."
Listen Now:
Get this podcast:
Attenzi – A Social Business Story by Philip Sheldrake.
Publisher: Philip Sheldrake
Digital formats (content equivalent to about 100 print pages)
Published: May 15, 2013
Price: Free under Creative Commons license.
Attenzi is available in HTML, PDF, ePub, Kindle, and iBooks formats at www.attenzi.com.
About the Author

Philip Sheldrake is managing partner at Euler Partners, a London-based consulting firm.
He is a widely regarded consultant, author and speaker. He is a Chartered Engineer, a main board director of Intellect, the UK trade association for the technology industry, a board director of 6UK, a government backed non-profit promoting adoption of the new Internet protocol, and a founding partner of Meanwhile. He built and sold an award-winning public relations consultancy.
Philip wrote The Business of Influence in 2011 and was interviewed on FIR at the book's launch.
Connect with Philip on Twitter: @sheldrake.

Share your comments or questions about this podcast, or suggestions for future reviews, in the online FIR communities on Facebook, Friendfeed and Google+. You can also email us at fircomments@gmail.com; call the Comment Line at +1 415 895 2971 (North America), +44 20 3239 9082 (Europe), or Skype: fircomments; comment at Twitter: @FIRpodcast. You can email your comments, questions and suggestions as MP3 file attachments, if you wish (max. 3 minutes / 5Mb attachment, please!). We'll be happy to see how we can include your audio contribution in a show.
To receive all For Immediate Release podcasts including the weekly Hobson and Holtz Report, subscribe to the full RSS feed.
This FIR Book Review podcast is brought to you with Lawrence Ragan Communications, serving communicators worldwide for 35 years. Information: www.ragan.com.
(Cross-posted from For Immediate Release, Shel's and my podcast blog.)
When businesses struggle with social media marketing, it is often as simple as how they view social media tools. Successful social marketing is often more about the mindset then the social media tools themselves…

…because the emphasis too often on the media and not the social and the social is an approach to business, an approach to leadership and management, an approach to marketing.
Social is not something that we can be bought through pay per click or marketing campaigns….social is a style, a culture, an ability to find, share and connect with people.
Yes, you can buy media space however you can possibly gain brand awareness, but you cannot buy brand engagement. You can buy likes, followers but you cannot buy brand engagement.
Social media tools are delivery mechanisms for your brand's personality not a replacement!
Therefore is social media seems to be a waste of resource, a waste of time….ask yourself – do we have a social culture mindset or just a set of social media tools being deployed?
Social networks will displace business processes, not socialize them – Stowe Boyd via GigaOM Research:

from the report's Executive Summary

"Socialized business process" — the idea of adding social tools to traditional business processes — is unlikely to work in the long term. The enterprise is now transitioning to social network–based communication as introduced by social tools, and there is a fundamental conflict in communication models with business-process-centric business. The attempt to make the socialized business process work may be part of the adoption problem reported in the social-business industry.

The shift to social network's pull communication, where individuals more or less subscribe to information sources, will run counter to business process push communication and eventually invalidate it. Push-and-pull communication styles won't jibe, and pull lines up with the transition to social network–based communication. Most notably, this will undermine business processes and the collective-collaborative organization that evolved in parallel with business processes. The shift won't take place in the way that email led to organizational flattening. Rather, it will invalidate the rules and roles of business processes and turn the process logic into just another kind of information passed along through the social network.

It may be obvious, but companies that are more oriented toward a connective-cooperative style of work will get more benefits from social networks than those that are less so. Stated more strongly, those wishing to get the boost that many believe is inherent in this lean, self-innovating, fast-and-loose model of work will have to actively move away from the cultural principles of slow-and-tight, twentieth-century business.

In order to better explore these rapidly changing dynamics, this report presents a psychodynamic cultural model for business called the 3C model. The name is based on three sorts of business culture:

Competitive: wheel-and-spoke organization, decision making by edict, feudal or clan culture
Collaborative: pyramid-and-processes organization, decision making by elite consensus, slow-and-tight culture
Cooperative: network-and-connections organization, laissez faire decision making, fast-and-loose culture

We also explore various archetypes of individuals' psychosocial matches with the various flavors of companies. The freelancer and follower archetypes, for example, do well in cooperative settings, but they are poorly matched with entrepreneurial organizations (which may explain Yahoo CEO Marissa Mayer's recent edict excluding remote work.)

High-performing companies of the near future will be operating based on looser ties among individuals in and across businesses. Many more of them will be supported by next-generation cooperative tools. Individuals in these companies will have more autonomy, and there will be more opportunity seeking when compared to the largely slow-and-tight, risk-averse companies that are dominant today. The value of consensus is falling in a rapidly changing, unstable world where there is a higher premium for business innovation and more uncertainty than ever before. And this leads to a devaluation of business processes, in particular those business processes intended to direct human agency and to act as a surrogate for management directing employees' every move.
You can sign up for a seven day free trial of the GigaOM Research service, and read the entire report.
Revolutions in how we do business are a chain of events that separately are not significant but when brought together are world changing.

If you take the Industrial revolution which brought mass production – it was a series of inventions from steam power, iron, chemicals which all made possible the development of the transport system which was central to  business success as it was the network of canals, railways that delivered the product to the market.
Steam power also enabled mass printing which had the effect of educating the workforce through the written word.
So as 'power' became available….the people became empowered.
When you are living through such a transition in business modelling you don't realise the impact on your ability to make a profit and in a sense that is what I think we are doing now in the Social Revolution. Yes we can see the power of the web, yes we can see people are empowered BUT if we assume that this is a journey towards a new social business model, how do we plan today for a social business of tomorrow?
You see for me – the Internet is like steam power, the web like the canals, social media the printed press but once we can see the the full impact on consumers and the effect of moving power to the consumer…then we will understand what the social business era, actually was!
This represents some of what I am studying in my PhD, because if we can connect the dots before our competitors then we can benefit first from the social business era. Some questions that I think leadership and business management should be asking now are
If social media is the first step – how can we make our whole business social?
If social media is educating our consumer's how can we help educate and help them use that new knowledge?
If we accept that business transformation is underway then let's start imagining a world in which social media is old hat….e.g canals were replaced with air freight – the same purpose but different method. Social or connection will remain the purpose but we need to develop new methods.
The social business era is progressing, if you try and stop progress then you will be left behind. If you want to be part of the PhD or believe you have a contact or business that should be highlighted as part of this transition let me know at anna@theengagingbrand.com
Over the weekend, I read the best essay about public relations agencies and their potential future that I've read in a very long time.
Penned by Paul Holmes – he of The Holmes Report and the SABRE Awards – "10 Ways To Design The PR Agency Of The Future" offers a compelling vision of how agencies should evolve and be relevant in a contemporary business environment.
If you study Holmes' suggestions, you'll notice that what they're really about is what PR firms need to do to become social businesses, and why they need to do it. (For deeper scope and broader scale on the future of business, I recommend #WTF by Brian Solis. I'm about half-way through the Kindle edition. A compelling read.)
Defining 'social business' is a tricky exercise at best, and there's yet to emerge a simple definition that would willingly be embraced by everyone. (Don't be confused by the Wikipedia definition – that's a different 'social business.') It's not about social media tools and channels; it's more about how you use them in the context of changing behaviours, our increasing propensity to openly and informally share information and ideas, and changing organization structures and cultures.
I've yet to see anything that bests Peter Kim's original Big Idea definition from early 2009:
In brief: Social business draws on trends in technology (e.g., powerful mobile devices, widespread availability of high-speed Internet access, low cost of data storage), work (e.g., always-on culture, globalization), and society (e.g., propensity to share). Companies should care about social business because they can improve business outcomes (i.e., increase revenue or decrease costs). The core principles touch on all areas of a business, whether for business-to-customer engagement, employee-to-employee collaboration, or supply chain optimization. Making social business work requires focus on a company's culture, connections, content exchanges, and measurement and analytics.
I like IBM's concise view on the foundation organizations need to build to help them become a social business:
Provide an infrastructure for engagement.
Integrate social practices into day-to-day work activities.
Understand where and how data generation could benefit the company.
Teach employees how to collaborate effectively with people outside the organization.
It seems to me that Paul Holmes' ten points directly address IBM's four in one way or another, even by reading Holmes' titles without the detailed commentary that goes with each:
Big data at the center
Insight to drive meaningful creativity
Understanding the human brain
Managing reputation is about more than just communicating reputation
Becoming real brand journalists
Being truly channel neutral
Eliminating internal barriers
Recruiting differently
Creating new career paths
Make it matter
If I had to pick one of Holmes' ten topics to get cracking with, it would be number 7, 'Eliminating internal barriers,' in particular noting this:
[…] Agencies need to ask themselves […] is the "corporate" audience really so distinct from the "consumer" audience? If so, is a CSR campaign corporate (because a major objective [is] enhanced reputation) or consumer (because done right, CSR can help drive sales)? Wouldn't your public affairs efforts be better served if they included an employee communications component, motivating ordinary employees to get involved?

And does having a "digital" practice make any more sense than having a "print" practice or a "radio" practice? Or does it perhaps [sic] another barrier, one that actually makes it more difficult to come up with channel-neutral solutions?
It seems so blindingly obvious to me that the current PR agency model must evolve into something fit for purpose in the 21st century. Much of what I see and experience suggests it has evolved little in the majority of PR firms, remaining firmly welded to 20th century practice and thinking (and a lot of the poor practices).
Can it really be that no one has noticed that pickaxe?
Paul Holmes' post and his ten points are a discussion topic in this week's episode 702 of The Hobson and Holtz Report podcast, published yesterday. Start listening to the discussion at about 27 minutes 50 seconds into the show.
Related posts:
There are still leaders who feel that social media is a fad, that social business cannot and will not take hold. There are brands that still use a content marketing strategy to sell, they feel that the web

is a 'cheap' sales channel not understanding that basic premise of the Internet was to bring people together…from a consumers point of view it is the convenience of connection, be it to products or people, not the fact it has reduced your overhead.
No one can doubt that the world wide web which developed from the Internet is a part of our culture today. The ubiquity of the web means that the fad claim just is no longer valid.
If you agree with that premise then the problem becomes does the old business rules just have a different sales channel or has social media changed the rules of business.
From my perspective the business rules have stayed the same
Create value – Show the value – Deliver the value – Reap the profit value
So no the business rules have NOT changed.
But the tactics behind show and deliver HAVE changed. Showing and delivering means not taking –  let's face it – the easy way out of
Telling and then adding a automated phone system to answer the issues.
Speaking in business jargon but in human, everyday terms; no matter how intellectual the argument.
Reaching up to your bosses rather than out to the customers. By engaging customers, the value will be created to please the bosses.
Hiding behind press releases rather handing criticism in a public way. Controlling the message means being part of the social conversation.
If you don't believe that the HOW has changed, just look at political events around the world – people don't believe you just because you are in power, they trust you because you action your values. If you don't then your power will disappear…the network needs networking!