Archive for the 'strategy' tag
The premise: many studies and researches found that successful people tend to have more habits (positive habits, mind you) when compared to average people. That's because habits add consistency and discipline to your professional and personal life, traits that are essential to reaching your goals.
Examples of positive habits one can have:
Exercising for 30 minutes every morning
Meditating before going to sleep
Remembering and using the first name of everyone, on every interaction
Learning a new foreign language every couple of years
Settings goals for the day every morning
Reading a technical book for 30 minutes every morning
Cool, but how do we go about developing those habits?
The best strategy I have seen so far is this one: at the beginning of every month you will sit down and decide on which habit you want to develop over the next 30 days. It can also be a bad habit that you want to get rid of (e.g., smoking or eating junk food). After that you commit yourself to stick to the habits for those 30 days. Once the month is over you may decide to halt it, but most people find that 30 days is enough to get the habit rooted inside you, so most of them will stay.
For some habits I find that 30 days is not enough, so in those cases I commit to sticking to the play for 60 days at least, which seems to do the trick.
Matt Cutts, head of web spam at Google, is a big fan of this strategy. In fact if you visit his blog you'll notice a category titled "30 days". There you'll find all his posts about the different habits he pursued in the past.
The month is almost over, so which habit will you develop over the next 30 days?
---
Original Post:
Do You Use The "30 Days to a Habit" Strategy?
Strategy in business is one of those phrases that can make a grown person cry….because it is used with such business jargon as paradigm shift, proposition, strategic imperatives…..all of which are totally unemotional and not at all engaging.
Leaders may sound clever using the business jargon but they don't sound passionate, they may sound worldly but they don't sound human! And leaders may have the job title of leader but have they engaged people to follow?
The question is this…would you try and sell your product or services to customers with this kind of slogan
"There is a strategic imperative for you to make a paradigm shift to our value proposition – buy now"
I suggest not.
So why do leadership and management try and sell the brand vision, the business vision in these terms? After all what is a business strategy for other than engaging people's hearts and minds?
Keep business strategy, marketing strategies…any strategy simple
What are you wanting to change in the world for the better?
Why are you so passionate about it?
How will you change the world?
And by when …
Here is a little Bobographic to keep reminding you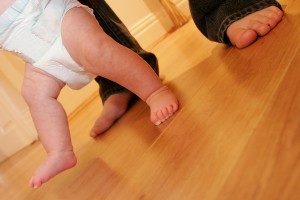 When you're creating any sort of communication aimed at a potential buyer, you want them to do what?
When I ask this question, I typically hear a range of answers like:
• Know more about our business
• Understand how we're better than our competitors
• Wonder if we're the right fit for them
And of course….
• Buy what we sell!
All of that is probably true. But it's too complicated. No matter how or where we're communicating with a prospect, what we should want them to do is… take the next step.
Your job is simply moving your prospect to the next step.
That next step might be downloading an ebook, filling out the bounce back postcard to get a no obligation quote, emailing us with questions, signing up for a workshop, clicking on the buy now button or picking up the phone to schedule a meeting.
The answer is…we want them to take the next step in the sales cycle, whatever that may be. You want the reader (or listener or viewer) to do something to escalate the conversation. At that moment – you are talking to them. You want them to talk back somehow. And your copy should tell them exactly what to do.
I can hear you now… "I don't have to tell them to call me. They're not stupid. They know it's an ad." Very true. They're not stupid. But they are incredibly busy, fragmented and they're probably doing three other things while they flip through that magazine that houses your ad or click to the page on your website that has your workshops on it.
A call to action isn't a remedy for stupid; it's a remedy for their attention deficit. Its purpose is to get them to step out of a passive role and take a more active one. Because you have about 2 seconds before they change the channel, turn the page or click on the clapping monkey animated GIF that will take them away from your offer.
How do you write copy that captures their attention for that millisecond so they'll take action?
Be very specific and direct: You need to spell it out for them and it needs to be simple. Click here to sign up or call XXX-XXXX to schedule an appointment. This isn't the place to be cute or vague. You don't even have to be polite and add a "please: or "thank you." Just give them simple instructions that leave no room for doubt.
Focus on the benefit: Remember, you are trying to stop a moving train. They're halfway to that next click or page turn. To get them to stop that momentum and move in a different direction will take something pretty compelling. Remember that we're all motivated by the "what's in it for me" equation so don't be shy about telling them how they will benefit.
Keep it simple: If what you ask them to do is complicated, requires multiple steps, has complex directions or asks for too much information, — they will just move on. How many times have you started to fill out a form and then looked at how many questions it asked and said, "forget it" as you stopped?
Make it immediate: Sometimes this isn't possible but whenever you can, make the call to action something they can complete right now in the moment. Remember, they might discover your ad or marketing piece at 2 am or while they're standing in line at an airport.
For most organizations, a sale is a multi-step, complicated process. So keep that in mind as you create your calls to action. You'll have a lot more success getting people to take one baby step at a time. Just give them the steps.
Business value is something that I am researching as part of my social business PhD. The valuation of a business has always been linked to adding value  - value through service or value through the combination of raw materials.

Business strategy for creating value used to be "easy" but with the advent of the Internet the consumers have so much more power – they can make, they can access services through social networking, they can even challenge what value you are creating…..
My initial PhD research is showing though that although value creation may be changing…as always the foundation of growing a business has not changed. (Note I will be sharing the PhD research in future newletters – so if you want to know more subscribe to The Engaging Times!)
Value creation is based on living your values 
When customers buy into those values, recognising the value of their purchasing, their recommendations, their brand loyalty etc
I often work with entrepreneurs on how to grow their business – in this social age, it is now imperative that you understand this value creation equation
How to grow a business = Living your values in your product/services + Recognising the value of your customers + Undertanding the Values
We can so easily slip into producing, servicing without reflecting on the above….and in a social age, you may ignore…but the customer won't! 
Another sketch from the whiteboard
A couple of years ago, a suggestion that I develop a maturity model for social media analysis led to a different kind of model. My approach to this space has always been to explore its edges, looking for what might be next. One effect I've noticed is that change circulates through the ecosystem of companies, their customers, and their suppliers. Where change keeps coming, everyone's learning together.
A linear maturity model defines development stages toward a known destination, but in a system where everyone is learning, the destination is still unknown. We react to others, and others react to us. Change reverberates through the system, and we don't yet know what maturity looks like.
What this means in social media analysis
If social media analysis were good for one thing, we could have a simple maturity model. The products would progress toward a theoretical ideal, and clients would mature toward efficient, effective business practices. But the technology stack is built on areas of active research, new platforms are driving new consumer behaviors, more business functions are showing interest in how to use social media to do their jobs, and vendors are trying new ways to distinguish themselves.
Virtually every piece of the puzzle is moving.
Let's go to the whiteboard to see if we can visualize it.
There's a lot going on here, and this is the oversimplified version. Here's the basic dynamic: on the right, new capabilities become practices; on the left, new expectations become requirements. In the overall system, we expect more from our suppliers as we adapt to new capabilities and adopt new practices.
Think about what is being learned in each loop.
Tool vendors combine their own R&D with new capabilities from research labs and partner companies to expand their products' capabilities, enabling new tactics for their clients, who provide feedback and new requirements based on real-world use of the products.

Consumer-facing companies experiment with new tools and capabilities, and they learn from both operational results and customer reactions.

Customers react to companies' online tactics, adjusting their behavior to maximize their own benefit. When they find a practice they like, they may expect other companies to mimic it.
The catch is that this is all happening at the same time, and the companies, at least, are trying to predict how their customers will want next.
Who's learning fastest?
We know of some unintended lessons, such as teaching customers to complain publicly for a quicker response, and redefining like. But where do we look if we want to get ahead of the market? Try these key areas:
Outside innovation – New research and inventions may provide answers to questions you've wanted to answer.

Product capabilities – What's possible keeps changing, but don't look only at existing suppliers. Look at adjacent markets for capabilities worth adapting to new applications.

Client requirements – It's always worthwhile to pay attention to what companies say they'll pay for.

Client capabilities – Watch what companies are actually using, too.

Competitor actions – Watch early adopters for practices that may become standard. Is there a better way to do it?

Customer expectations – How are people reacting to new business practices? What issues are being raised? What new expectations?
Like any model, this one raises more questions than it answers. That's the point. What will it help you discover?
More ideas from the whiteboard:
I'm sharing some of the frameworks that have been hiding on my whiteboard. Want to apply them in your business? Email me.
There's plenty of good advice out there on how to run a strategic planning session or offsite. As it pertains to credit unions, check out Mark Arnold's blog or CU Insight.
Mark encourages CUs to address questions about the organization's value proposition and how it engages members. The CU Insight article, penned by CUES' Charles Fagan, suggests that CUs identify the right planning horizon, get artistic, and leave time to incubate ideas.
No argument from me. All great ideas and suggestions for what to focus on in a strategic planning effort. Charles even goes on to recommend that CUs "include key players from all areas and levels in the organization":
"CUES is small enough that we were able to include every staff member in the brainstorming sessions. This was a great professional development opportunity for our young professionals and others on the team who don't think organization-wide on a day-to-day basis. Being inclusive also helps get staff buy-in for the ideas generated and the resulting strategic plan."
Being inclusive is important. I had a boss at a consulting firm who told me that "only senior execs formulate strategy" and as a result we had to ignore the front-line managers who really understood what the day-to-day issues were.
But regardless of how you structure your organization's strategic planning process, regardless of which questions you address, and regardless of whether or not you get artistic and leave time for incubating, it's likely that you'll still have a strategic planning problem.
—————
The problem is a people problem. At the risk of oversimplification, you will likely have two distinct personalities participating in your strategic planning process: Dreamers and Solvers.
An employee's job description might be a predictor of which strategic planning process role they play, but it isn't 100% accurate. Their job description notwithstanding:
1. Dreamers look for greenfield/blue ocean opportunities. The dreamers are those who want to address (and even create) the potential market opportunities. Their contributions to the strategic planning process tend to focus on suggesting new products and services the firm could/should offer, the new consumer segments to go after (Gen Y is our future!), and the new emerging technologies that promise to make the organization orders of magnitude more effective and efficient (a billion people are on Facebook!).
2. Solvers want to fix today's problems. Solvers are problem solvers. They see and feel the pain of the weaknesses of the existing system and want the organization to fix them and fix them now. They use the strategic planning process to advocate for these fixes, if for no other reason that there's usually no other process that organization has in place for allocating resources to fix these problems.
The problem that results from this dichotomy in roles stems from two issues:
Dreamers are not always particularly good at figuring out the "how do we get there from here" question.

Solvers' time horizon is usually too narrow and their content focus is a whole lot more tactical than strategic.
If you work at a credit union, you might have a third type of contributor (and another problem): The board of directors. In my experience, many of them — while highly committed to the success of the CU and often quite successful business people in their own right — aren't particularly good contributors to the strategic planning process.
—————
If you're the CEO (or member of the senior exec team) at a credit union, planning your CU's strategic planning process/offsite, you've got some challenges to deal with:
How do you balance the focus of the effort between the truly strategic and the tactical?

How do you incorporate input from both the Dreamers and Solvers?

How do you evaluate the skills of a facilitator who may be better at Solving than Dreaming (or vice versa)?

How do you overcome (or at least recognize) your own inherent biases in this process?
No easy answers here. The first step is to recognize that there is no "formula" or "recipe" for successful strategic planning. 
Filed under: Credit Unions, Marketing, Strategy Tagged: CUES, Mark Arnold
In a recent industry analyst meeting, the CEO of a large financial technology firm laid out his firm's vision for expanding into new markets within the financial services space. I asked him "Who do you see as your primary competitors standing in the way of your quest for world dominance?"
His answer (as best as I can recall) was "well, we have a number of competitors in the variety of spaces in which we play." He did name four firms — one of which I wasn't familiar, another which I would never have thought he'd mention (since this particular organization doesn't sell software to financial institutions).
My take: His answer was unsatisfactory. You've got to know who you're going to knock off the pedestal on your way to world dominance.  And this is of particular importance to credit unions.
—————
Let's say you're the 250th ranked tennis professional in the world. There are 249 other pros ahead of you on the list, but only one matters — that Djokovic guy. If you beat Djokovic you might not jump from #250 to #1 (or #2), but if you beat him, you're in the big leagues. On the map. On the radar.
It might take you a while to get a chance to beat Djokovic, but the other piddly-sh*t pros don't matter. They're just the peons you have to slay and step over on your way to the top.
—————
In the world of financial services, the focus of your FI's competitive strategy doesn't necessarily have to be the largest provider in the market. It should be the one who has the best reputation, or best products, or best service, or best whatever it is that you compete on.
—————
Why is this so important? In a word, alignment.
When you know who you're (really) competing against — or better yet, when you know who you want to knock off the pedestal — your organization has a much easier time deciding what to invest in, and what not to invest in.
What the other piddly-sh*ts do doesn't matter. They're pretenders to the throne. Only your firm is the true contender to the throne.
—————
Why tell you all this?
I saw a tweet today, from someone attending a credit union conference, quoting Chip Filson telling CUs "Don't try to be 'nice' banks."
Excellent advice, I couldn't agree more.
But it reflects a problem that credit unions have: They set their sights on knocking banks off the pedestal.
No offense to bankers, but people, allow me to let you in on a little secret: If banks are on a pedestal, the pedestal isn't very high off the ground.
Every survey I see (not to mention do) shows that credit unions are seen as having better customer service than banks, and higher advocacy (that is, seen as doing what's right for the customer) scores than banks.
And I doubt that every one of those surveys is spot on. But it begs the question: If it is true, then why aren't credit unions tearing up the charts in membership growth?
The answer has to be: Because they're not clear about who they're really competing with. They don't know who they have to knock off the pedestal on their way to world dominance. 
—————
When I observe and hear about credit unions' strategic (or so-called strategic) planning efforts, I'm underwhelmed. These efforts quickly devolve into tactical planning efforts that determine which projects will get funded in the coming year. 
Strategy isn't just about how you compete, it's understanding who you compete with.  Sorry to be critical, but there are a lot of credit unions out there doing a lousy job of strategy creation/formulation. 
Filed under: Credit Unions, Marketing, Strategy
Last month I interviewed Roger Martin on The Engaging Brand podcast on the strategic approach that helped A.G.Lafley to transform Proctor & Gamble.
We talked about strategy and how leadership and management can create a successful business plan that shows how they will make money through their business ideas using a robust business strategy that works. 
After the great feedback on the Reinventing You Bob-o-graphic I thought listeners may like a similar graphic.
Winning Aspiration = What is our purpose, our guiding aspiration?
Where to play = Where will we compete in terms of geography, product categories, consumer segments, stages of production.
How to win = Namely what is our competitive advantage and what value do we provide?
What core capabilities do we need to win = Have we got them, how do we strengthen them and how will we configure them?
What management systems do we need to support our aspiration? = This includes systems, organisational structures and performance measurement.
Send to Kindle
The most powerful revelation from the Digital Marketing Summit for me came from master data storyteller Tom Webster, who effectively wrecked a lot of people's perceptions of A/B testing in his talk (those who were paying attention, anyway). One of the most powerful ideas he delivered was that A/B testing in its current form is broken. It automatically discards the opinion, preferences, and inclinations of a significant minority of the audience in order to maximize the results in the biggest segment of the audience.
When you think about that, he's right that we are crazy for doing that. If 60% of our test audience likes an email and 40% doesn't, then when we ship the email to our entire audience, assuming the test audience is a representative sample, we've basically told 40% of our audience that their preferences are unimportant to us. Tom Webster's prescription for fixing this is elegant and yet simple (but not easy): segment out the 40% and figure out why they liked "the losing choice" better. There may be a market opportunity there to make those people much happier with you (and earn more revenue from them) rather than ignore their wishes and marginalize them.
How we'll do that will be tricky. Certainly, in things as simple as subject lines, if you're testing to two formats, then segmenting folks into different formats is simple enough. You could easily imagine a "snarky subject line" segment and a "cup of soup marketing" segment. What will be tougher for many of us as marketers is to adapt our content (or automate the adaptations) to conform to those segment's desires for personalization. Imagine going to a website, having a colleague visit the same website, and having radically different experiences from the start because you fall into two different segments that have different needs.
We see this happening already to some extent; those folks who have LinkedIn Pages for their companies can customize the order in which products are shown based on profile information. C-Level executives or people from large companies can be shown different offerings. On LinkedIn, even status updates can be targeted at specific audience subsets, rather than broadcast generally:
But these kinds of customizations are canned generalizations and are just the very tip of the iceberg compared to what Tom Webster was explaining.
This is the future of marketing – being able to give people what they most want that makes them happy, regardless of whether they are in the majority or not. Now we just have to build the tools, technologies, and infrastructure to make that happen. Special thanks to Tom for sharing his wisdom and insights.
---
If you enjoyed this, please share it with your network!
---
Want to read more like this from Christopher Penn? Subscribe now:
---
Marketing White Belt



Basics for Digital Marketers
is now on Amazon & B&N

I recommend & use:

SEOMoz SEO software.
I recommend:


for small business incorporation.
---
The post Why we're doing A/B testing wrong according to Tom Webster appeared first on Christopher S. Penn : Awaken Your Superhero.
Send to Kindle
In the previous post, we talked about how to get at the secrets being shown in conferences in order to reap value for your company's products or services. Let's look at the flip side of that coin: suppose you're presenting and you want to share your successes, but not give away the secret sauce of your company's competitive advantage(s).
How would you go about doing this, especially in a way that is still ethical, honorable, and helpful?
Be Helpful at a More Basic Level
One of the best ways to do this is to tailor your talk below the presumed skill level of your competitors, effectively telling them nothing new. For example, one of the tips I shared in my SocialFresh talk was about finding media opportunities using existing inbound links. This is a common and commonsense practice that many marketers already use (or should, anyway), so for those who have heard it, it reaffirms what they're already doing but doesn't give away any more advanced tools and technologies.
Pick Orderless Recipes
In cooking, some recipes can have things go in any order. For example, if you're making an overnight or slow cooker stew, for the most part, you can throw in items in relatively any order or no order at all, because it's all going to cook up together. For other recipes, such as the creaming method in baking, if you don't perforate the butter with sugar in a mixer, you will have a baked good that will be as dense as a brick and unpalatable, if not inedible.
If you want to share stuff that doesn't give away competitive advantage, exclude sharing the recipes that have specific orders. Keep those to yourself, to your business, and share the general order recipes that will give success to audience members. Then get super proficient at the special order recipes so that they become key competitive advantages rather than the orderless recipes.
Share Recipes But Not Execution
A third and final way to share without giving away the farm is to share recipes without sharing your execution of them. For example, you could recommend a recipe that involved the curation of email lists. Most people, when faced with a data curation task, simply hand it off to the lowest paid employee to do and it gets done one way or another. However, you might have a special method in your toolkit or a special piece of code that gets the job done exponentially faster. Your competitive advantage isn't the recipe itself but the efficiency of your execution of the recipe, and thus you can freely share the recipe with others.
Conclusion
These suggestions don't stop someone who's got a master chef on staff from decoding all of your secrets, but it's been my experience that there aren't that many master chefs out there that are attending all of these conferences. They stopped attending long ago when they were no longer able to extract as much easy value out of them, and thus they stopped when the easy wins stopped.
---
If you enjoyed this, please share it with your network!
---
Want to read more like this from Christopher Penn? Subscribe now:
---
Marketing White Belt



Basics for Digital Marketers
is now on Amazon & B&N

I recommend & use:

SEOMoz SEO software.
I recommend:


for small business incorporation.
---
The post The Secret to Not Giving Away Your Secrets While Speaking appeared first on Christopher S. Penn : Awaken Your Superhero.