Archive for the 'traffic results' tag
Hey y'all, I wanted to update you on my progress on using Twitter as a tool to grow my blog's traffic.  As I posted last week, I was able to increase my blog's traffic by 41% in one week by using this method:
1 – Every morning starting at 8am, I would RT a link to a blog post/article every 10 mins, from 8am-10am.
2 – At 8am I would link to the blog post I wrote the previous day.  At 9am I would link to the blog post I wrote THAT day.  I would link to that day's blog post again at noon and 3pm.
3 – During the day I would link to other interesting blog posts and articles I found or saw other people sharing.
That's it.  But the main thing is that I started sharing links from 8am-10am, when most people are settling into their desks and getting the work day started.  Next week I might change the timing to coincide with lunch, maybe do it from 11am-1pm.
Anyway, here's the traffic results I saw.  As I posted last week, traffic increased 41% over the previous week.  Last week, traffic increased another 14% over the previous week's level:

As you can see, big jump in the 2nd week, and a smaller, but still respectable increase last week.  I was honestly hoping to see last week's traffic increase by 10% over the previous week, so seeing a 14% gain was a pleasant surprise.
Now, by itself, saying traffic increased by 14% last week really isn't enough to warrant a new blog post.  But something very interesting happened Monday night and I wanted to share that with you.  As I was watching the Daytona 500, at around 9pm or so, there was a bizarre series of events.  First, there was a wreck, and that brought out a caution, and a few trucks came onto the track to clean up the debris.  But as one of the cars (not involved in the wreck) was driving around the track, suddenly something 'broke' in its steering, and the car slid out of control, and directly into one of the trucks that was on the track cleaning up the mess!  And this particular truck just so happened to be carrying 200 gallons of jet fuel, so when the car slid into it, it immediately resulted in a huge burst of flames, and it was a miracle it didn't explode.
But this meant that NASCAR now had an even bigger mess to clean up, and it took about an hour to get the track cleaned up and ready to finish the race.  Two interesting things happened during that hour.  The first is that during the delay, driver Brad Keselowski, who was smart enough to have his phone with him inside his car, took his car out and began live-tweeting the cleanup and what was happening.  Fox, which was carrying the Daytona 500, made several references on air to Brad tweeting, and Brad picked up over 50,000 Twitter followers during the delay.  Great example of Brad capitalizing on the delay.
But when the fire for the truck with the jet fuel was finally put out, it had created a huge sticky mess that needed to be cleaned up.  So how did NASCAR get rid of all that gunk?  By bringing box after box of Tide detergent onto the track!  Tide got an incredibly fortuitous 'product placement' during one of the biggest sporting events of the year, and they were a very popular topic among Twitter users at this time.
The problem was, Tide wasn't active on Twitter at this time, and as I blogged about, their last tweet was several hours prior to the wreck.  It appeared that Tide had stopped tweeting around 5pm, and wasn't monitoring Twitter that night, and didn't notice all the free publicity they were getting until the following morning when they finally checked Twitter.
A definite missed opportunity for the brand, and I quickly wrote  a blog post Monday night (while the race was still going) about how Keselowski took advantage of the delay to group his Twitter following, but Tide totally dropped the ball by (apparently) not even monitoring Twitter during the race.  Now I was hoping that this post would be one of the first ones on the events, so I did make sure to optimize it for certain keywords like Twitter, Tide, Daytona 500 and Brad Keselowski, because I was hoping it would pick up some search traffic.  And it definitely did, here's what my traffic looked like here on Monday (Note the spike at the end of the day when the post went live):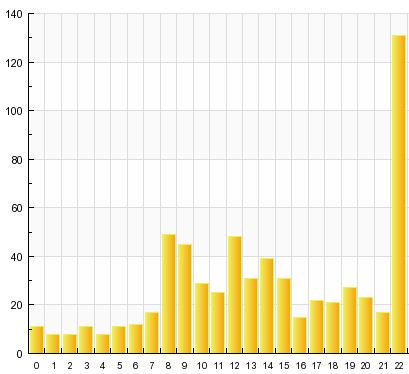 That spike was almost completely due to search traffic, as everyone was watching Fox mention how many followers Keselowski had picked up, and they were Googling to see what had happened.  Luckily, my post was one of the first ones on the story, in fact I scooped Mashable by 2 hours

And the next morning when ESPN's Sports Business Reporter Kristi Dosh was doing research for a post she was doing on the race's events, my post was the #2 result she found for Tide and Daytona 500.  So that led to her contacting and interviewing me for her piece, which ran on ESPN's site later on Tuesday.  So being proactive and blogging the race's turn of events not only led to a nice bump in traffic for me on Monday night and Tuesday morning, it also led to me getting interviewed by ESPN.  Not too shabby!
The goal for this week is to again increase traffic by 10% over last week's levels.  To do that, I'll need to average almost 600 visitors a day, which would be almost double the traffic I saw here two weeks ago.  But it does prove that by blogging more, and leveraging a site where you are active like Twitter to help promote your blog, that you can quickly grow your blog's traffic.
If any of you have started using this method for sharing and promoting content on Twitter to drive traffic back to your blog, what have your results been?
As we heard on Saturday, IBM reported a 24 percent increase in online sales for Black Friday this year. ComScore is announcing even stronger results for e-commerce, with Black Friday seeing $816 million in online sales, making it the heaviest online spending day to date in 2011 and representing a 26 percent increase versus Black Friday 2010 ($648 million spent).
That's an impressive jump considering the 2009 to 2010 increase in Black Friday spending was only 9 percent. Thanksgiving Day saw an 18 percent increase in online spending to $479 million. U.S. consumers have spent $12.7 billion already in the first 25 days of the November to December 2011 holiday season, up 15 percent from the corresponding days last year.
comScore says fifty million Americans visited online retail sites on Black Friday, which is an increase of 35 percent versus year ago. Each of the top five retail sites achieved double-digit gains in visitors vs. last year, led by Amazon. Walmart ranked second, followed by Best Buy, Target and Apple.
Experian Hitwise also reported similar traffic results, revealing that US total visits to the top 500 retail sites increased 2% on Black Friday 2011 compared to 2010. Amazon was the top retail site receiving traffic on Black Friday for the 7th year in a row, followed by Wal-mart and Best Buy, respectively.
Consumers were also increasingly looking online for information about offline and web-based Black Friday deals. For example, Black Friday deals site bfads.net saw 3.9 million unique visitors, up 51 percent versus last year. TheBlackFriday.com followed with 3.2 million visitors, up 137 percent from last year.
Of course, Cyber Monday is tomorrow and it could be the peak day for the entire holiday shopping season. Last year, Cyber Monday was the heaviest day of online spending ever, with sales exceeding $1 billion. Considering the peaks we are already seeing with online spending this season, tomorrow could bring record sales for e-retailers.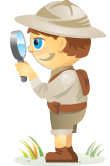 Welcome to our weekly edition of what's hot in social media news. To help you stay up-to-date with social media, here are some of the news items that caught our attention.
What's New This Week?
Tumblr Improves Blog Optimization Features: After Blogger upgraded their blogging platform thanks to new technology, it's Tumblr's turn to improve their blogging platform. Tumblr now makes it easy to customize your Tumblr blog and gives you "themes organized by category, realtime previews, and an advanced code editor."
Say Hi to Foursquare Radar: As technology improves, Foursquare is able to offer you another interesting feature. "Now, if you follow a list, like the 101 Best Dishes of 2011, Foursquare will let you know when you're next to one."
HootSuite Gets More Geolocation Capabilities: The popular social media management dashboard HootSuite acquires Geotoko, a location-based marketing tool. This geo-analytic software "helps businesses market to and understand their audience and customers."
Facebook for iPad Is Available: Your fans can now visit your Facebook page through this new app.
Chikita Stats Show Significant Drop in Google+ Traffic: Note the 60% drop in traffic Chikita shows after the launch period of Google+.
Kickstarters Reaches Milestone of One Million Backers:  As the online crowdfunding service Kickstarter grows, so does the number of "plays, comics, albums, books, video games, urban farms, documentaries, exhibits, performances, and thousands more creative works [that] find funding to exist."
Get More Out of YouTube Through Your Google Account: Gmail users can now log into YouTube with their Google account.
Here's a cool social media infographic worth noting.
Changes in Facebook Insights: Neo's infographic provides an overview of the new Page Insights which helps page admins understand how their content resonates with users.
What social media news caught your interest this week? Please share your comments below.