Archive for the 'vice' tag
Tumblr is doing things differently. While Facebook and Twitter constantly load up on new features—many of which premiere to groans from avid users—Tumblr is scaling down and making things simpler in order to foster a positive artistic community. Tumblr also stands out by refusing to employ traditional digital-advertising methods. With more than 64 million blogs and 15 billion monthly page views, Tumblr could easily make millions through display, banner or video ads. But founder David Karp is sticking to his guns and rejecting anything he deems counter-creative. Instead he is focusing on a more holistic, integrated form of advertising wherein the brands involved must create great content on Tumblr. But given that the platform hosts edgy content (most recently, the disturbing "Holmies" sect) and is still largely pigeonholed as a place for fanatics and fanatical sharers, is this just wishful thinking? 
The Tumblr user demographic includes species such as The Fanboy, The Photographer and The Culture Blogger. It even includes some big brands, like Huggies and IBM, which are fostering new communities by publishing and curating content well—content that they have sufficient authority to publish in the first place. But then there are users whom no brand would ever wish to attract or choose to endorse, such as the Holmies, an alarming new group of Tumblr users who express love and support for Aurora, Colorado, murder suspect James Holmes on the platform through photos, GIFs and messages. It is easy to dismiss these people as some of the crazies ever-present on the outskirts of society, but their highly publicized story is now linked inextricably to the story of Tumblr. Their presence casts a shadow on the platform.
Attracting Real Advertising Revenue
A few months ago, Karp and company introduced Storyboard, an editors' daily selection of the best blogs and stories on Tumblr that has included such brand sponsors as New York Magazine. It's not a new feature so much as it is a popular new Tumblr blog that happens to have been created and to be curated by the platform bosses—a reflection of Karp's integrated vision for advertising. So far they've created video, photo and text content that's on a par with that of the best print publications. We are all for storytelling, and this effort seems to be a solid step for brands that have the right interests at heart, that encourage sharing and positivity; to prevent negative sentiment and spam, which would distract from the content, Tumblr's pages (Storyboard included) do not even offer comment sections. The Storyboard homepage serves to ground wayward users, and it succeeds in catching some of the essence of the platform's activity. So is Storyboard the best place for Tumblr advertisements??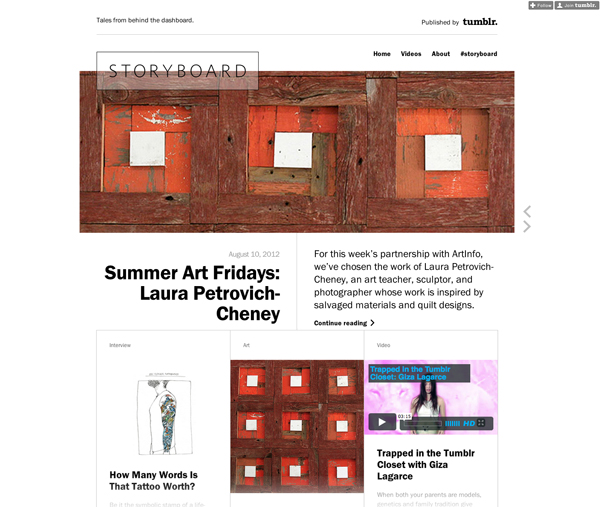 The answer, for now, is yes. Karp once denounced advertising as sickening, but he is now more open to another form of moneymaking —a type of advertising that is "intended to make you feel something for the brand." To foster creativity among the community, Karp's platform will give brands "a spot on the Tumblr dashboard generally used to highlight the company's picks for the coolest stuff happening in its network will include occasional content from paid sponsors," writes Rob Walker in a spotlight in The New York Times Magazine. Thereby, Tumblr allows brands to be featured on the platform but still forces them to compete with average users for eyeballs. While Tumblr editors are putting in the time and paying the attention necessary to make Storyboard compelling, brands will have to create their own amazing content to grab the user's attention. Inane couponing or cut-and-paste advertising will not thrive on this platform. To succeed in the Tumblr arena, brands must create artistic, cool, brand-authentic content. Consider IBM's tumbling on science and technology and Huggies' coverage of mom-related matters.
Karp has come up with a great plan for featuring brands while still maintaining the creative nature of the platform. And because its ad plan sticks to the platform's roots, Tumblr's diehard user base will play along. The question is, will brands bite? Will the Holmies and other weirdos scare them off, or will the possibility of a new audience entice them?
Is Multichannel the Answer?
Let's take the example of another fringe brand, one that managed to thrive through advertising and expansion. Vice Media started as a little indie magazine in Montreal and has blossomed into an international company with wide appeal and financial success. Vice's success stems from a multichannel approach that includes websites, live events, a magazine and three "verticals" for art, music and technology, notably the Creators Project, a close partnering with Intel. By segmenting itself and dealing separately with tamer new projects, the company is able to offer brands the benefits of being associated with Vice—its reputation as the edgy, authentic voice of cutting-edge youth culture is undeniable—without all the potential for blowback or risk that comes with certain channels, like the notorious Vice Magazine.
Will Tumblr embrace this model and segment itself into subcommunities under one umbrella in which brands play a key role in the creation process? Probably not, from what we know about David Karp's staunchly minimalist approach. But perhaps the appeal of the Storyboard model—sponsorship of authentic editorial content—will be enough for brands who are willing to ignore the risks and focus on the large, carefully cultivated, unique audience at stake.
What do you think? Will brands embrace Tumblr and Karp's plan? Or is the platform, by its very nature, a dead end for brand marketers?
Click here to receive the Morning Social Media Newsfeed via email.
How Paul Ryan's VP News Spread Like Wildfire on Twitter [INFOGRAPHIC] (Mashable)
It didn't take long for the news of Mitt Romney's vice presidential pick to spread on Twitter, especially because that's where the buzz originally started. Online chatter started to heat up at 11:06 p.m. ET on Friday when Romney's communication director Gail Gitcho sent a tweet that Romney would announce his VP pick the next day. Adweek While many in the media delved into Wikipedia for clues as to Romney's running mate, a cursory Twitter search shows that newly announced vice presidential candidate Paul Ryan's Twitter handle (@PaulRyanVP) was created only a few days ago — Aug. 2, to be exact. Interestingly enough, using the same "FirstLastVP" nomenclature, accounts for "TimPawlentyVP" and "MarcoRubioVP" were also made on the same day (Aug. 2). USA Today Whatever else Ryan may do for the GOP ticket, he had an immediate impact on Twitter, generating a more positive tweet stream about Mitt Romney than President Barack Obama for the first time since July, according to the Twitter Political Index. Saturday, Romney's Twitter Political Index score jumped 25 points, to 39. Obama's score rose a bit, to 32. Politico During his 16-minute rollout speech in Norfolk, Va., on Saturday, Ryan's Facebook page — which already boasted more than 100,000 fans, added 6,000 more. By contrast, Senate Majority Leader Harry Reid has just 31,000 fans. ABC News At 7:08 a.m. ET Saturday, the Mitt Romney "VP app" officially alerted the country of Romney's pick for vice president, Ryan. However, the highly anticipated announcement really began through a different new media venture on Friday night — Twitter. continued…
New Career Opportunities Daily: The best jobs in media.
Google's waters are about to become a bit more unfriendly to pirates.
The search giant announced today that it's tweaking its algorithm to reflect a new variable: copyright takedown notices. Now, if Google notices that a website has been a big copyright offender, the site could get bumped down in Google search results.
Google gets a lot of requests from Hollywood and the record industry to remove infringing content from its search listings. According to Google vice president Amit Singhal, the company received 4.3 million notices in the last month alone — so copyright holders are clearly stepping up their game.
Google, however, would rather do things its own way, which is why the company is making this shift in its most important product.
But while the move is sure to have negative effects on piracy, Google's focus isn't on pirates at all. For Google, the more important result is that users get the information they want quicker and with less fuss. Clamping down on piracy, the company says, is just a side effect of that.
The move will also make it harder for copyright holders to argue that Google isn't doing enough to target the bad guys, which certainly helps things as well. In a statement to AllThingsD, RIAA CEO Cary Sherman praised the decision, calling it "an important step in the right direction."
Filed under: search
Howdy all. We're a month away from the fourth annual TechCrunch Disrupt SF Hackathon.
To meet the demand, we're releasing more tickets to the public. If you haven't already gotten your ticket, go get one now. This will be sold out.
http://www.eventbrite.com/event/3689591668
It will be a great weekend of hacking and learning, culminating in minute-long presentations with hundreds of the Bay Area's best on Sunday afternoon. To add to the pressure cooker, we've handpicked a crew of the industry's best to lend their wisdom and good looks to the event. You're bound to recognize some of these heavy hitters.
Kent Brewster
Web Guy
http://kentbrewster.com
Kent Brewster won the Ship It Now award at three different Yahoo! employee hack days. (Sadly, none of it ever shipped.) He built the iPhone app for Netflix using nothing but stone knives, bear skins, and open APIs, and is currently the guy whose fault it is if the Pin It button is broken on Pinterest.
You can follow Kent on Twitter at: http://www.twitter.com/kentbrew
---
Josh Elman
Principal, Greylock
http://bit.ly/joshelman
Currently a VC at Greylock, Josh has spent 15 years building products in Engineering, Product Management, and Platform roles. He led the team for RealPlayer and RealJukebox at RealNetworks, early growth at LinkedIn and launched LinkedIn Jobs, and led product at Zazzle. More recently, Josh led the launch of Facebook Connect at Facebook and helped user growth at Twitter grow by over 10x. Josh has a BS in Symbolic Systems from Stanford.
You can follow Josh on Twitter at: http://www.twitter.com/joshelman
---
Bradley Horowitz
VP Product, Google+
http://www.elatable.com
Bradley Horowitz is vice president of product for Google's social products, including Google+. He has also led product for Google's consumer application division which includes Gmail, Gtalk, Google Docs, Google Voice, and Calendar. Before joining Google in February 2008, Horowitz was Yahoo's vice president of Advanced Development where he drove the acquisitions of Flickr and MyBlogLog, launched the Brickhouse incubator and developed new products like Yahoo! Pipes. Previously, he was co-founder and CTO of Virage, where he oversaw the technical direction of the company from its founding through its IPO and eventual acquisition by Autonomy.
Bradley has a bachelor's degree in computer science from the University of Michigan, and a master's degree in media science from the MIT Media Lab.
You can follow Bradley on Google+ at: https://plus.google.com/113116318008017777871
---
Peter Pham
Co-Founder/Partner at Science
http://www.science-inc.com
Co-Founder and partner at Science in Los Angeles. Built a few startups in the past like Photobucket, BillShrink and Color. Now at Science is behind companies like Dollar Shave Club, Wittlebee, DogVacay, Eventup, and Uncovet.
You can follow Peter on Twitter at: http://www.twitter.com/peterpham
---
Vivek Ravisankar
Co-founder
http://rvivek.com
Vivek has a Bachelors degree in CS and graduated in India in 2008. Following that, he worked at Amazon for a year in the Kindle team. He started Interviewstreet in 2009, had three failed ideas, got rejected by YC twice and finally built a tool that helps companies screen programmers and was a part of YC last summer.
Currently, the team is building HackerRank – a fun social network for hackers to solve and learn interesting programming concepts.
You can follow Vivek on Twitter at: http://www.twitter.com/rvivek
---
David A. Shamma
Research Scientist, Yahoo!
http://shamurai.com
David Ayman Shamma is research scientist at Yahoo! Labs where he runs the Human-Computer Interaction Research group. He investigates how people interact, engage, and share media experiences both online and in-the-world. He is also the co-editor for Arts and Digital Culture for the Association of Computing Machinery's Special Interest Group on MultiMedia. When he's not wearing a lab coat, Ayman has been known to choreograph dance & technology performances, design electronic fashion, and make mallets for hitting touchscreen devices.
You can follow David on Twitter at: http://www.twitter.com/ayman
Zynga just announced that chief operating officer John Schappert is leaving the social gaming giant and its board of directors.
"We can confirm that John Schappert has left Zynga and its Board of Directors effective immediately," said CEO Mark Pincus in a statement. "John has made significant contributions to the games industry  throughout his career and we appreciate all that he has done for Zynga. John leaves as a friend of the company and we wish him all the best."
The news comes after a reorganization of the company that was revealed a week ago, in which Schappert lost his oversight of the company's game development. The move reflects Zynga's growing emphasis on mobile, with mobile now integrated into the existing web teams, and with David Ko, the company's chief mobile officer, and Steve Chiang, executive vice president of games, both reporting directly to Pincus. And that news, of course, came after a dismal second quarter earnings report that even Zynga admitted was "challenging."
Schappert joined Zynga as COO in April 2011. Before that, he was COO at Electronic Arts, and he held a number of positions at EA over a period of about a decade. During that time, he also spent two years as a vice president at Microsoft.
In case you want a head start on what analysts will say of the Schappert's departure, well, we can guess preemptively based on their response to the reorg. Bloomberg quoted Richard Greenfield, an analyst at BTIG LLC, as saying that the company definitely needed a change, given that it's in "absolute meltdown mode", while Michael Pachter, the managing director of research for Wedbush Securities, said "pulling a game guy out of the primary responsibility for managing the game effort" was "idiotic."
You can read an interview we did with Schappert after Zynga's IPO here.
MTV has launched a Fantasy Football-style election game aimed at baiting young citizens into becoming civically active. In "Fantasy Election," users compete for glory and prizes over who can predict which politicians will be the uber-public servant: popular in the polls, honest with constituents, engaging in social media, and choosing to communicate substance over style. "This can be can be a crash course in what people should demand from those pursuing the privilege of elected office," said Jason Rzepka, MTV's Vice President in Public affairs, who hopes to inspire a new generation of citizens who demand the best in politicians. Because we love you, we snagged 10 invite codes to the beta for our readers (instructions below). The public release will take place at the Republican National Convention at the end of August.
Much like its football inspiration, players assemble the hottest team and compete with their peers at local and national levels. In addition getting points for choosing politicians who perform well at the polls, MTV will be scoring on fundraising transparency, frequency of social media engagement, explicitly declaring their stance (which Mitt Romney has gotten in trouble for not doing on tax reform), and discussing substantive political issues. "There's a lot of young people who are at the beginning of their civic career," said Rzepka. "When you're 18 and you're voting for the first time, you don't necessarily know what you deserve from a politician."
While the Facebook app gets quite sophisticated (screenshot below), Rzepka says that users can play with minimal education, since their target is young users aged 18-29, who are just dipping their toes into civic life. As soon as we get more time to play around with the game, we'll have a more thorough update. To get one of the 10 available invites, email feedback@powerof12.org with the email subject line, "TechCrunch 10″. If you're one of the lucky 10, do let us know what you think in the comments or through our tipline.
Data scientists are like the supermodels or football players of the enterprise world: highly in-demand and earning sky-high salaries in their prime, but insecure about their future prospects.
Business Intelligence provider SiSense found that 59 percent of data scientists move on after less than six years in the industry. About half of them reported they were seriously concerned about their job security, despite an escalating salary.
The survey found that the annual earnings of a data professional can range from an average of $55,000 for a data analyst to an average of $132,000 for a vice president of analytics. Almost 80 percent reported that they expected a salary increase in 2013.
Data scientists have been touted as the elite group that are posed to capitalize on the hype surrounding Big Data. A recent report by consulting firm, McKinsey & Co, found that there is a major, global shortage of data scientists. Those with the skills to take a large data-set, model it and glean insights, are proving impossibly difficult to recruit.
Still, the glamour and mystique that surrounds the data scientist is relatively recent, and it's easy to understand their misgivings about the future. As Irfan Khan, Sybase's CTO explains in ITWorld, the newly-minted data scientist's role will be jeopardy if companies don't hire the right management team.
The study also found that data scientists tend to work in groups of 5 or more. This is a practice that is routinely encouraged by Silicon Valley's tech companies: LinkedIn is known for its team, formerly head up by D.J. Patil (featured above), that developed features like "People You May Know" and "Jobs You May be Interested in." Facebook's pack of 12 researchers is led by "in-house sociologist" Cameron Marlow.
The survey results are based on responses from over 400 data scientists and analysts from around the world, collected online in July 2012.
Top image via Joi
Filed under: enterprise
With a new found focus on ad sales, location-based checkin service Foursquare has found itself in foreign territory. To help it settle in and make nice with the neighbors, the company has hired Rob Wilk, a seasoned sales executive moving over from Yahoo.
Wilk will serve as Foursquare's vice president of sales. The ad sales expert hails from Yahoo where he was most recently the senior director of search account management and was responsible for optimizing search performance for Yahoo's advertisers.
The strategic new hire comes just two weeks after Foursquare made its first stab at serving ads to users with Promoted Updates, an advertising product that gives merchants a way to pay to reach local explorers.
Promoted Updates are currently being tested by just 20 merchants, but Foursquare obviously wishes to ride these sponsored posts to profitability some day. And with 17-plus years of industry experience, including ad and agency sales stints inside Yahoo, Wilk should be able to assist the startup in structuring its ad platform and help it with selling its unconventional units to big-time buyers.
For what its worth, Wilk has checked in 140 times, created 5 tips, and has earned himself 11 badges and three mayorships on Foursquare.
Photo credit: Juan Camilo Bernal / Shutterstock.com
Filed under: social
Update: TBS has now confirmed that it has bought Bleacher Report. The division will become a part of the Turner Sports division. That group currently manages digital properties on behalf of the NBA, NCAA and PGA, and it oversees ad sales for NASCAR.COM as well as a strategic sales relationship with Yahoo! Sports. It has 86 million unique visitors. The price of the deal was not disclosed but is thought to be in the region of $200 million, with the WSJ reporting it in the region of $175 million.
"Bleacher Report is a strategic acquisition that further enhances Turner's portfolio of sports offerings, as well as reflects our continuing commitment to bring fans greater content across all screens throughout the entire year," said David Levy, president of sales, distribution and sports of Turner Broadcasting, in a statement. "As brand builders and content providers, we were attracted to Bleacher Report's fast growth to a leading marketplace position and a valued consumer destination. The site will continue to innovate and provide users and sports fans with branded news and information."
Original story with more background on the deal follows below.
The Federal Trade Commission has approved a deal between Bleacher Report and Time Warner — and according to reports from Bloomberg and AllThingsD, this is the signal that Time Warner division Turner Broadcasting System is finalizing an acquisition of the sports site network.
The prices being reported are in a range around the $200 million mark: Bloomberg says the deal is under $200 million. SAI notes a price of $175 million. And AllThingsD notes that Bleacher Report investors were looking for an exit above $200 million. Bleacher Report has raised $40.5 million from investors including Crosslink Capital, Oak Investment Partners, and Hillsven Capital. The deal, at the very least, is worth a minimum of $68.2 million, which is the threshold that triggers an FTC investigation.
The FTC investigates not only mergers and acquisitions, but investments. On the same docket from Friday where Bleacher Report and Time Warner appeared, so did General Atlantic Partners and Box. The cloud company announced a $125 million round led by the VC firm at the end of July.
Time Warner's interest in Bleacher Report comes out of the fact that the broadcaster has passed control of Sports Illustrated's website and golfing portal PGA.com into the hands of Time Inc. earlier this year — although both are still branded as Turner Broadcasting on the sites themselves. That might mean that if this is an acquisition and it goes through, these sites will continue to remain separate at least in part.
Bleacher Report, which was founded in 2006, gets around 10 million users per month writes Bloomberg, and it has an astounding 6,000 contributors, most of whom write for free. It was started by four friends, David Finocchio (now VP Content & Product), Dave Nemetz (VP Business Development), Bryan Goldberg (VP Revenue) and Zander Freund, who calls himself the original 'face' of Bleacher Report membership as the Community GM. He has left the company and now works as an advisor to other startups, while remaining a shareholder in Bleacher Report. Brian Grey is currently the CEO.
We've reached out to TBS and Bleacher Report for comment and will update as we learn more. Meanwhile, it appears to be business as usual at the sports site, with the latest post on its blog about a writer meetup in New York.
For Release: August 6, 2012

Turner Broadcasting System, Inc. Acquires Bleacher Report
Leading Sports Digital Property Joins Turner Sports Portfolio

Turner Broadcasting System, Inc. has acquired Bleacher Report (B/R), one of the fastest-growing sports digital properties on the Internet, it was announced today by David Levy, president of sales, distribution and sports of Turner Broadcasting. San Francisco-based B/R (http://www.bleacherreport.com) and its popular mobile offerings will now operate as part of the Turner Sports division.

B/R delivers original and entertaining sports editorial content and is a leading sports media destination, delivering over 10 million monthly unique visitors. The company has developed a next-generation publishing model powered by an expanding base of passionate and knowledgeable contributors who deliver high-quality content that readers crave at the team and topic level.

"Bleacher Report is a strategic acquisition that further enhances Turner's portfolio of sports offerings, as well as reflects our continuing commitment to bring fans greater content across all screens throughout the entire year," said Levy. "As brand builders and content providers, we were attracted to Bleacher Report's fast growth to a leading marketplace position and a valued consumer destination. The site will continue to innovate and provide users and sports fans with branded news and information. With our expansive digital rights and resources, Turner will further ensure Bleacher Report's continued growth and success."

Levy added, "With the acquisition of Bleacher Report, we have added another dimension to our portfolio of digital and mobile properties that will enable us to offer our advertising partners integrated opportunities across all screens and demos that will enhance our ability to monetize sports programming throughout the entire year."

"Bleacher Report was created to put fans first, and we are excited to integrate our innovative content publishing model and engaging multi-platform consumer digital media experience within Turner Sports' world-class television and digital content portfolio," said Brian Grey, in his newly-expanded role as chief executive officer, Bleacher Report & senior vice president, Turner Sports. "Together the portfolio will define how content creators, consumers and marketers come together around the sports team and topic content experience that fans will consume across every screen."

Turner Sports currently manages digital properties on behalf of the NBA, NCAA and PGA, oversees ad sales for NASCAR.COM and has a strategic sales relationship with Yahoo! Sports. B/R will complement a preeminent collection of brands within the Turner Digital portfolio spanning entertainment, sports, kids, news and comedy destinations across broadband, mobile and tablet. The Turner Digital portfolio currently reaches 86 million unique visitors a month.

In addition to its digital portfolio, Turner Sports broadcasts a number of events year-round on TBS, TNT and truTV, including the NBA, MLB, NASCAR, the PGA Championship and the NCAA Division I Men's Basketball Championship. Its on-air roster of announcers and analysts includes Marv Albert, Ernie Johnson, Charles Barkley, Kenny Smith, Reggie Miller, Steve Kerr, Shaquille O'Neal, Cal Ripken, Dennis Eckersley, John Smoltz, Ron Darling, David Wells and Kyle Petty, among others.

Grey will continue to oversee B/R's day-to-day operations out of its San Francisco offices and will report directly to Lenny Daniels, executive vice president and chief operating officer of Turner Sports. Together, Grey and Matt Hong, senior vice president and general manager of operations for Turner Sports, will partner in the overall management and integration of the Bleacher Report operations into the Turner Sports portfolio.

Dave Finocchio, founder and chief content & product officer, Bleacher Report & vice president, Turner Sports; Sam Parnell, chief technology officer, Bleacher Report & vice president, Turner Sports and Rich Calacci, Chief Revenue Officer, Bleacher Report & senior vice president, Turner Digital Ad Sales will all stay on board within their expanded roles.

On this transaction, Turner Broadcasting was advised by Willkie Farr & Gallagher LLP and Bleacher Report was advised by RBC Capital Markets and Latham & Watkins LLP.

About Bleacher Report
Bleacher Report (B/R) is the Web's leading publisher of original and entertaining sports content and is one of the fastest growing sports media Web sites in the U.S. Since launching in 2008, B/R's Web site has grown to an audience of more than 10 million monthly unique visitors. The company's distinguished editorial team leads more than 2,000 core contributors, and directs Bleacher Report's unique data-driven approach to creating and programming content. The result is first-rate sports commentary that gives B/R's audience the stories they want to read in real-time around the teams and topics they are most passionate about. B/R's editorial content is also syndicated to a number of national and regional publishing partners including USA Today, Los Angeles Times, The Baltimore Sun, Philly.com, San Francisco Chronicle, Houston Chronicle and Seattle PI. In addition, more than 2 million fans subscribe to B/R's sport-and-team-specific email newsletters and more than 1 million users have installed B/R's leading Team Stream™ mobile and tablet app, which provide a comprehensive mix of content that engages a broad array of sports fans at the team and topic level.

About Turner Sports
Turner Sports, a division of Turner Broadcasting System, Inc., is an industry leader in televised and online sports programming, airing championship-level sporting events on TBS, TNT and truTV, and managing some of the most popular sports sites on the Internet. Turner Sports' television lineup includes the NBA, Major League Baseball, the NCAA Division I Men's Basketball Championship, NASCAR and professional golf. The company's digital portfolio includes NASCAR.COM, NCAA.com and March Madness Live, PGATOUR.COM and PGA.com, as well as an accompanying collection of mobile websites and connected device apps. Turner Sports and the NBA also jointly manage NBA Digital, which includes NBA TV, NBA.com, NBA LEAGUE PASS, NBA Mobile, the NBA Game Time App, NBADLEAGUE.com and WNBA.com.

Turner Broadcasting System, Inc., a Time Warner company, creates and programs branded news; entertainment; animation and young adult; and sports media environments on television and other platforms for consumers around the world.
Nexage, a startup offering a real-time bidding platform for mobile ads, just announced that it has raised an additional $5 million from Hearst Interactive Media.
Nexage CEO Ernie Cormier says this is a last-minute addition to the the $10 million Series B that the company announced in June, bringing the round's total size to $15 million. The funding should help Nexage build its connections in the digital media world, with Hearst Interactive Vice President Darcy Frisch joining the company's board of directors.
Other investors in the round include SingTel Innov8 (the venture arm of Asian telecom company SingTel), as well as past investors Relay Ventures and GrandBanks Capital. As you might expect given SingTel's involvement, Cormier has said that Nexage is looking to grow in Asia. He has also said that Nexage will be expanding its technology to "other pieces of the ad stack."
"Our mission remains the same with this additional Series B funding: to extend our RTB leadership, champion and support the needs of our premium customers, and accelerate the maturity of the mobile advertising market," Cormier said in the press release.
When I met with Cormier last month, he also emphasized the need to bring more standardization to the mobile ad industry, which he said is at a similar stage of development as the online ad industry in the late '90s. That's not something that Nexage can do on its own, but it's something that Cormier said he will be pushing for.
Nexage has now raised a total of $19.5 million.